Written by: Farah Dubaybo, SAA Education Committee Chair, and Committee Members Kate Johnson, Devon Palumbo, Amber Kadolph, Caitie Milligan, and Melissa De La O
The externship is a model of clinical education used by some Doctor of Audiology programs to allow students to gain clinical education outside of the university setting. While not standardized or mandated, it is commonly a 36 – 52-week immersive experience during which students engage in hands-on patient care as part of a clinical team. Like any other aspect of education, clinical education requires internal critique and review. The purpose of this article is to inform the audiology community of student experiences regarding the externship process.
In the fall of 2015, a survey was distributed to audiology students nationwide to investigate the student experience during the externship application process. Recipients were encouraged to forward the SurveyMonkey link to their classmates and colleagues at other universities. Students were not compensated in any way for their participation. The survey consisted of 17 questions including quantitative, qualitative, rankings and free response options. This article is an analysis of the 245 responses. The analysis is divided into five themes: 1. Qualities of a Good Externship 2. University Requirements and Support, 3. Applying to Placements, 4. Strengths of the Current Process, and 5. Weaknesses of the Current Process. Qualitative data are presented along with characterization of the variety of qualitative responses.
Qualities of a Good Externship
The first step in any application process is determining which factors constitute a desirable placement. Students were asked to rank the different factors numerically, 1 being most important and 9 being least important.
Students ranked the following factors as most important (ranking of 1-4):
Scope of practice (81%)
Type of facility (79%)
Students ranked the following factors as least important (ranking of 5-8):
Ability to work with other professionals (78%)
Preceptor qualifications (67%)
Location (60%)
Presence of stipend (54%)
Prestige of the facility (63%)
Patient demographics (60%)
| | | | | | | | | | | |
| --- | --- | --- | --- | --- | --- | --- | --- | --- | --- | --- |
| | 1 | 2 | 3 | 4 | 5 | 6 | 7 | 8 | 9 | Score |
| Prestige of facility | 4% | 8% | 13% | 12% | 20% | 13% | 13% | 17% | 0% | 5 |
| Type of facility (e.g., hospital, VA, private practice, etc.) | 22% | 25% | 19% | 13% | 12% | 4% | 4% | 2% | 0% | 7 |
| Preceptors (e.g., qualifications/ certification) | 4% | 6% | 7% | 15% | 16% | 21% | 13% | 18% | 0% | 5 |
| Scope of practice at the facility | 37% | 16% | 16% | 11% | 9% | 6% | 3% | 2% | 0% | 7 |
| Ability to work with other professionals | 0% | 2% | 6% | 13% | 13% | 20% | 28% | 16% | 0% | 4 |
| Patient demographics | 5% | 8% | 12% | 15% | 11% | 15% | 17% | 18% | 0% | 5 |
| Location | 17% | 15% | 18% | 12% | 12% | 6% | 12% | 7% | 0% | 6 |
| Paid vs. unpaid | 14% | 19% | 12% | 9% | 7% | 13% | 8% | 18% | 0% | 6 |
| Other | 0% | 0% | 0% | 0% | 0% | 0% | 0% | 0% | 0% | 0 |
Compared to the scope of practice (37%), only 14% of respondents ranked the presence of a stipend as the most important factor (ranking of 1). This suggests that the overwhelming majority of students view the externship as an educational opportunity and want to have the best learning experience.
This does not imply students do not want or not need financial compensation during their externship. When asked to rate the importance of funding when choosing an externship site, 67% (153 of 228) felt it was important or very important. Out of 243 students, 175 (72%) reported financial support affected their decision to accept or reject an offer. Explanations included student debt (as high as $100,000+), the high cost of living, moving expenses, tuition (including out-of-state tuition), and financial hardship. The reported application and interview process cost individual students up to $2000+. Many respondents reported feeling conflicted with the choice between the most educationally rewarding position and a paid position.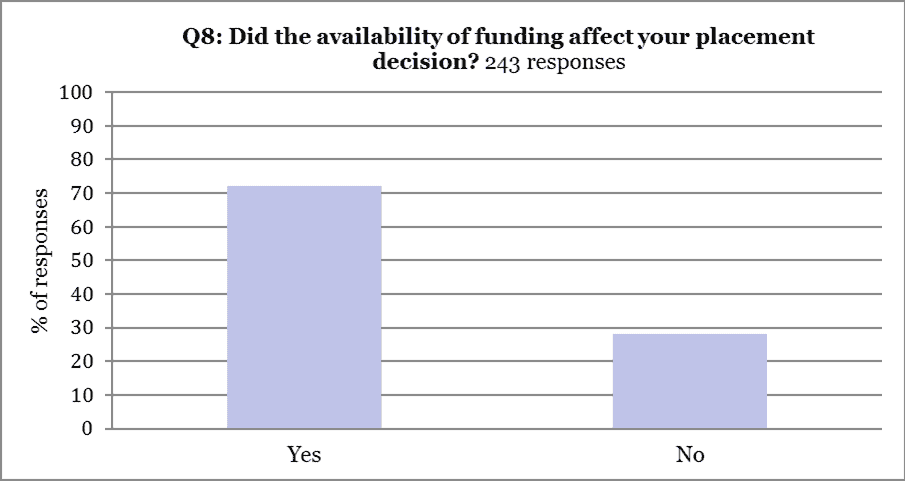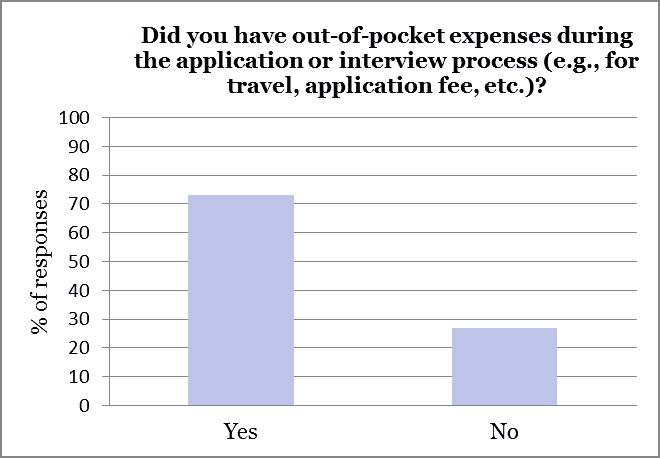 They expressed concern regarding their ability to survive for a year on savings, loans, and a part-time job. Many questioned the ethics of a system in which it is acceptable for a student to participate in a full-time, unpaid position for as long as 12 months.
University Requirements and Support
The externship placement process was found to differ among programs. Approximately 86% of respondents reported a faculty or staff member was dedicated to helping them find an externship placement, but only 12% reported clinical placements were this faculty/staff member's sole responsibility. Only 54% (129 respondents) reported a good-to-excellent level of support from their university.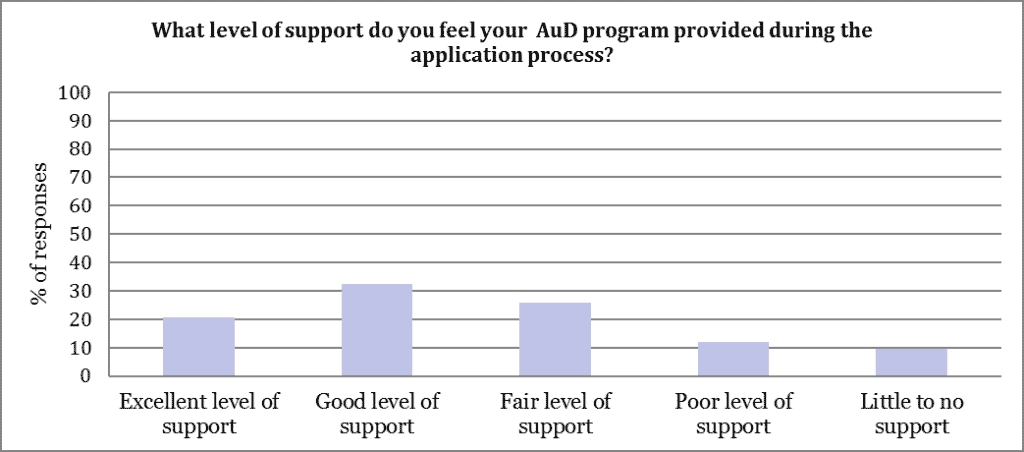 When asked to rate university involvement on a Likert scale, only 50% (114 of 228) agreed their university had adequate resources to support the students during the application process. Additionally, only 51% (116 of 228) felt their university did a good or excellent job preparing them for the application and interview process. Conversely, half of the students did not feel sufficiently supported during the application process.
University requirements reported during the application process were variable:
78% (188 respondents) were required to provide a list of intended externships to their clinical coordinator.
65% (156 respondents) reported university contact with placement before/during the application process.
62% (150 respondents) met with a clinical/program coordinator.
54% (129 respondents) needed approval or permission to apply.
17% (40 respondents) engaged in mock interviews (including resume review, job search training, and group meetings).
9% (21 respondents) reported their university had no requirements.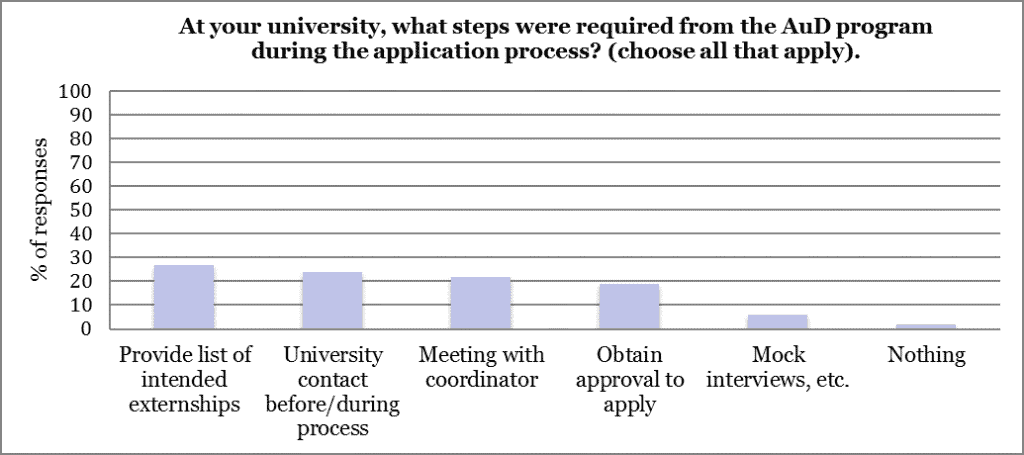 Applying to Placements
When asked to rate their experiences on a Likert scale, 229 respondents revealed the following:
The vast majority (70%) felt they understood the externship process before applying. Sixty-three percent felt prepared for the application process. Sixty-eight percent reported they were encouraged to apply for competitive placements. Sixty-six percent felt confident when applying.
The tool most frequently used to find open externship positions was HearCareers or a similar online database/search engine (42%). The majority of students (63%) applied to between 5 and 10 placements, with 85% applying out-of- state. Some reported applying to as many as 22 sites.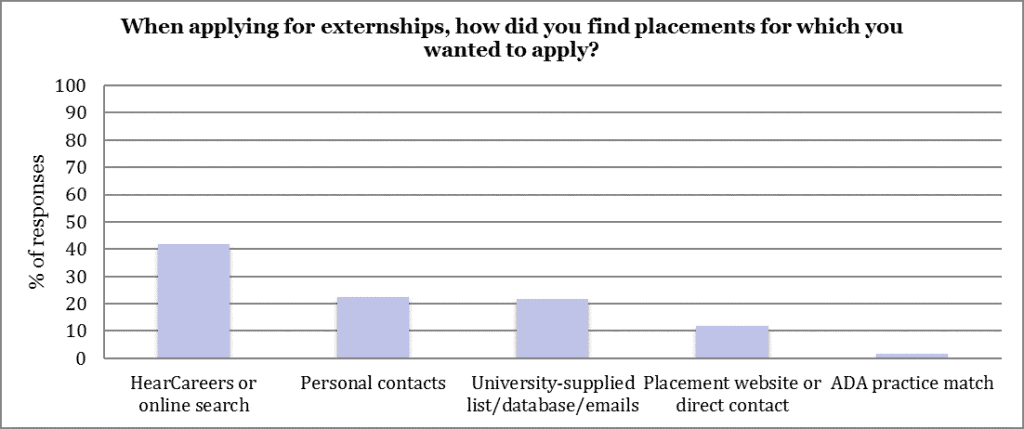 The majority of respondents (70%) reported that 75-100% of their applications resulted in interviews. Approximately 23% of respondents indicated some placements did not require an interview before selection. One possible explanation for not requiring an interview could be that students are known to the sites (such as an in-house clinic or a site from a previous rotation). More data is needed to determine the reasons some externship sites do not require an interview.
Benefits of the Current Externship Process
Autonomy in applying to and accepting a placement is reportedly the biggest benefit (45%) of the current externship process. Other benefits include job interview practice, the experience gained from the externship, university support, stipends, and networking opportunities. When asked to describe, in their words, the benefits of the process as it stands, 20% reported HearCareers was a valuable resource. Fifteen percent reported they liked the variety of positions available and appreciated the opportunity to be interviewed as it gave them good practice for future job interviews.
The vast majority of respondents approximately 72% (165 of 228) agreed that applying for and choosing an externship helped them to think of areas they could specialize in. The vast majority of respondents (69%) agreed the externship process gave them an important level of independence over their future. Sixty-eight percent (142 of 228) felt they enjoyed having the autonomy over the application process.
Weaknesses of the Current Externship Process
Lack of uniformity was reported to be the biggest weakness of the current externship process. This includes timeline disparities and communication difficulties. The second greatest weaknesses were the disparity in funding (14%) and lack of a standard database to find externships (13%). Over 50% of respondents (118 of 228) agreed or strongly agreed they felt pressure to take the first placement they were offered.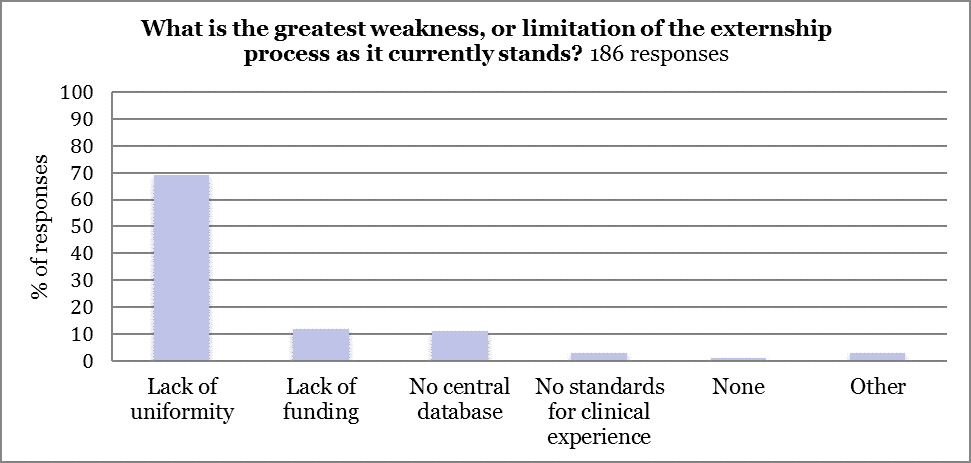 When asked to describe, in their words, the weaknesses of the current externship process, students overwhelmingly (61%) indicated a desire for increased uniformity at all stages of the process. Thirty-seven percent expressed a desire for uniform application deadlines, interview periods, offers, and acceptances. When asked to describe aspects of the current process they would change, 26% suggested the development or implementation of systems that would streamline the application process, such as a match program or a database similar to CSDCAS. Approximately 9% indicated they wanted an inclusive database, requiring all sites to post in a central area so students would not have to rely on word of mouth. When asked to describe weaknesses of the application process and changes they would make, 32 respondents specifically mentioned utilizing a matching algorithm similar to the medical residency match. Over half of the respondents (55%) agreed or strongly agreed with the statement "Audiology externships should use a matching process, similar to medical residencies." Interestingly, 19% disagreed or strongly disagreed with the previous statement, and 4% desired less university input and indicated that decisions should remain with the student (i.e., they do not want a match program because they believe it limits student options).
Twelve percent of those surveyed expressed a multitude of concerns in regards to the financial considerations. Approximately 10% of respondents stated they believe externship sites should be required to pay students, or a stipend should be provided to cover the cost of living, at the very least. Approximately 2% suggested students shouldn't have to pay tuition during their externship year. Approximately 49% (112 of 228) of the respondents believed having an externship during the AuD program is more beneficial than a clinical fellowship year following degree conferral. Some (free response) suggested the externship be changed to a clinical fellowship year to alleviate the burden of tuition. Twenty-seven percent believed that the freedom to apply to the desired placement was very important and university input should be minimized. Twelve percent stated they wouldn't change anything about the current process.
Conclusion
The survey responses reveal several interesting aspects of the student perspective. The number of neutral responses to questions requiring a rating on a Likert scale was substantial. Neutral responses ranged from 11%-27%. Statements that more frequently received a neutral ranking were ones that required basic knowledge of the externship, the residency model, and the clinical fellowship year. Interestingly, these same statements received a higher percentage of strong rankings. This may be indicative of variable knowledge and expectations of clinical models among students; those who are more informed have stronger feelings, typically leaning for processes with funding and uniformity.
A common theme of the analysis is the concept of uniformity. This includes preferences for a database that encompasses information from all potential clinical sites, a central application system, identical deadlines for application submission, and the use of a matching algorithm or universal accept/reject date for final decisions. Students want a streamlined process and access to information about as many clinical sites as possible. This likely comes from strong educational aspirations and the desire to weigh all options before competing for the best possible opportunities.
Another factor of the externship model which varied was university support. When implemented, the completion of the externship is a degree requirement. Universities should provide excellent support, especially considering the clinical nature of the AuD and the importance of this clinical experience for overall student education. However, students reported variable responses of guidance and support they received from their university, as well as with individual expectations and requirements. Reports of the presence of tuition and absence of financial compensation were also variable. Financial hardship during the final year of graduate education due to the aforementioned factors was a main point of contention among respondents. Students should not have to forgo an educational opportunity because of significant differences in financial compensation between placements.
A follow-up survey targeting current externs will be distributed. It will investigate the similarities and differences between externship experiences and provide the audiology community with a deeper understanding of how the externship model functions.
Survey Data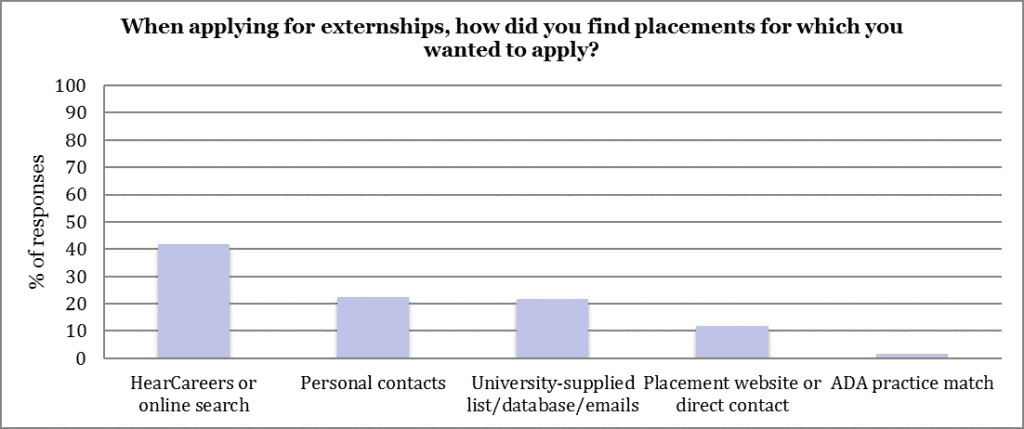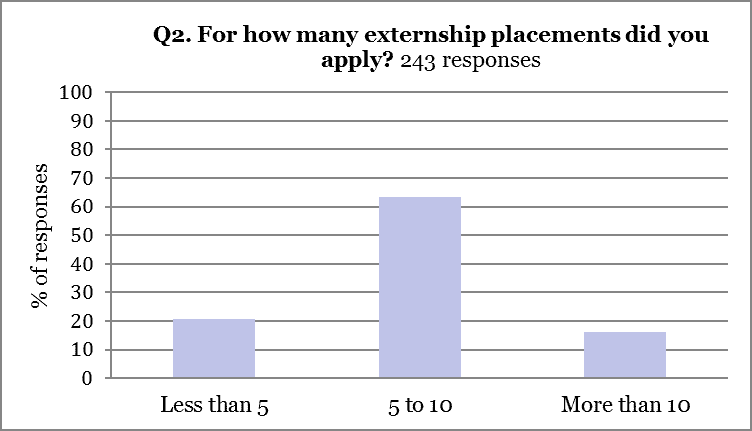 Q3:When choosing a placement, which factors were most important to you? (Rank order from 1 [most important] to 9 [least important]). 243 responses
| | | | | | | | | | | |
| --- | --- | --- | --- | --- | --- | --- | --- | --- | --- | --- |
| | 1 | 2 | 3 | 4 | 5 | 6 | 7 | 8 | 9 | Score |
| Prestige of facility | 4% | 8% | 13% | 12% | 20% | 13% | 13% | 17% | 0% | 5 |
| Type of facility (e.g., hospital, VA, private practice, etc.) | 22% | 25% | 19% | 13% | 12% | 4% | 4% | 2% | 0% | 7 |
| Preceptors (e.g., qualifications/ certification) | 4% | 6% | 7% | 15% | 16% | 21% | 13% | 18% | 0% | 5 |
| Scope of practice at the facility | 37% | 16% | 16% | 11% | 9% | 6% | 3% | 2% | 0% | 7 |
| Ability to work with other professionals | 0% | 2% | 6% | 13% | 13% | 20% | 28% | 16% | 0% | 4 |
| Patient demographics | 5% | 8% | 12% | 15% | 11% | 15% | 17% | 18% | 0% | 5 |
| Location | 17% | 15% | 18% | 12% | 12% | 6% | 12% | 7% | 0% | 6 |
| Paid vs. unpaid | 14% | 19% | 12% | 9% | 7% | 13% | 8% | 18% | 0% | 6 |
| Other | 0% | 0% | 0% | 0% | 0% | 0% | 0% | 0% | 0% | 0 |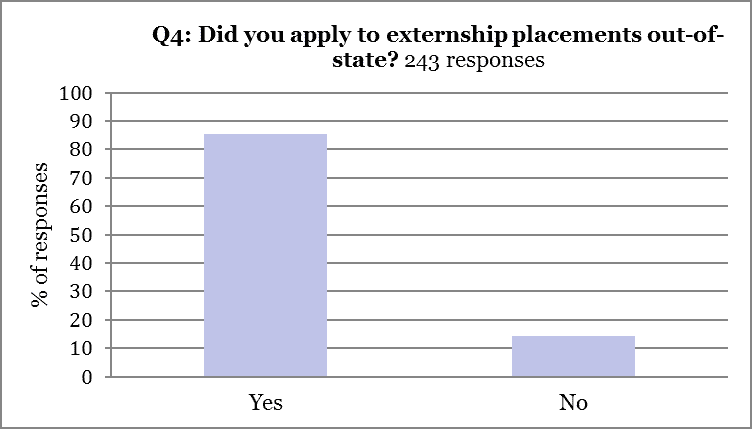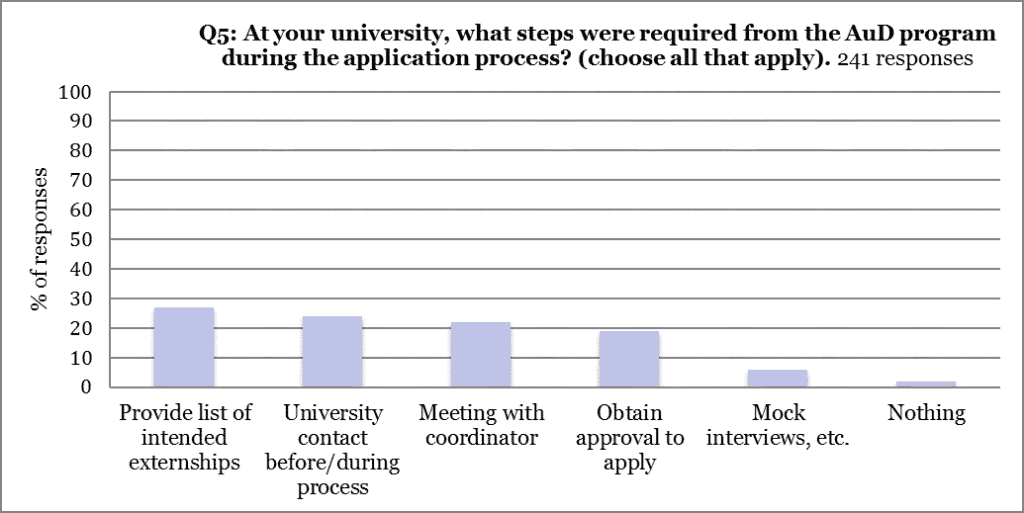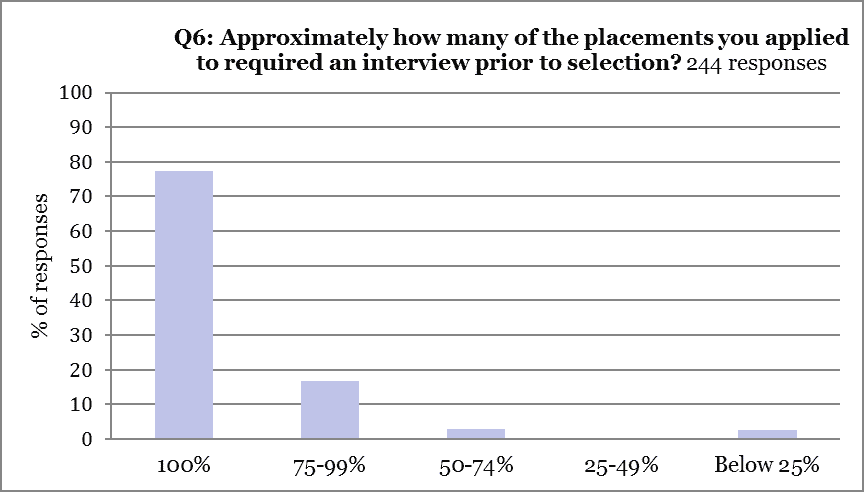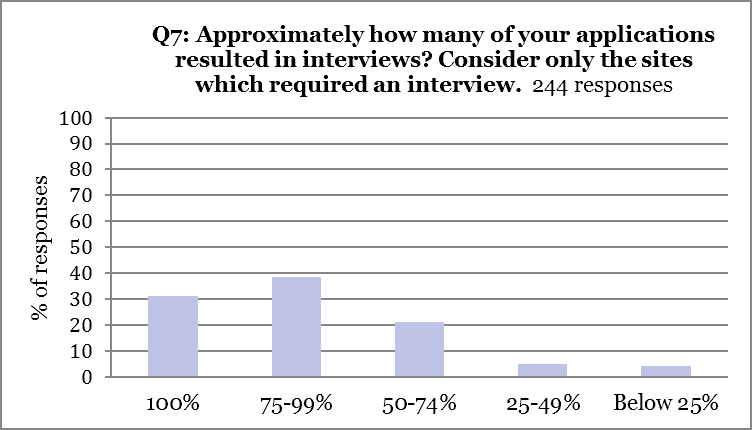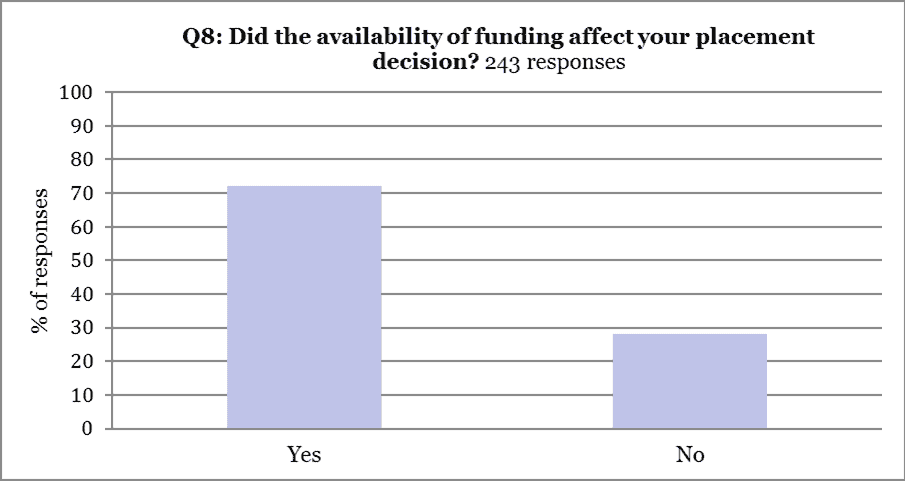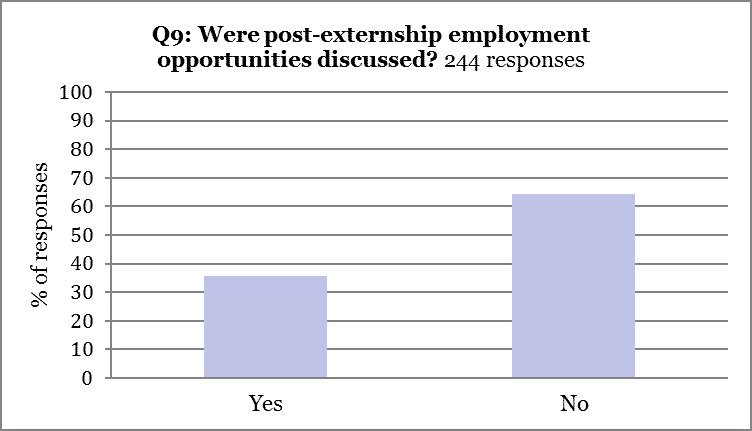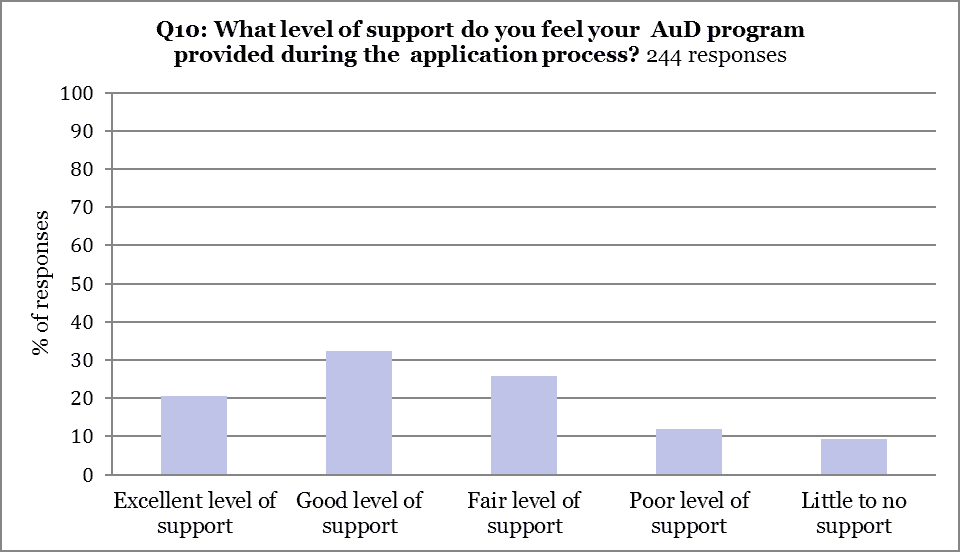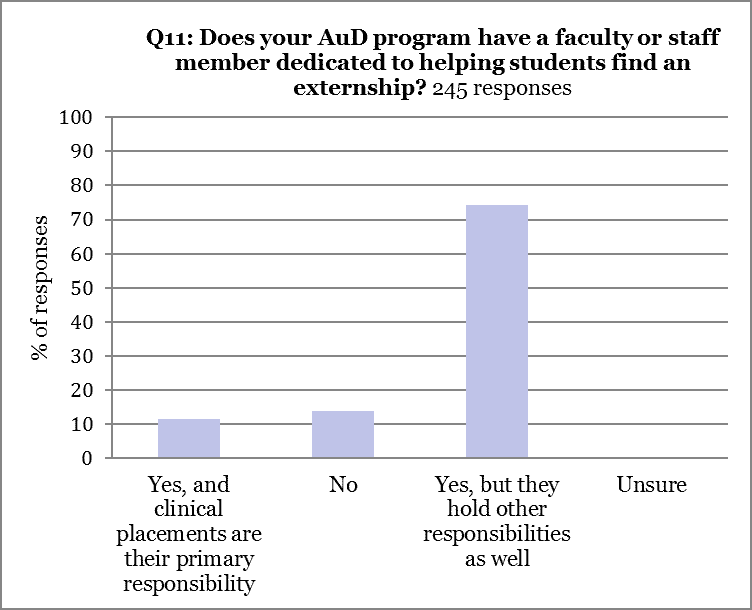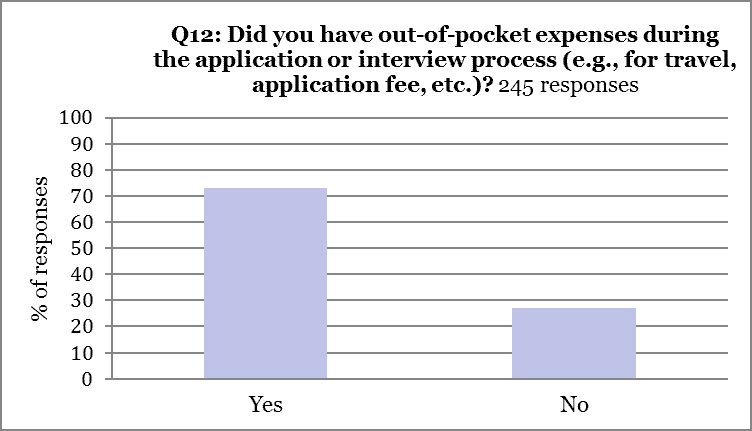 Question 13: For the following situations, please indicate the degree to which you agree or disagree. 227-229 responses