The Call for Abstracts is now open!
The AAA 2024+HearTECH Expo Program Committee is proud to invite clinicians, researchers, and academic professionals from around the world to submit an abstract for presentation in Atlanta, Georgia, to make this a game-changing event. Annually, the conference brings together an audience of not only audiologists, but others in hearing and balance health care, clinical practice, research, academia, and leaders in industry seeking content and critically important implementation strategies.
| | | |
| --- | --- | --- |
| Submission Type | Submission Deadline | Decision Letters |
| Learning Modules | October 13, 2023 | Week of November 20 |
| Mini Modules | October 13, 2023 | Week of November 20 |
| Research Podiums | October 13, 2023 | Week of November 27 |
| Student Research Forum | October 13, 2023 | Week of November 27 |
| Posters | November 13, 2023 | December 13-15, 2023 |
| Industry Updates | January 5, 2024 | N/A |
**** Learning Module, Mini Module, Research Podium, and Student Research Forum abstracts are due October 13—NO EXTENSIONS this year!
The AAA 2024+HearTech Expo Program Committee seeks presentation submissions showcasing state-of-the-art science and clinical techniques which provide compelling educational content rooted in the latest evidence-based practice. Presentations should highlight clinical or research information focused on advancing the profession of audiologists, how they can differentiate themselves now and in the future, strategies to enhance business practices, address changes and challenges faced in the profession, and how to optimize patient care.
Abstracts will be accepted across various session categories. Abstracts are peer-reviewed in a blind review process. Acceptance of abstracts is based on the content of the submission, available space, and overall program balance
Before submitting an abstract be sure to review the Important Resources links above.  These documents will assist in outlining the criteria and submission guidelines used in evaluating abstracts for acceptance.
All presenters listed for a presentation must complete their own tasks. Allow time during the submission process for all presenters to complete their profiles and tasks. The submitting presenter has the ability in the online system to e-mail all presenters associated with a submission.
*Please note that if your abstract is not accepted for a presentation in Atlanta, don't let it dissuade you from submitting one in the future.
Know of any colleagues or others in your peer network that are making great strides in the profession, are excelling in their field, or are participating in ground-breaking work? Please encourage them to participate in our call for abstracts process as well.
Questions? Please email presenters@audiology.org.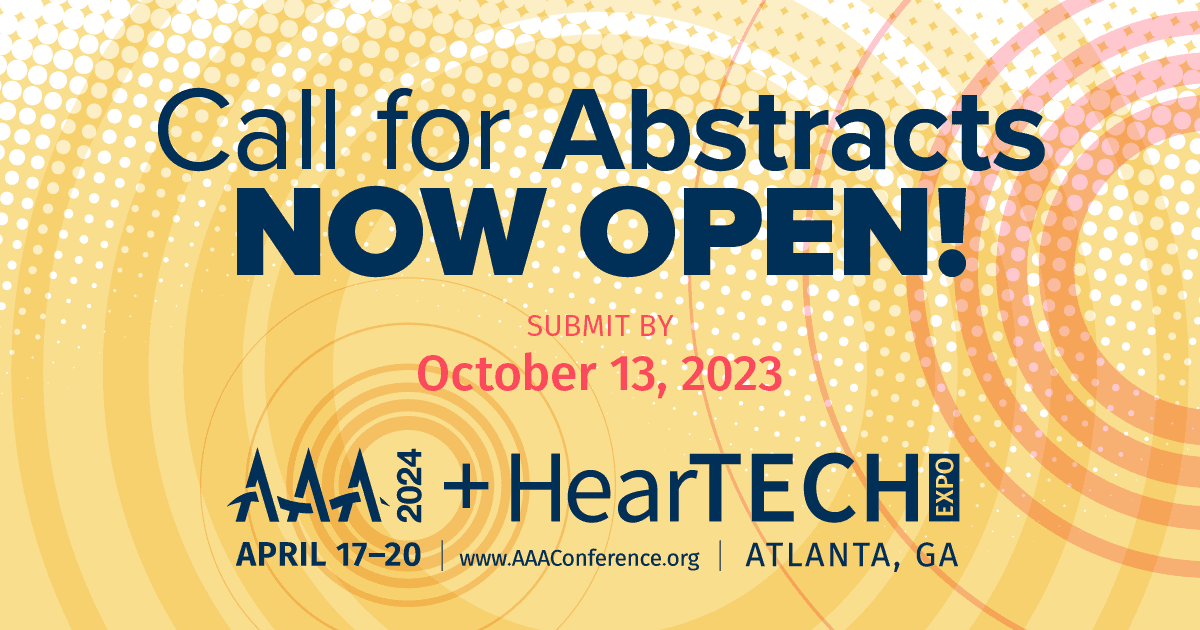 Excited about the AAA 2024+HearTech Expo Program? Promote the event and share your enthusiasm on your social media channels!