With opening addresses from Academy President Sarah Sydlowski, AuD, PhD, MBA, AAA 2022 Program Chair Wafaa Kaf, PhD, and Academy Executive Director Patrick Gallagher, MBA, the AAA 2022 General Assembly (sponsored by Amplifon) welcomed attendees with videos, presentations, and a performance by the Fabulous Audiology Chorus.
In recognition of outstanding service to the Academy and audiology, President's Award recipients Catherine Palmer, PhD, and Angela Shoup, PhD, were presented with an honorary plaque to commemorate their leadership both past and present.
Our Keynote Speaker, Paul Smith, best-selling author; business storytelling coach; principal, thoughtLEADERS, LLC; and managing director, story makers, LLC, demonstrated to attendees the importance of storytelling and crafting a narrative. Audiologists are striving to be seen as the essential health-care workers we are, to receive the recognition we deserve, and for people to see hearing loss as something that can be managed and, in some cases, prevented, rather than just a product of aging. We can better serve our patients by strengthening the narrative of the importance of audiological care.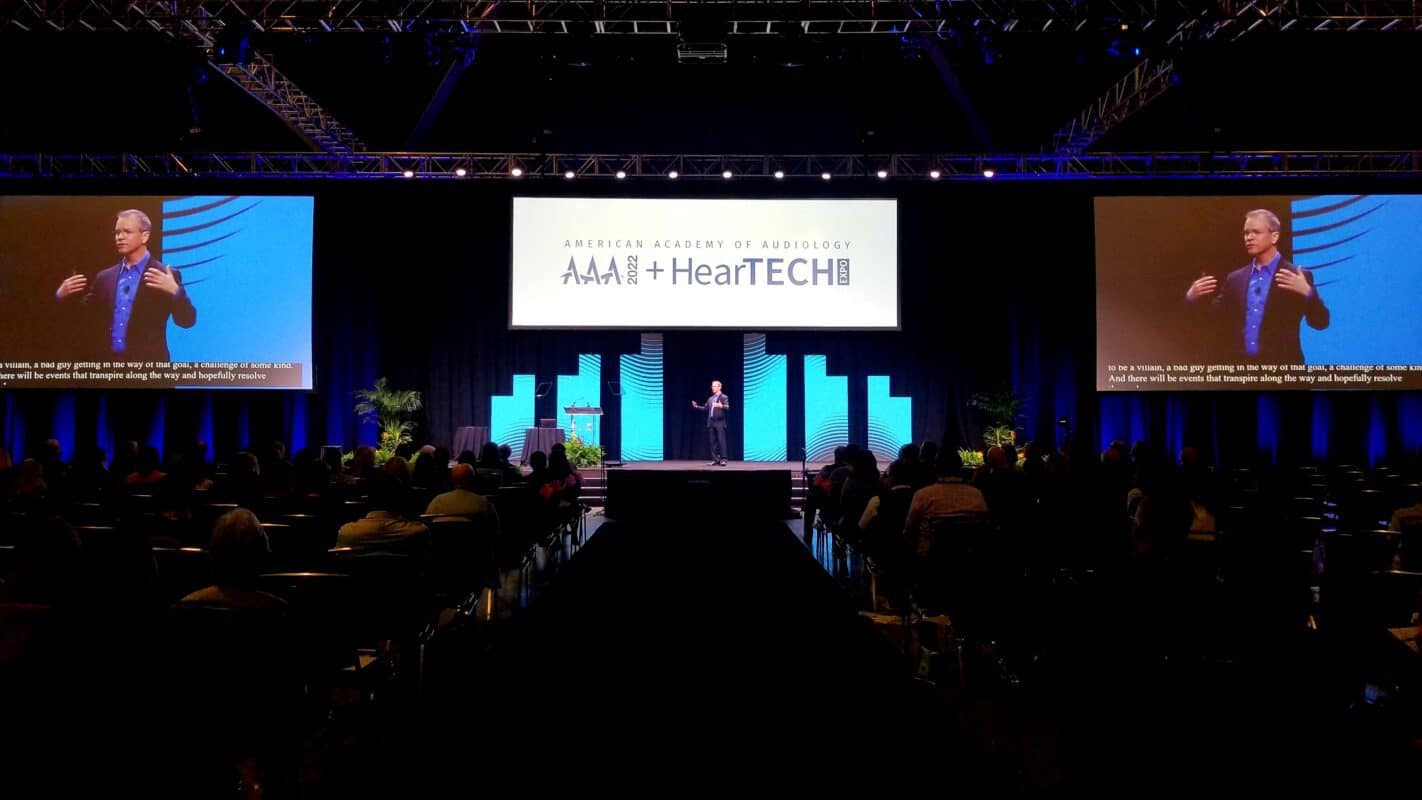 Let's Discuss
Today and Friday from 3:00–4:45 pm, there will be discussion forums on varying topics. Check out the list below for sessions and room numbers, earn 0.1 CEUs for each. Visit the Online Conference Planner for more!
Today
| | |
| --- | --- |
| Room 274 | Amplification |
| Room 275 | Practice Management: To TPA or Not to TPA? |
Tomorrow
| | |
| --- | --- |
| Room 274 | Pediatrics Minimal Hearing Loss and Single-Sided Deafness: The "Auddities" of Pediatric Audiology |
| Room 275 | (Re)habilitation and Counseling |
Down at the HUB!
Today's HearTECH Hub sessions today are already nearing max capacity, but luckily there will be plenty more tomorrow. View the session list and hurry over before seats run out!
But Wait, There's More…
Within the expo hall, you can take the HearTECH Tour by visiting participating exhibitors to learn about their latest technologies. Collect a ticket from each exhibitor and then walk on over to the Raffle Prize Runway (Booth #1221) to drop off your tickets for the prizes that catch your eye. The raffle drawing will take place at 2:30 pm tomorrow. Get as many tickets as you can and you could be the lucky winner!
Thanks to our participating exhibitors.

Are you a recognized expert in advanced clinical topics? Have you recently conducted research leading to results that need to be shared on a global scale? Is it finally time to release your proven best practices to the current and future generations of audiologists? Then click the button below to go to the Call for…