The year was 1999. Specifically, the date was January 1, 1999. I have proudly displayed that certificate on my office wall ever since that time. The American Board of Audiology (ABA) was born on that day over 22 years ago, and I was there! Well, to be precise, our work began the year before in preparation for a January 1 start date.
Back in those days, the ABA Board of Governors was an appointed group sprung from the American Academy of Audiology (Academy). The goal was to develop a new certification program for audiologists, who up until that time had only the Certificate of Clinical Competence-Audiology (CCC-A) from the American Speech-Language-Hearing Association (ASHA) as a professional certifying body.
Wow, I just noticed that's a lot of acronyms so far! Professional audiology licensure finally became available in all 50 states, so that legally took the place of the CCC-A as a mandatory requirement to practice in our field. It had been 10 years since the Academy was founded to be of, by and for audiologists, and they were ready to embark on a new certification program.
I fail to recall exactly how many of us sat on that initial Board of Governors nor do I remember our meeting location, BUT I do recall the momentous event of signing my check to become ABA Certified. I was the #2 certificate holder, only to be outdone by our chair, Cheryl DeConde Johnson. It was appropriate for Cheryl to be #1, but I was the fastest to pull out my checkbook to "sign up!" Thus, the story of how my certificate number is, and forever will be, #2.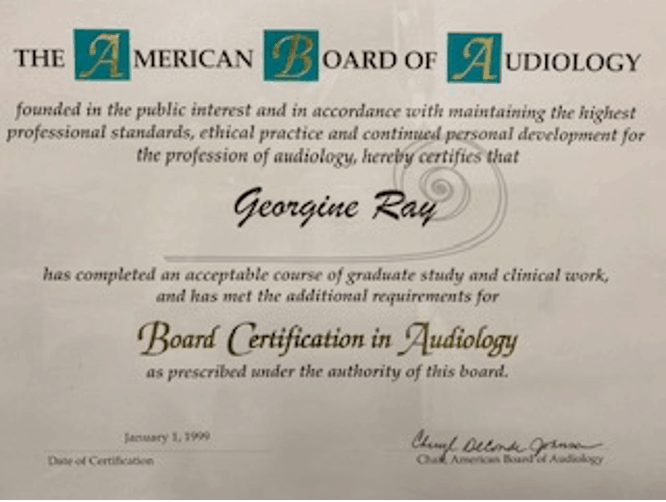 All the leaders on that founding board were tasked with developing a certification program that would be more contemporary than its predecessor. We spent numerous hours creating by-laws and candidacy criteria. Don't forget we were essentially starting from scratch!
The new ABA certification model would require a set amount of continuing education hours upon renewal to reflect an ongoing dedication of the certificate holder to keep current in our profession. The new model also eliminated the need for membership in a professional association as a qualification for certification (note: this has proved to be advantageous for almost 20 percent of current ABA certificants). From the very start, the plan was to first develop standards toward a "global" certification for audiologists, with the intent to later develop specialty certifications in specific areas of interest.
Being ABA Certified over the years has been an asset to me professionally. I have gained accolades from patients when they ask what being "ABA Certified" means, and some have even chosen me over my competition for that reason. We all know certification is a voluntary commitment, but personally I have never considered it as optional.
The ABA has come a long way over its 22-year lifespan, with standards evolving over time. The goal of specialty certification was indeed achieved and is alive and well. Looking back, I have fond memories of those early days of the ABA and I am proud to be #2!
Georgine Ray, AuD
Owner, Affiliated Audiology Consultants, Inc.
Phoenix, AZ

Audiology licensure requirements vary by state, so for any audiologist, whether a new AuD grad or an established professional, obtaining licensure can be a challenging and confusing task. Currently, 17 states and the District of Columbia accept either the American Board of Audiology Certified (ABAC) or Certification of Clinical Competency in Audiology (CCC-A) certifications as…