At the first in-person conference in a post-COVID-19 world, the Academy was able to welcome more than 2,000 attendees for AAA 2022+HearTECH Expo in St. Louis, Missouri. For everyone who was able to attend, learn, and connect with us, we were so glad to share this experience with you, and it was so great to be back.
"The transition of the AAA Annual Conference this year from an online platform to the in-person setting was truly remarkable and rewarding, said Wafaa Kaf, MD, PhD, MS, the conference program chair. "We had a tremendous gathering of audiologists and audiology students who were able to come together to learn from one another and further advance the field. At this conference, the value of face-to-face interaction was abundantly clear."
With landmarks like the iconic Gateway Arch, symbolizing not only the pathway to the west at the time of its construction, but the more modern representation of the diversity of people and cultures who have helped to shape the region over time, St. Louis was a great place to re-launch the annual conference and re-energize the audiology and hearing health community.
Open to All
Audiology is moving, developing, and being reshaped by the current and future leaders and thinkers. To help current audiologists and audiology students better tell the story of the profession they're so passionate about, Keynote Speaker Paul Smith, best-selling author; business storytelling coach; principal, thoughtLEADERS, LLC; and managing director, story makers, LLC, delivered an address at the General Assembly (sponsored by Amplifon) on the importance of crafting a narrative.
As an essential part of overall health and wellness, audiologists are still striving to achieve their deserved recognition and gain the ear of allied health professionals, third-party payers, and consumers. Being better equipped to tell our story of how hearing loss can be treated and prevented, not just expected, is a way to promote audiology and better hearing health.
The stories we tell are not just linked to interests as individuals, but to the collective picture made up of a diverse network collectively working together. Historically, audiology has not been a very diverse profession, and the way to change that starts with all of us, here, now, and today. It is not enough just to start conversations about diversity, equity, and inclusion, but to focus on the final element, belonging.
Audiology needs to become a home to and for everyone, and new professionals entering the space need to feel just as welcomed and accepted, regardless of background or culture. A diverse group of voices and perspectives will make the profession more dynamic and strengthen our relationship with patients.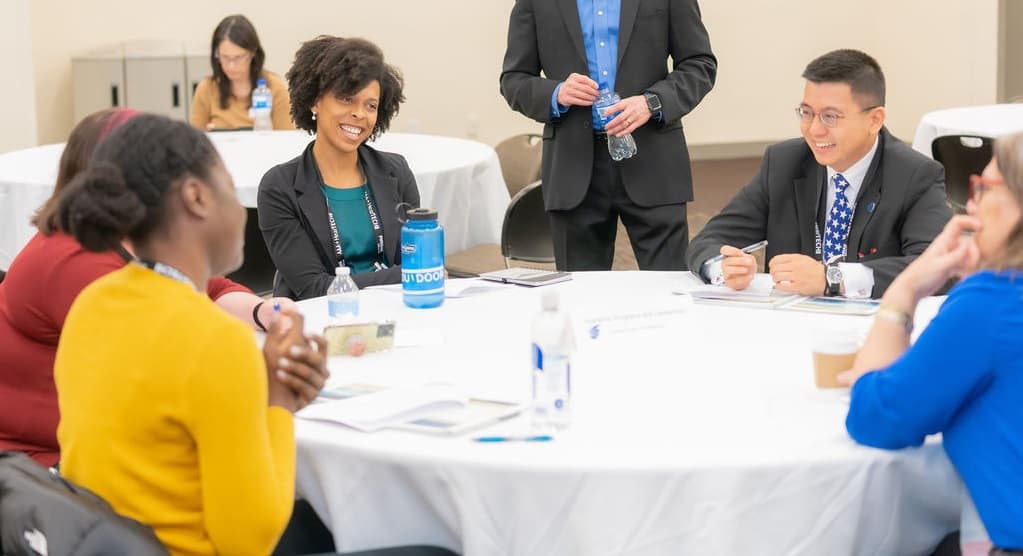 Focusing on diversity, equity, inclusion, and belonging, several presentations centered on cultural, gender, and sexual orientation diversity, and committee representatives sat on panel discussions, most notably at the Clinical Education Forum addressing microaggressions.
On the first day of the conference, the reimagined HearTECH Expo was unveiled (click here to see a timelapse video of the set-up) at the opening night reception, Celebrate Audiology (sponsored by Hamilton®CapTel®). This very first evening event had the entire expo hall teaming with students, professionals, and Academy leaders who were making introductions and connections for the very first time, and catching up for the first time in a few years.
After a day of learning featuring the annual Student Academy of Audiology (SAA) Conference (sponsored by Starkey), and the Academy Research Conference (ARC) 2022: Age-Related Hearing and Balance Decline (refreshment break sponsored by Phonak), attendees were ready to kick back with food and drink while getting a sneak preview of education and activities planned for the days ahead. Over 120 sessions on 17 different topic areas and 67 educational opportunities offered in the expo hall!
While perusing the expo hall, everyone had the opportunity to celebrate audiology in St. Louis with a little something to take home at the Selfie Station! View the gallery of dozens of glamour shots, featuring St. Louis and AAA Conference themes.
For more photos of the SAA Conference, ARC, and hands-on demonstrations at the Learning Labs, check out our on-site Wednesday daily wrap-up article.
Future Forecast
Education in the HearTECH Hub had a range of presentations from both industry experts and audiology leaders, all with a focus on the future. Though the COVID-19 pandemic has created considerable challenges within the health-care space, it has also necessitated innovation that audiology has met head-on. Dedicating an educational space for talks and presentations with this focus was a way to celebrate this professional ingenuity and inspire a packed theatre of attendees. Special thanks to our HearTECH Hub sponsors.
Hands-On
In addition to the five Learning Labs addressing cerumen management, vertigo, simulation in audiology, hearing ads, and teleaudiology, the hands-on education and demonstrations continued at the NEW Best Practices Verification Pavilion on Real-Ear Measure. The brain child of audiology leaders, the Best Practices Pavilion allowed audiologists and students the chance to learn and rehearse the skills of verifying best fit. Getting to learn not only from demonstrators, but also from peers, enabled a collaborative learning experience with take-home value. We're making sure that for you best practice is daily practice.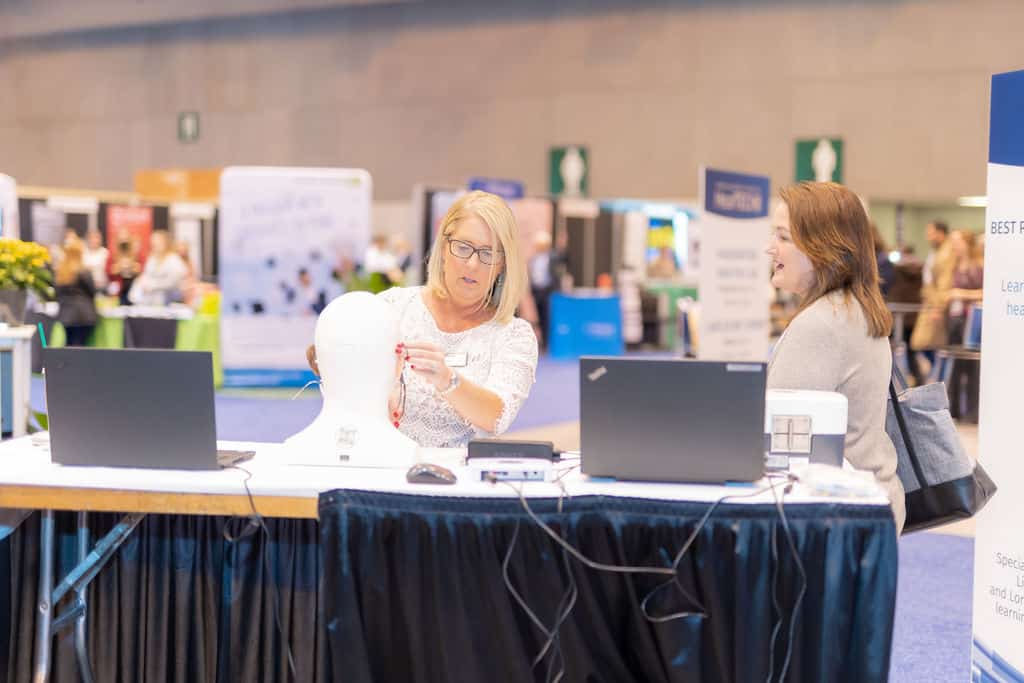 The Honor Is Ours
The conference is a great time to recognize outstanding members in our field, from scholarships to honors and awards. Six recipients of the Empowering Students Scholarship Program, generously funded by Oticon, Inc., were presented with a symbolic check in the HearTECH Expo Hall. Scholarship programs are supported by the American Academy of Audiology Foundation, helping to assist more exceptional students to become our incredible leaders of tomorrow.
We'd also like to once again recognize the honors and awards winners for their seminal contributions to hearing and balance care:
James Jerger Career Award for Research in Audiology: Deanna K. Meinke, PhD
Marion Downs Pediatric Audiology Award: Shelley Moats, AuD, PASC
Samuel F. Lybarger Industry Award: A.U. Bankaitis, PhD
Honors of the Academy: Ian M. Windmill, PhD, ABA Certified
Early-Career Audiologist Award: Lori Zitelli, AuD
Honors recipients sat down with colleagues and friends for the annual Honors and Awards dinner (sponsored by Phonak) to be recognized once again for their achievements. These are the professional influencers of today and tomorrow, and the Academy looks forward to seeing everything they will accomplish next.
"The need for audiologists to work together and embrace change" was articulated by current Academy President Sarah Sydlowski, AuD, PhD, MBA at the General Assembly. Dr. Sydlowski exemplified this spirit of togetherness by bestowing the President's Award on past Academy presidents Angela Shoup, PhD, and Catherine Palmer, PhD, for their service to the Academy over many years. The three shared a touching moment onstage with a group hug, united in collective mission and goal as Academy leaders.
We are sure they will make great mentors for all incoming Academy Board members later this year.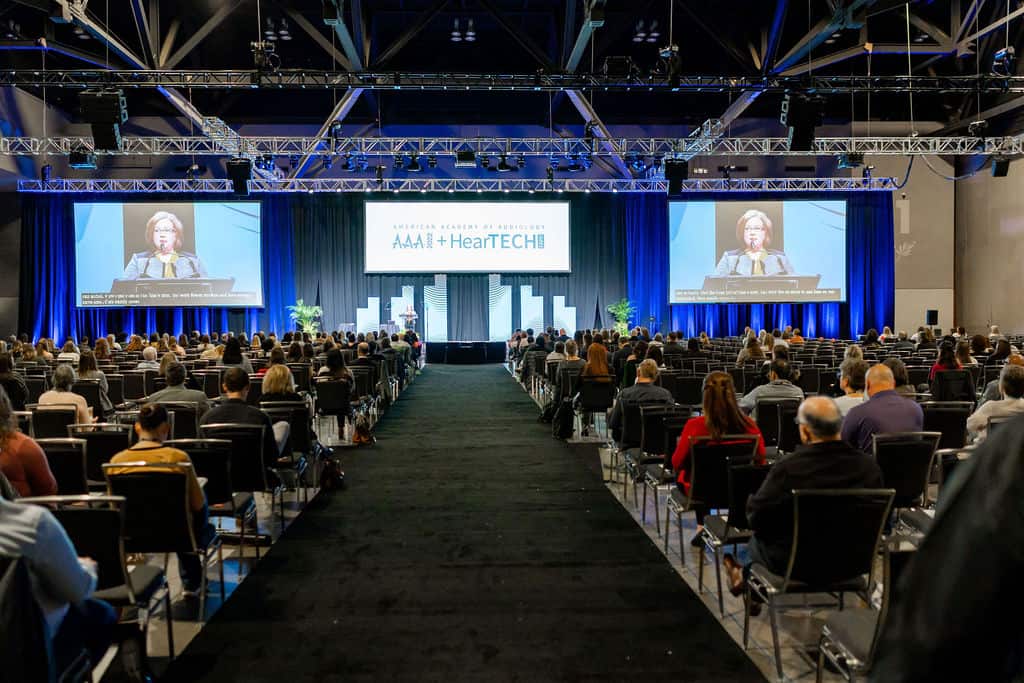 Expo Experience
"Pretty amazing," "variety," "sets us apart," "huge," "can't beat it," "mind-blowing," "new innovations," these are just a few of the soundbites provided by attendees to describe the expo hall. If you were to create a word cloud with the most commonly used phrase, "huge" would probably be in the very center. With hundreds of exhibitors, the Academy only hopes to build upon the success of AAA 2022+HearTECH Expo and provide our members with even more in the hall in the years to come. We look forward to welcoming both existing and new exhibiting companies each year. Check out the "who's who" of 2022 exhibitors.
In addition to the Best Practices Pavilion and Hub mentioned earlier, there also were fun and carefree activities within the expo as everyone moved from one booth to another. Sponsored by HearingLife, the Academy Arcade was a fun and nostalgic stop. Competitors took turns to beat the high score on Galaga/Ms Pacman, Donkey Kong, and Defender. We hope the top players were able to leave the conference with bragging rights!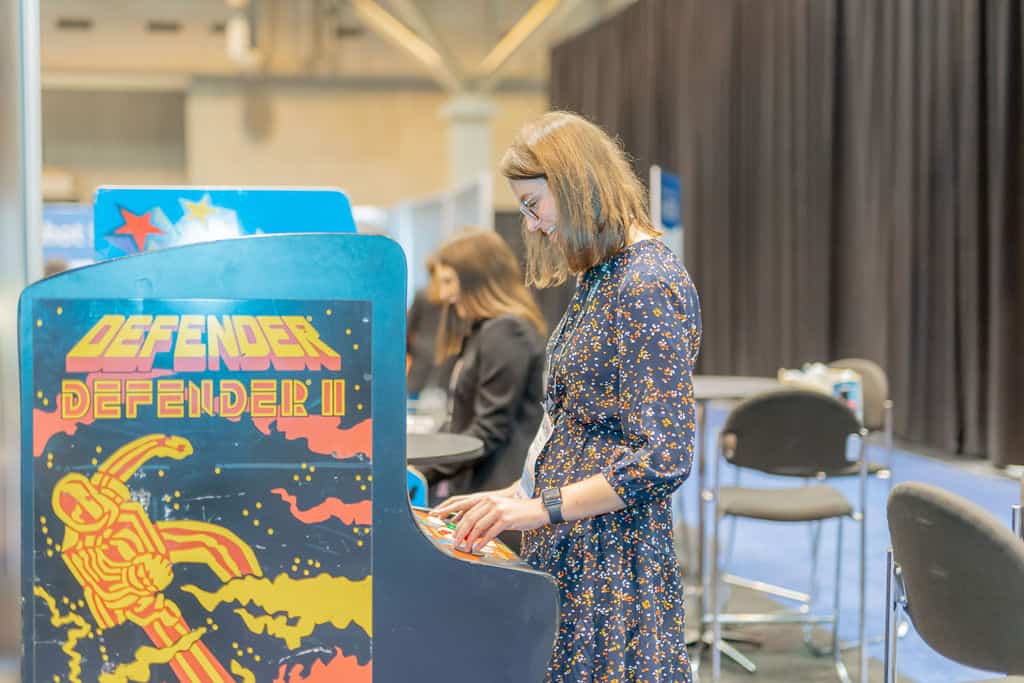 More than 400 students and professionals also came by the Professional Headshot Studio (sponsored by ReSound) on Thursday and Friday, with some even coming both days to have more than one photo from which to choose. Seeing so many smiling faces as they posed for glamour shots to enhance their professional photos was a great experience that we plan to continue in the following years.
Caricature Corner was also a hit on par with the Selfie Station, allowing participants to take home a little artwork to commemorate their conference experience after two years away. Artist renderings covered individuals and groups, delighting recipients, some of whom even posed with their drawing for the professional photographer.
For people who wanted to explore their features a bit further, they visited the Handwriting Analysis Lab. Using a handwriting sample, the analyst gave a review of what the handwriting said about health, career, love, and more.
Congratulations to our HearTECH Tour Raffle Prize Runway Winners!
Oticon Hearing Instruments with Charger (provided by Oticon): Rachel Green
ReSound Hearing Instruments (provided by ReSound): Abby Gragg
Signia Hearing Aid Earbuds (provided by Signia): Emily Kopperud
Jabra Elite Earbuds (provided by UnitedHealthCare Hearing): Catherine Hadeshian
Bose Quiet Comfort Earbuds (provided by UnitedHealthCare Hearing): Mariana Guedes
Apple Watch (provided by Widex): Marysue Koelling
Amazon $100 Gift Card: Angela Barton
Apple AirPods: Terry Alsum
AWAY Luggage: Deliane Beloni-Bussey
Amazon Fire Tablet: Elisabeth DeNuzzo
Beats Noise Cancelling Headphones: Shawna Jackson
ReSound Hearing Instruments (provided by ReSound): Abby Gragg
Preserving a Legacy
The Marion Downs Lecture in Pediatric Audiology is not only a great educational opportunity, but a space to honor a female pioneer in the field. Jerry Northern, PhD, Academy founder and benefactor of the Jerry Northern Scholarship in Pediatric Audiology, provided a touching tribute to Marion Downs prior to the lecture, which honors her legacy.
This year's topic was incredibly timely as well as poignant, focusing on bias and equity in the area of childhood development. Feelings of belonging and inclusion are started at an early age, and speaker Arie Nettles, PhD, had a packed room of attendees with which to share her research and insights on how to address this. Thank you to the Oticon Foundation for their continued support of this lecture series. See photos and more here.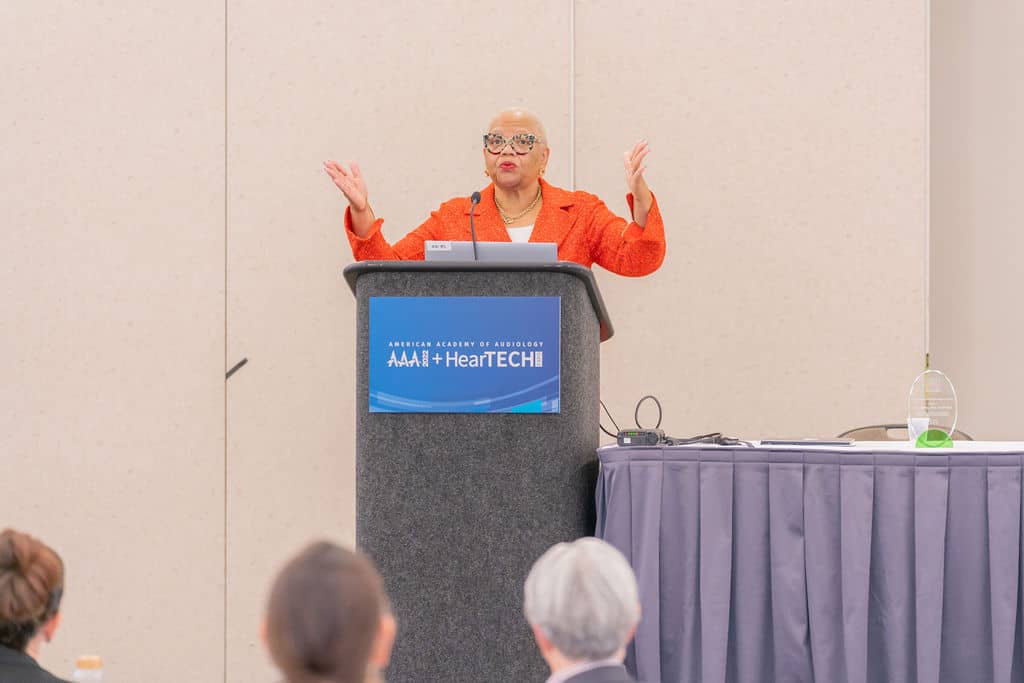 We Mixed, You Mingled
Since the days were so action-packed with dozens of presentations, evening events were a place to relax and do a little networking, with drinks and food provided. In addition to Celebrate Audiology, there were several meet-and-greets with leaders, including the Academy Board of Directors, the Accreditation Commission for Audiology Education (ACAE) Board, and the American Board of Audiology (ABA). This informal meeting environment allowed anyone in attendance the chance to put a face with a name, share best practices, or discuss a challenge with a colleague one-on-one.
Student attendees could also get direct interaction with their Student Academy of Audiology Board of Directors, with a Mix and Mingle (sponsored by Starkey) held directly after the SAA Conference. The packed room of students handing out business cards and adding each other on to their professional networks was an electric environment, buzzing with possibilities.
Everybody loves a happy hour, especially one that includes a silent auction and raffle prize. The American Academy of Audiology Foundation Happy Hour (sponsored by Phonak), featuring a designer handbag silent auction and a pledge drive, brought in more than $32,000. All proceeds support foundation initiatives of research, education, and public awareness raising. See photos from the handbag auction and more here.
All of the evening events culminated in the Friday night event—Audiology's Night Out: Biergarten at Anheuser-Busch. A visit with Rock On, the Budweiser Clydesdale, was just the first stop as groups entered the Biergarten, where they could choose from several beers and ciders to go along with the provided classics of burgers, hot dogs, and St. Louis's signature fried ravioli (people were getting second helpings). Many took advantage of the brewery tour while others danced into the night under the stars (and heat lamps). Special thanks to Amplifon for sponsoring such a fun event!
Thank you again for being part of this conference, the Academy community, and the audiology profession. We look forward to seeing you next year for AAA 2023+HearTECH Expo, April 19-22, in Seattle, Washington.

Are you a recognized expert in advanced clinical topics? Have you recently conducted research leading to results that need to be shared on a global scale? Is it finally time to release your proven best practices to the current and future generations of audiologists? Then click the button below to go to the Call for…