This year at AAA 2023+HearTECH Expo, the Academy had the honor of celebrating the 35th anniversary of its founding in 1988. Over the past 35 years, the Academy has grown to expand our enterprise with a membership that is thousands strong, many of whom (and more!) came out to Seattle April 19–22 for another fantastic annual event.
Set the Stage
The conference began with several SOLD-OUT hands-on learning labs, including the ever-popular sessions on cerumen management, vestibular evoked myogenic potentials, new clinical guidance in music audiology, and more. Student attendees enjoyed an entire day of students-only content at the annual Student Academy of Audiology (SAA) conference (sponsored by Starkey), starting their journey as annual AAA conference attendees. Saving space for student-led education both at the SAA conference and throughout the event sets up those who will become future professional leaders on a solid path for development and growth. As audiology is such a close-knit profession, events like the SAA Mix-and-Mingle (sponsored by Starkey) not only gives students a much-needed break at the end of a long day of learning, but fosters connection with other cohorts from across the country.
"The best event of the year for audiologists. A variety of thought-provoking topics on best practices, offering innovation and inspiration to take back to our practices. A wonderful opportunity to reunite with friends and make new connections." – Amanda Mravec, AuD, UW Health
For those not diving right in with educational sessions, Celebrate Audiology (sponsored by Hamilton CapTel) was a warm welcome home as the official unveiling of the exhibit hall showcasing 145 exhibiting companies, and housing the all-new recharge lounge (sponsored by Healthcare Providers Services Organization).
With an endless amount of things to see and do in the conference center, the recharge lounge was a well-used area for attendees to get off their feet, charge their phones, plan the rest of their day, and talk with others perusing the hall. We hope everyone enjoyed the chance to meet and chat with exhibitors and make connections, see product demonstrations, attend exclusive education with the HearTECH Hub, and unwind during the wine and cheese reception (sponsored by Sonova Audiological Care). Special thanks to our HearTECH Hub sponsors.
Degrees of Change
A focus of AAA 2023+HearTECH Expo was diversity, equity, inclusion, and belonging (DEIB) and these efforts must be rooted not only in an understanding of how the profession can become a welcoming space, but how it began and what we need to do together for a united future. At the opening general session (sponsored by ReSound) Academy President Virginia Ramachandran, AuD, PhD, and Executive Director Patrick Gallagher, MBA, spoke to the importance of audiology being recognized in the wider health-care space as providers of essential care, and a vital component of overall health and wellness. Audiologists are care providers, and need to be recognized, reimbursed for, and respected as such.
We were honored to have our opening keynote speaker, J. Israel Greene, leadership trainer and coach, Greene Consulting Group, layout the basic tenants of DEIB with a visual representation of the three-legged stool, where diversity, equity, and inclusion are the legs, and belonging is the seat. When people feel included, represented, wanted, valued, and feel confident that their voices and experiences are accounted for and have the space to be heard, only then will they feel fully comfortable to sit in the seat of belonging. Greene challenged all in attendance to come with questions and opens minds, and to leave committed to one action, and one degree of change.
This messaging can be applied to the profession, where degrees of change are needed in order to drive the profession where you, our members, want it to go, and how we, your Academy, can be facilitators of this process. The annual conference is just one way in which the Academy does this, providing a platform for thought-leaders and innovators.
Speaking of professional leaders, the annual Honors and Awards Celebration held at the conference on April 20 was a great gathering of award recipients, nominees, and supporters. Learn more about the honorees and award categories on our website here.
Supporting the Mission
As key players in the Academy enterprise, the AAA Foundation and the Political Action Committee (PAC) represent their respective missions of supporting research and public awareness for audiology and advocating on Capitol Hill at each annual conference. The AAA Foundation Happy Hour (sponsored by SHOEBOX) has quickly become a flagship event and not to be missed. For all who came out to support research and public awareness with your donations, as well as Foundation board members who attended to represent the Foundation mission, we thank you.
Seattle has a unique and exciting history that participants of this year's PAC event, the Ghost and Pub Tour through Pike Place Market, were able to revel in. All registration proceeds for this event went directly to support the PAC fund, which helps put audiology-related policy and priorities before Congress. Thank you to all who participated in this SOLD-OUT evening, we hope you learned something interesting about the city and have a great story to tell.
"The Academy conference has allowed me to network with leaders in the field as well as students both within the United States and other areas. This conference has not only allowed me to further my knowledge within audiology, but confirm my love for the field." – Kelly Sarhage Illinois State University
Learn by Doing
We understand that everyone learns differently, and wants to experience their education in different ways. After having a couple of years where virtual education practically became the mandatory standard, we were thrilled that so many attendees took advantage of our new collaborative "Coffee Talk" roundtable discussions. With 14 tables featuring a different topic each, there were very few empty seats, but plenty of coffee to go around (thank you, Seattle!). A special thanks to all of our inaugural discussion leaders for submitting a topic to tackle with your peers!
In addition to roundtables, AAA 2023 also offered networking and development sessions, such as an open dialogue on DEIB, a panel specifically for new professionals, collaboration for audiology research, and the highly anticipated return of our discussion forums. Reopening the hot topics of pediatrics, vestibular, amplification, and practice management, all four discussion forums brokered dialogue between audiologists from different walks of life and practice settings who wanted to dive deeper into these specialty topic areas. The foundations built at the annual conference hopefully translate into deeper professional connections and stronger schools of thought around these pressing issues. We cannot wait to see what ideas may be sparked in the coming years and we hope to see attendees back again as presenters someday soon.
If you're someone who loves to wear the hat yourself, so to speak, we truly hope you did not miss the return of our Hearing Accessibility Pavilion (sponsored by Hamilton CapTel). Staffed by several exhibitors, visitors to the pavilion could get real-world practice in with the latest technology supporting equal access for individuals with hearing loss. Gaining experience with hearing accessibility technologies elevates the standard of care and sets an audiologist up for an inclusive and understanding clinical practice.
Model Behavior
With more than 15 years' experience between them, Drs. Lavender and Mueller led the 2023 Marion Downs Lecture in Pediatric Audiology (sponsored by William Demant Foundation) on comprehensive pediatric vestibular care. Violette Lavender, AuD, laid out screening and testing techniques, and Gretchen Mueller, DPT, discussed strategies for balance assessment and vestibular rehabilitation. Each presenter gave a thoughtful overview of how vestibular care fits into infant and child development from birth to 21 years, and how attendees can take home the knowledge of how to identify and assist children with vestibular and balance dysfunction.
Everyone has varying levels of comfort with change, but for medical professionals, change is part of the pathway from student, to extern, to practicing in a clinical setting. To help students translate the theoretical into the real-world, the Annual Clinical Education Forum offered a student model for clinical education, highlighting the details of how a successful business practice operates. Examining case scenarios, tools, and tips developed with the Academy's Academic and Clinical Education Resources Committee, attendees of the forum were empowered with new ideas on how to improve the student experience.
Farewell for Now
Audiology's Night Out (our Friday-night event sponsored by Amplifon) is THE premiere event of each annual conference, and Seattle's Museum of Pop Culture (MoPOP) did not disappoint. With a killer VJ spinning music videos and hit songs from across the decades, there was something to pull at the heart strings of everyone there and get them up on their dancing feet. When not enjoying the food, music, and open bar, attendees could browse the exclusive museum exhibitions showcasing music legends like Biggie Smalls, Kurt Cobain, and Jimi Hendrix. We stepped into the Hidden Worlds of LAIKA Films and saw the magic behind the incredibly unique style of animation. For those looking to unleash their creative side, the sound lab housed dozens of rooms to fulfill recording studio fantasies with guitars, drums, vocals, and more. So many friendships formed and solidified that night, with memories that last.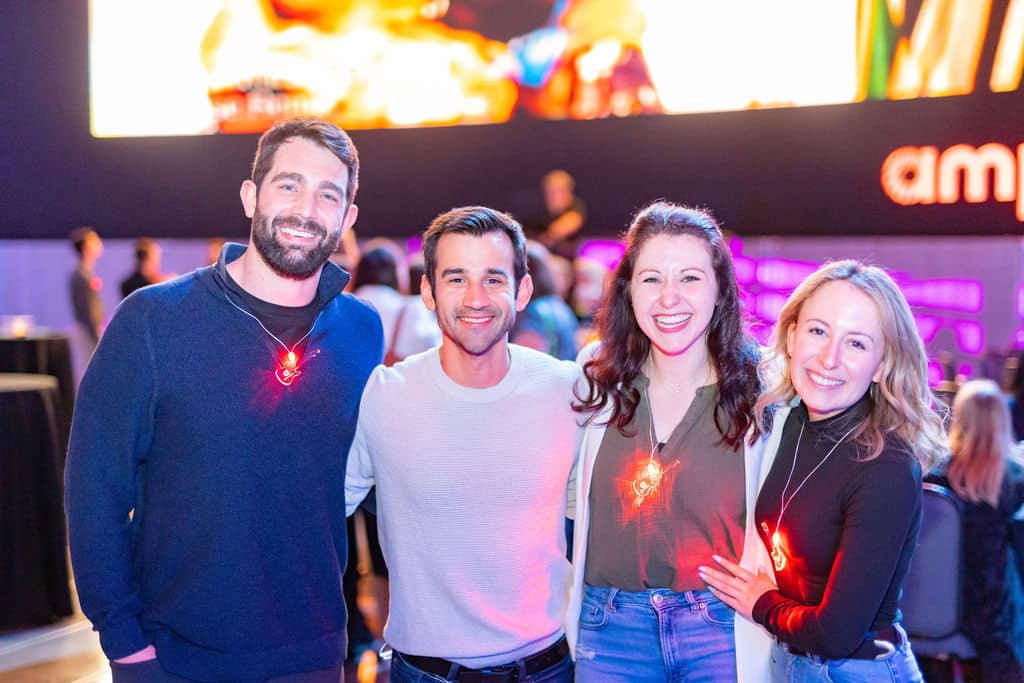 Comedian D.J. Demers offered an interactive and relatable send off as our closing keynote speaker. His stand-up special, My (Entire) Life with Hearing Aids, had the entire hall smiling, laughing, and nodding along as he wove his personal experiences into narrative comedy. D.J. was even kind enough to open the floor to questions afterward, speaking with attendees about his childhood interactions with audiologists, how to handle bullying, and more. We all owe a huge thank you and round of applause to D.J. for being our very first closing general session speaker (sponsored by Phonak).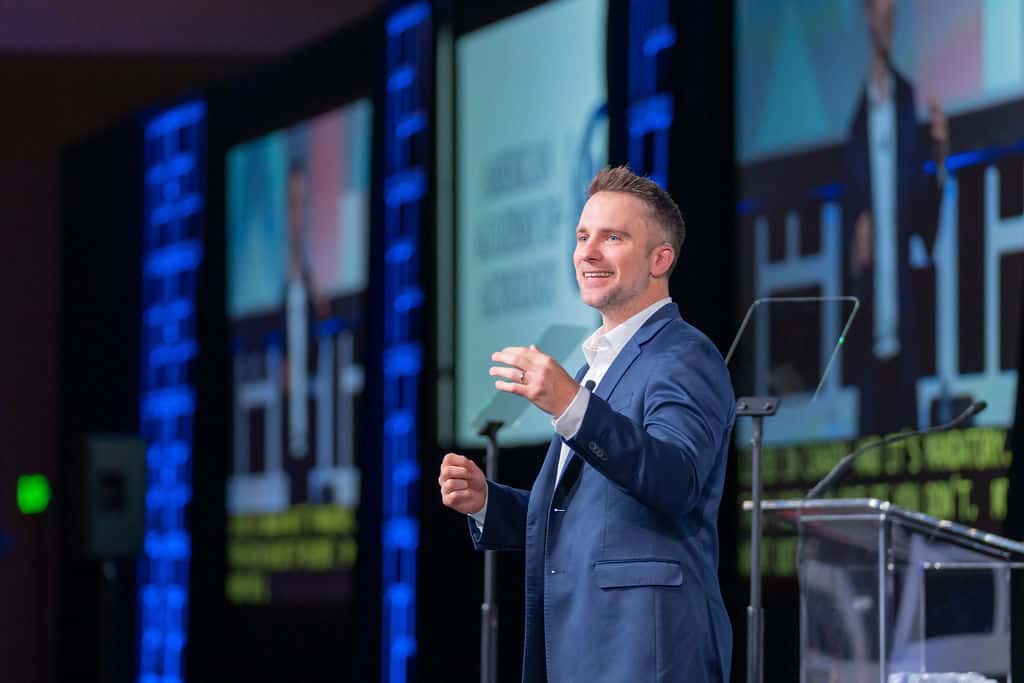 The end of each annual conference is bittersweet, as the culmination of months (and years) of hard work by students, presenters, researchers, program committee volunteers, Academy staff, comes to a close. It is so thrilling to see so many minds come together all striving to better themselves and the profession, but sadly an annual event only comes but once a year. Until next time, when we will see you again in Atlanta, Georgia, for AAA 2024+HearTECH Expo, April 17–20, 2024.
"The Annual Conference this year was very enjoyable and educational. There was a good variety of topics and classes to attend, enough that it was disappointing almost to have to choose between classes. The opening session was informative, and the new closing session was the perfect ending to the conference. I look forward to meeting again in Atlanta next year!" – Norman N. Sorensen, Mountain Plains Audiology, Inc.
---
If you enjoyed your time at AAA 2023+HearTECH Expo and want to get more involved in creating a great conference, you're in luck! Applications are still being accepted for volunteers on AAA 2024 program subcommittees. These opportunities are short-time commitments (a few months in the fall and winter months) and we need experienced professionals like you to lend your expertise!

Are you a recognized expert in advanced clinical topics? Have you recently conducted research leading to results that need to be shared on a global scale? Is it finally time to release your proven best practices to the current and future generations of audiologists? Then click the button below to go to the Call for…