We are excited to offer the following fun activities and networking events to enhance your experience at AAA while in Seattle. Most activities are included with your conference registration, but those indicated with a ($) are available at a separate fee and can be purchased with your conference registration.
Start planning your conference experience with the conference planner.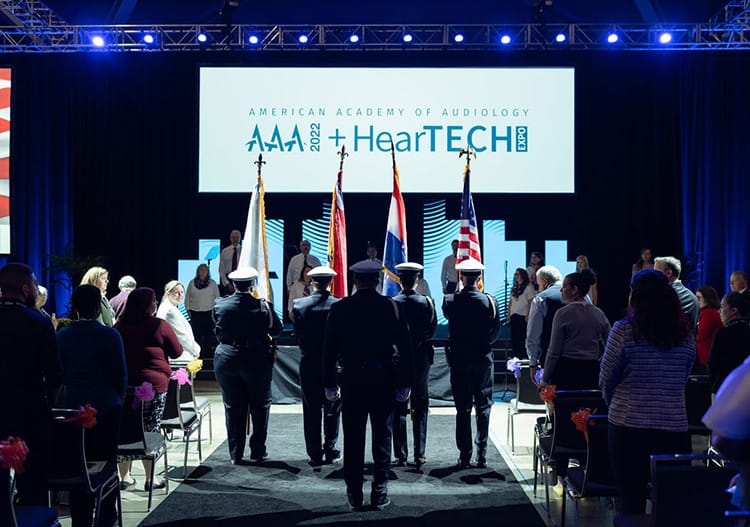 First-Time Attendee Orientation
Wednesday, April 19, 11:00–11:45 am
Is this your first time attending the AAA Conference and HearTECH Expo? Join us for an overview that will help you make the most of this incredible experience. This is also a great opportunity to meet other attendees at the conference.
---
New Professionals Networking "Meet-Up"
Wednesday, April 19, 1:30–2:30 pm
Open to new professionals only (those with 5 years or less of experience)
Calling all new professionals! You are invited to attend this all-new networking "meet-up" event focused on fostering open dialogue and relationship-building amongst new professional audiologists. The room will be set with informal round tables moderated by the Academy leaders and volunteers listed below. Attendees will be encouraged to ask questions and share their experiences on a variety of topics with one another to develop a sense of community and support at the outset of the conference and beyond. This is a great way to tap into the resources available to you as a conference attendee. We hope to see you there!
Jamie Bogle, AuD, PhD
Lindsey Jorgensen, AuD, PhD
Kaitlyn Kennedy, AuD, ABA Certified
Lachelle Lazarus, AuD
Jessica Messersmith, PhD
Sarah Ostlie, AuD
Samantha Kleindienst Robler, AuD, PhD
Tricia Scaglione, AuD
Audrey Taylor, AuD
Trent Westrick, AuD
Lori Zitelli, AuD
Sponsored by Kaiser Permanente.
---
Student Academy of Audiology (SAA) Mix and Mingle (Students Only)
Wednesday, April 19, 4:00–5:30 pm

Whether you're an undergraduate or graduate student, the SAA Mix and Mingle is the place to be on the opening night of AAA 2023+HearTECH Expo. The SAA invites you to enjoy a snack and a beverage while meeting audiology students from across the country and around the world. Open to all student attendees. SAA Conference registration not required to attend the Mix and Mingle.
Sponsored by Starkey.
---
Celebrate Audiology Opening Reception
HearTECH Expo
Wednesday, April 19, 5:00–7:00 pm
Kick off the first evening of AAA 2023+HearTECH Expo in the exhibit hall. Mingle with colleagues and industry representatives and partake in the open bars and food available.
Sponsored by Hamilton CapTel.
---
AAA Foundation Happy Hour ($)
Wednesday, April 19, 7:00-8:30 pm
Early
February 1, 2023
Advanced
April 17, 2023
On-Site
Attendee
$85.00
$95.00
$95.00
Student Member
$35.00
$45.00
$45.00
The AAA Foundation's Happy Hour is the flagship event not to be missed! Reunite with friends and colleagues and enjoy food and drinks while supporting the Foundation's mission of promoting research, education, and public awareness in audiology and hearing sciences.
Sponsored by Shoebox.
---
Hearing Accessibility Pavilion
HearTECH Expo
Thursday, April 20, 1:00–4:00 pm
Friday, April 21, 10:00 am–12:00 pm
Inclusion is a key theme of this year's conference. At the HearTECH Expo, you will experience the Hearing Accessibility Pavilion focusing on education and hands-on demonstration of products to optimize patient communication in daily life and support equal access for individuals with hearing loss. The pavilion will provide you with opportunities to learn and test the latest strategies, technologies, and solutions for hearing accessibility, all of which will enhance the value you deliver to your patients and setting your practice apart from others.
What you learn can also be applied at other meetings you may attend and in educating other professionals you interact with so they, too, can support inclusion and accessibility. The Hearing Accessibility Pavilion is an important part of your conference experience so be sure to stop by!
Sponsored by Hamilton CapTel.
---
Professional Headshot Studio
HearTECH Expo
Thursday, April 20, 1:00–4:00 pm
Friday, April 21, 10:00 am–1:00 pm
Every professional needs a good headshot for your networking and business opportunities. Inside the HearTECH Expo, in a designated booth space, a professional photographer will capture portraits (headshots) of the attendees which will be made available in a digital format after the show.
Sponsored by ReSound.
---
Deaf and Hard of Hearing Audiologists and Students
Thursday, April 20, 1:15-2:15 pm
We invite all Deaf and hard of hearing audiologists and students to join us to connect (or reconnect) at AAA 2023 in Seattle. To stimulate discussion, we will quickly survey the diversity of the group and then move into supportive discussions on specific topics that impact clinical practice and training.
---
Advancing Clinical–Academic Collaborations in Research: A Networking Session
Thursday, April 20, 1:00–2:00 pm
The Academy's Research Initiatives Committee, in collaboration with the Academy's Scientific Advisory and External Relations Council, is organizing a networking session to facilitate clinical and academic research collaborations. Informal discussions will link research audiologists with clinical audiologists to address research priorities.
Come discuss how to create shared resources between academics and clinics, develop relationships, and get involved in contributing to the evidence base of the profession. Established and beginning researchers and audiologists of any clinical specialty are welcome. Discussions will be organized around Academy-identified research priorities with space intentionally created for additional topics of interest to the attendees.
---
Wine and Cheese Reception
HearTECH Expo
Thursday, April 20, 6:00–7:00 pm
After a long day of education on Thursday, take some time to network and unwind with fellow attendees and visit with exhibitors during our Wine and Cheese Reception in HearTECH Expo.
Sponsored by Sonova Audiological Care.
---
Recharge Lounge
Open during HearTECH Expo Show Hours
Take a break and network with friends and colleagues at the same time! The Recharge Lounge, featuring comfortable furniture and cell phone charging stations, is a destination for attendees to take a break, relax, recharge, and connect during Expo show hours.
Sponsored by Healthcare Providers Services Organization.
---
Honors and Awards Celebration ($)
Thursday, April 20, 6:30–7:45 pm
Cost: $55 Attendee / $30 Student
Reception includes light refreshments and two drink tickets.
Our annual Honors and Awards reception is a "must-attend" event celebrating pioneers in hearing health care and exciting future innovators. Enjoy tasty treats with fellow colleagues while hearing from inspiring speakers, and applaud the influential award winners and honorees at this inspirational networking event.
---
SOLD OUT: PAC Event: Ghost and Pub Tour Through Pike Place Market ($)
Open to U.S. Members Only
Thursday, April 20, 7:00-9:30 pm
Cost: $45 includes tour plus donation to the PAC (drinks not included)
Join us on a spirited journey through Pike Place Market! This combination ghost and pub tour will explore the fascinating history of Seattle and reveal some of its most famous and creepy haunted stories.
A costumed guide will lead tour goers on a 2-2.5 hour walking tour, offering glimpses into the past and revealing the stories of long-dead phantoms and specters who still call Seattle home. You'll visit three different bars and have time to enjoy a delicious libation (at own expense) as the guide tells you about all the spooky happenings and great history of this amazing town! 21+ only.
The tour will operate rain or shine and is about 1 mile of walking on ground that is steep and uneven in places, so wear comfortable shoes.
---
Coffee Break in HearTECH Expo
Friday, April 21, 9:30 am
Fuel up for another power-packed day at AAA 2023! Stop by our Coffee Break station in HearTECH Expo and grab a hot cup of coffee before heading off to visit with exhibitors or participate in an educational session.
Sponsored by Eosera.
---
"Coffee Talk" Roundtable Discussions
Friday, April 21, 9:30–10:30 am
One of the most effective ways to learn, grow, and innovate is by sharing best practices with colleagues and peers. Coming together (over coffee of course!) to network and share experiences is a unique opportunity you can't afford to miss. Each table of 10 will focus on a specific topic with an expert facilitator leading the team discussion. What is keeping you up at night?
This "coffee talk" format will put you in the driver's seat so you walk away with key nuggets to stay up-to-date and help move the needle on challenges you are facing. You'll not only walk away with new strategies, but you'll expand your portfolio of contacts.
Attracting and Retaining Staff Members
Facilitated by Nichole Kingham, AuD and Michael Mallahan, AuD
Embracing Diversity, Equity, Inclusion, and Belonging as Clinicians
Facilitated by Lachelle Lazarus, AuD
Established Professionals: Setting Yourself Up for Success as You Take the Next Steps in Your Career
Facilitated by Ashley Hughes, AuD and Kaitlyn Kennedy, AuD
Expanding Auditory Processing Testing and Treatment for Adults
Facilitated by Cheryl Edwards, AuD
First Job…First Step to Your Next Step: How to Position Yourself for Your Future
Facilitated by Carol Cokely, PhD
How to Jump into Precepting and Make It Work to Your Advantage
Facilitated by Gail Whitelaw, PhD
Incorporating Vestibular Treating into Your Practice: What Tests to Run and When?
Facilitated by Jamie Bogle, AuD, PhD
Not a Last Resort: Getting Comfortable with Implant Candidacy
Facilitated by Sarah Sydlowski, AuD, PhD, MBA
Outreach to Health-Care Professionals
Facilitated by Emily Venskytis, AuD
Pediatric Electrophys: Common Questions and Trouble-Shooting
Facilitated by Lisa Hunter, PhD
Running a Successful Practice: The Good, The Bad, and The Ugly
Facilitated by Jason Leyendecker, AuD
RVU vs. Financial Viability in a Medical Center
Facilitated by Meagan Bachmann, AuD
Simulation in Precepting: What Materials to Use and How to Implement
Facilitated by David Brown, PhD
Third-Party Administrators
Facilitated by Patricia Johnson, AuD
---
Diversity, Equity, Inclusion, and Belonging (DEIB) Open Dialogue Session
Friday, April 21, 1:00-2:00 pm
Open to all attendees
The Diversity, Equity, Inclusion, and Belonging (DEIB) Committee is providing an opportunity for audiologists to come together to discuss informally current issues and ongoing challenges in fostering a culture of inclusiveness in audiology. The committee invites conference participants to join a variety of discussion tables or to form one that will bring together other participants of similar interests for information and idea exchange. The session will also provide the opportunity to hear more about how to get involved in activities and roles within the Academy to advance DEIB priorities. Additionally, the committee hopes the session will provide an opportunity for networking and establishing connections that will carry beyond the convention.
---
Audiology's Night Out ($)
Friday, April 21, 7:00-10:00 pm
Audiology's Night Out
Early
February 1, 2023
Advanced
April 17, 2023
On-Site
Transportation on the Seattle Monorail included for the first 400 ticket holders.
$70.00
$75.00
$75.00
Get ready for a night to remember! Come join the Academy at Seattle's Museum of Pop Culture (MoPOP), an unforgettable museum and venue experience! Set amid the backdrop of the Space Needle, MoPOP is a leading-edge non-profit museum designed by internationally acclaimed architect Frank O. Gehry. MoPOP houses some of the world's most legendary pop culture artifacts in music, movies, television and more. Hands-on experiences (like testing your DJ skills in Sound Lab!) and award-winning exhibitions make MoPOP a destination unlike any other. Check out their current exhibits!
On their way to MoPOP, the first 400 attendees will have the opportunity to live like a local and take the monorail* right through the center of the museum! The Seattle Center Monorail dates back to 1962 and was built for the Center 21 World's Fair. Located downtown and just a few blocks away from Academy hotels, trains depart every 10 minutes from the Westlake Center Station and the ride to MoPOP takes only two minutes!
Attendees will enjoy food stations and open bar service. A DJ will provide entertainment throughout the event and many of the museum's most popular galleries will be open for exploration. This must-attend event is your chance to network, mix and mingle, and have fun at a one-of-a-kind venue before wrapping up your AAA 2023+HearTECH Expo experience!
*Monorail rail passes will be provided to the first 400 registrants.
Sponsored by Amplifon.