Get Ready for AAA 2023+HearTECH Expo in Seattle!
Seattle is a city home to innovation and has been at the forefront of visionary adaptations from music to technology and industry. This is a fitting host for the conference as audiology adapts to patient care in a post-COVID world.
We are entering a new era of audiology with the introduction of government-regulated over-the-counter hearing aids, new research on pharmacological treatments for hearing loss, and promotion of the full range of critical services provided by audiologists and how our community intersects with many other health care professions.
The conference is your professional home where audiology is put first. Here, we will provide you with information, resources, connections, and tools that you can use immediately back home to adapt to this new reality and keep your practice setting up to date.
You won't be Sleepless in Seattle! At AAA 2023+HearTECH Expo, you'll be buzzing from top-notch education igniting your passion for your profession, exciting and fun networking opportunities where you'll meet new people, cool hands-on activities, and much, much more.
We'll see you in Seattle for AAA 2023+HearTECH Expo, April 19-22.
Seattle, Washington
Seattle is famous for Starbucks and an overall coffee culture, the grunge music scene, the Seahawks, the Space Needle, Pike Place Market, headquarters of many of the leading tech pioneering companies (including both Amazon and Microsoft), hiking, kayaking, and a general outdoors lifestyle (think REI).
Chair: Brenna Carroll, AuD
Chair Elect: Bre Myers, AuD, PhD
Past Program Chair: Wafaa Kaf, PhD
Past Program Chair: Erin Miller, AuD
Past Program Chair: Joscelyn Martin, AuD
Board Liaison: Virginia Ramachandran, AuD, PhD
Staff Liaison: Natalie Bisbee
Bre Myers, AuD, PhD, Learning Modules Subcommittee Chair
Brenda Ryals, PhD, Research Podium/ Student Research Forum Subcommittee Chair
Melanie Vazquez, AuD, Featured Session Subcommittee Chair
Riley DeBacker, AuD, PhD, Poster Subcommittee Chair
Tish Gaffney, AuD, Learning Labs/Grand Rounds/Mini Modules Subcommittee Chair
Academy Central
Want to learn more about the Academy and all it's doing for the profession? Visit Academy Central at the AAA 2023+HearTECH Expo. Discover the benefit of membership, receive the latest marketing materials for your practice, and more. Academy staff will be on-site to answer all of your questions.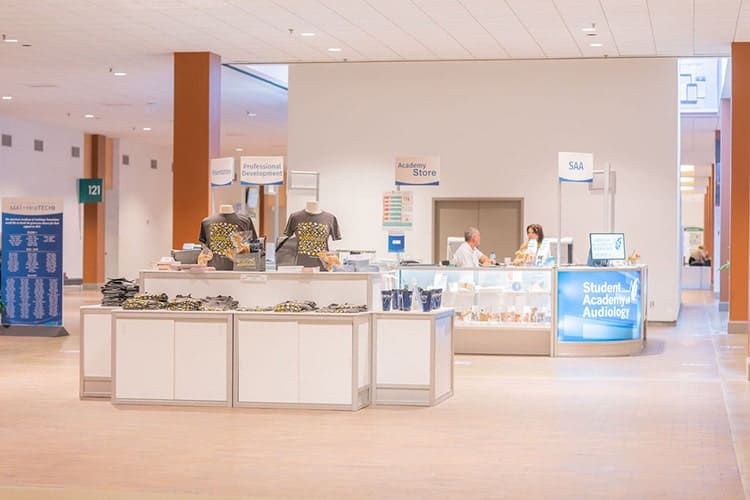 Press and Media
The Academy is excited to welcome members of the media and press to the AAA 2023+HearTECH Expo in Seattle, Washington. Continue to check back via the Press and Media page for updated information.
Upcoming Conference Dates
Important Note: If you are contacted by unaffiliated organizations claiming to be representatives of AAA 2023+HearTECH Expo offering to sell you the conference attendee list or solicit hotel deals outside of our official hotel provider, please do not engage with these groups. Our attendee list is not for sale and we have secured an official hotel provider, Martiz, specifically for you and your safety. Please be aware of, and report any unauthorized solicitation to AAAinfo@audiology.org.