Get Ready for AAA 2024+HearTECH Expo!
Don't Miss Out On This One-Of-a-Kind Experience
Here, we will provide you with information, resources, connections, and tools that you can use immediately back home to adapt to this new reality and keep your practice setting up to date.
AAA 2024+HearTECH Expo, April 17-20, in Atlanta, Georgia, offers top-notch education igniting your passion for your profession, exciting and fun networking opportunities where you'll meet new people, hands-on activities, and much more.
AAA 2024+HearTECH Expo
April 17-20
Georgia World Congress Center
285 Andrew Young International Blvd NW
Atlanta, GA 30313
Phone: 206-694-5000
Chair: Bre Myers, AuD, PhD
Past Program Chair: Brenna Carroll, AuD
Past Program Chair: Tish Gaffney, AuD
Board Liaison: Bopanna Ballachanda, PhD
Staff Liaison: Anne Poodiack
Clinical and Teaching Posters Subcommittee Chair:
Ashley Hughes, AuD, Research
Featured Session Subcommittee Chair:
David Jedlicka, AuD
Research Podium/ Student Research Forum Subcommittee Chair:
Aaron Roman, AuD
Learning Labs/Grand Rounds Subcommittee Chair:
Tricia Scaglione, AuD
Academy Central
Want to learn more about the Academy and all it's doing for the profession? Visit Academy Central at the AAA 2024+HearTECH Expo. Discover the benefit of membership, receive the latest marketing materials for your practice, and more. Academy staff will be on-site to answer all of your questions.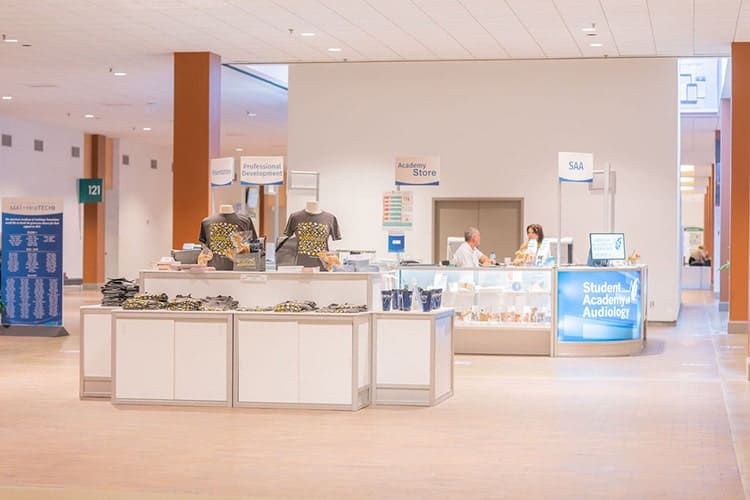 Press and Media
The Academy is excited to welcome members of the media and press to the AAA 2024+HearTECH Expo in Atlanta, Georgia. Continue to check back via the Press and Media page for updated information.
Upcoming Conference Dates
Important Note: If you are contacted by unaffiliated organizations claiming to be representatives of AAA 2024+HearTECH Expo offering to sell you the conference attendee list or solicit hotel deals outside of our official hotel provider, please do not engage with these groups. Our attendee list is not for sale and we have secured an official hotel provider, Martiz, specifically for you and your safety. Please be aware of, and report any unauthorized solicitation to AAAinfo@audiology.org.