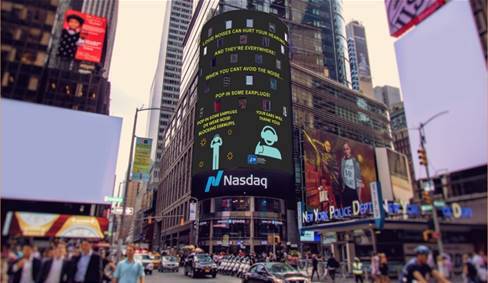 The National Center for Environmental Health's (NCEH) noise-induced hearing loss (NIHL) initiative has hit the big times…Times Square, that is, a major commercial intersection, tourist destination, and entertainment Mecca known as "The Crossroads of the World."
Times Square is located in the midtown Manhattan section of New York City (NYC) at the junction of Broadway and Seventh Avenue. It extends from West 42nd to West 47th Streets and is extravagantly and very brightly decorated with billboards and advertisements. A 15-second public service announcement for noise-induced hearing loss will be advertised on two of the largest billboards: the NASDAQ unit with 10,080 square feet, and the Thomson Reuters unit with 7,691 square feet, during the weeks of the Macy's Thanksgiving Day parade (11/25/19-12/2/19) and the week of New Year's Eve (12/24/19-12/31/19).
One of the most popular annual attractions in NYC, the Macy's Thanksgiving Day Parade has been a New York City tradition since 1924. Attracting more than 3.5 million people to the streets of Manhattan every year, and watched by an audience of millions of TV viewers, the displays are expected to be viewed by upwards of 21 million people. An estimated one million people celebrate New Year's Eve at Times Square with over a billion watching throughout the world.
The public health messages are clear…
Protect Your Hearing!
Loud Noises Can Hurt Your Hearing … And They're Everywhere!
When You Can't Avoid The Noise … Pop In Some Earplugs Or Wear Noise-Blocking Earmuffs.
Your Ears Will Thank You!
More resources on noise-induced hearing loss:

If you have a dog or cat, you've probably seen their ears moving toward an interesting or startling sound. For professional equestrians, watching the ears of their horse allows them to gauge their shifting attention. Humans still have these same muscles, and even more interesting is their relationship to our brain and how we pay attention. …