The Academy maintains a heavy agenda of activities to address legislative and regulatory priorities for the profession of audiology. From monitoring new legislation and regulations to helping shape policy, the Academy's volunteer leadership and staff are working on behalf of the interests of audiologists. This work involves active engagement with Congressional offices and federal agencies, collaboration with other professional audiology organizations and stakeholders from other health care disciplines, and coordination with payment policy efforts across the organization.
The Academy's governance structure includes an Advocacy Council to oversee and facilitate cooperation between the committees that manage activities related to legislation, regulation, and payment policy. The Government Relations Committee works with the staff to guide the Federal Affairs, whereas the State Relations Committee identifies strategies for effective State Affairs.
The Academy staff prepares annually a year-in-review of advocacy activities to keep the membership informed about priority activities. The "Advocacy 2020: Year in Review" reports the high-level and significant activities but may not capture fully the depth and breadth of topics covered by the Academy. Members requesting more detail about activities can contact the Senior Director of Government Relations, Susan Pilch, JD.
Advocacy 2020: Year in Review
The 2020 edition of the Academy Advocacy Year in Review provides an overview of the ways in which the Academy used its legislative, regulatory, and political resources to advocate for audiologists amidst the backdrop of the COVID-19 global pandemic.
The year began with a webinar for Academy members on expected 2020 advocacy topics as well as three student Capitol Hill visits before most in-person activity shut down in mid-March. Although the pandemic curtailed most if not all in-person interaction, activity on the advocacy front continued full force as the Academy sought out opportunities to help audiologists mitigate the impact of the pandemic on their practices as well as advance the existing legislative and regulatory priorities.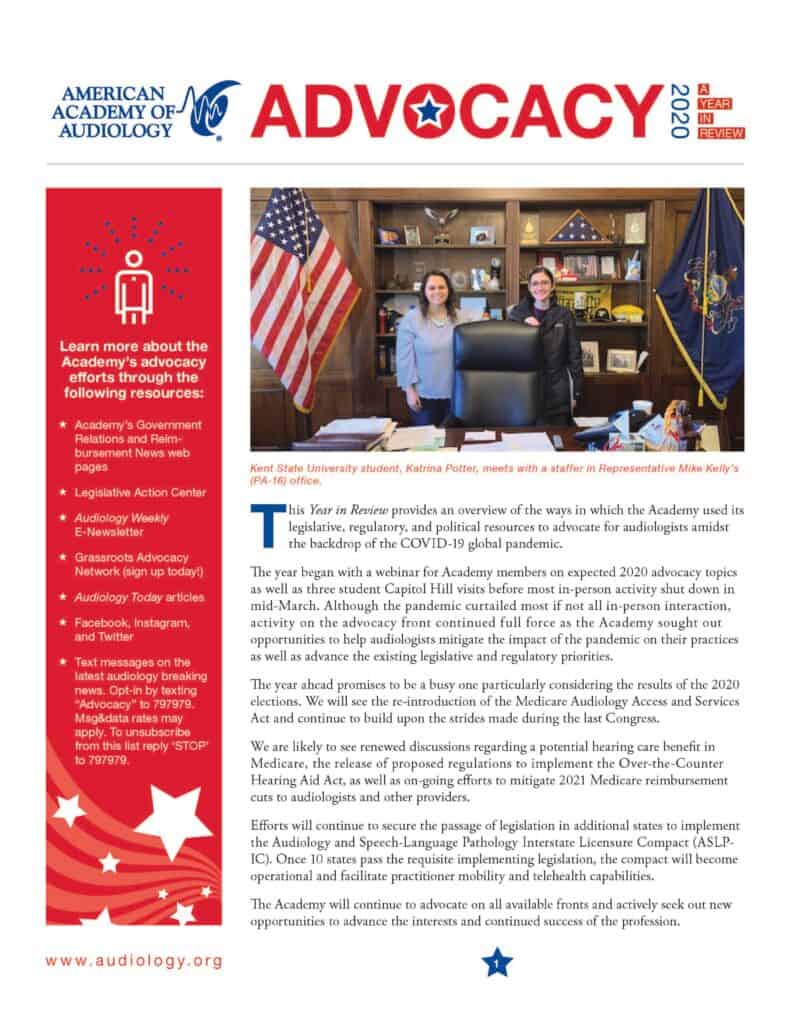 The year ahead promises to be a busy one particularly in light of the results of the 2020 elections. We will see the re-introduction of the Medicare Audiology Access and Services Act and continue to build upon the strides made during the last Congress. We are likely to see renewed discussions regarding a potential hearing care benefit in Medicare, the release of proposed regulations to implement the Over-the-Counter Hearing Aid Act as well as on-going efforts to mitigate 2021 Medicare reimbursement cuts to audiologists and other providers.
Efforts will continue to secure the passage of legislation in additional states to implement the Audiology and Speech-Language Pathology Interstate Licensure Compact (ASLP-IC). Once ten states pass the requisite implementing legislation, the compact will become operational and facilitate practitioner mobility and telehealth capabilities. The Academy will continue to advocate on all available fronts and actively seek out new opportunities to advance the interests and continued success of the profession.
Past Years
Advocacy 2019: A Year in Review
Advocacy 2018: A Year in Review