The Journal of the American Academy of Audiology (JAAA) is the Academy's scholarly peer-reviewed publication, issued 10 times a year and available online at no cost to Academy members as a benefit of membership. The journal publishes articles and clinical reports in all areas of audiology, including audiological assessment, amplification, aural habilitation and rehabilitation, auditory electrophysiology, vestibular assessment, and hearing science.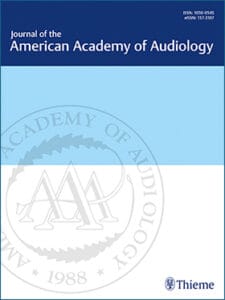 Online
The online edition of the journal, published and hosted by Thieme Medical Publishers, is provided in an enhanced format to help readers quickly locate the research they need. Full-text articles are available in both HTML and PDF versions.
In Print
JAAA is available to Academy members in a print edition at a cost of $75 a year. Members can order a print subscription on their membership renewal form or on their member dashboard.
Access JAAA Online
Academy members logged in to audiology.org with their membership credentials can reach the JAAA online portal, which offers JAAA issues from 2022 through 1999, by clicking on the JAAA Online button below. Recently uploaded pre-publication versions of JAAA issues for 2022 can be found separately by clicking on their individual buttons below.
If you are an Academy member and do not see two log-in buttons after the paragraph below, select Member Login at the top of this web page and log in to the Academy website with your membership credentials. After you are logged in, all of the buttons will appear below this paragraph.
The 2022 buttons on this page provide temporary access to select issues of JAAA. Thieme, the publisher of the journal, will be uploading the official versions of these issues to its JAAA portal soon. After that occurs, the issues will be available by selecting the button currently labeled JAAA Online.
Transition to Thieme Medical Publishers
The Journal of the American Academy of Audiology is published by Thieme Medical Publishers and produced with the help of publishing partners located throughout the world.
Publication delays have occurred as a result of the transition to a new publisher, which required the reformatting of all existing JAAA content, all content already in production and all new content entering the production stream. In addition, across the globe, in locations where JAAA publication processes are occurring, lockdowns and workplace requirements related to halting the spread of COVID-19 and resulting supply-chain issues are continuing to contribute to unexpected delays in the release of journal articles and issues.
We sincerely apologize for the delays in publication. We are working as swiftly as possible with our publisher to make content available in a timely and accurate manner.
We appreciate your patience in these challenging times.
CEU Questions Now Available
CEU questions are now available on eAudiology for the following JAAA issues for 2022: JAAA 33.2, 33.3, 33.4 and 33.5.
JAAA Issues Now Available
The next issue of the journal scheduled to publish is JAAA Volume 33, Issue 5.
Many JAAA articles are initially published online when they are accepted for publication, in the format provided by the author/s. These articles appear under the Accepted Manuscripts tab in the JAAA online portal.
After articles are copyedited and typeset, they appear under the eFirst tab in the JAAA online portal. And, after articles are published in a compiled issue, they can be found under the Issue tab in the JAAA portal.
Submission and Review Information
The Academy welcomes submissions to the journal from members and from nonmembers. We also welcome applications from peer reviewers.
To submit an application to become a reviewer, email our editorial office