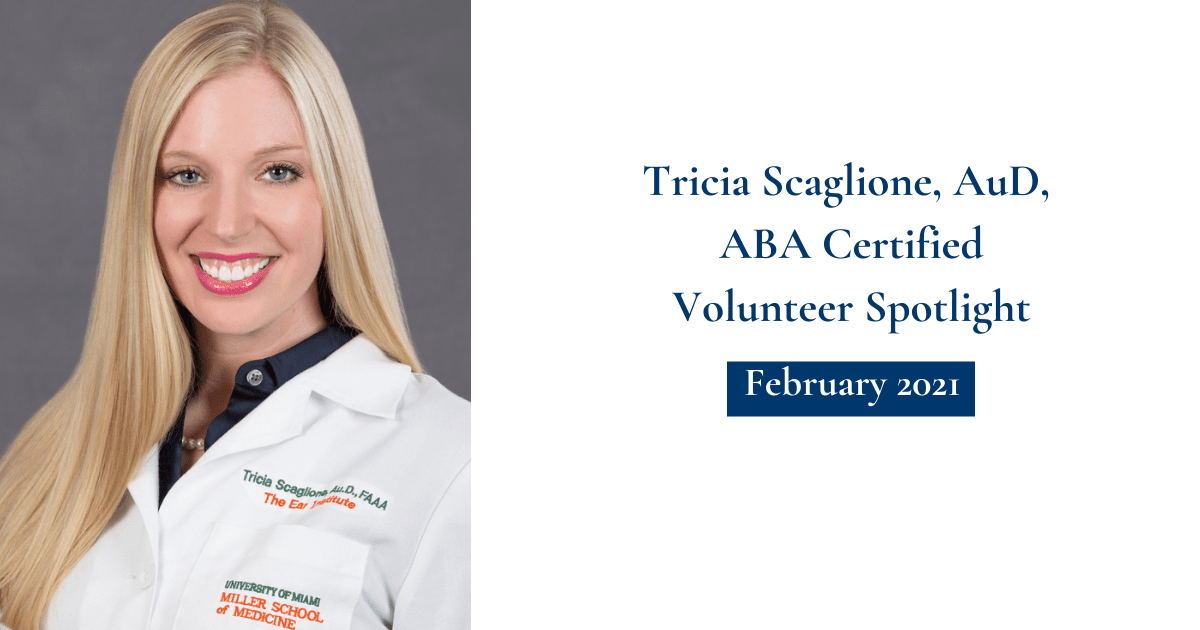 ---
What is your background in audiology?
I initially pursued communication sciences and disorders at the University of Massachusetts-Amherst (UMass) with the intention of becoming a speech-language pathologist. I believe it was during my junior year that I was introduced to the concept of cochlear implants and it instantly changed my career path.
After graduating from UMass in 2004, I went on to pursue my AuD at Nova Southeastern University in Fort Lauderdale, Florida. I completed my clinical externship at the University of Miami Miller School of Medicine and was offered a full-time position upon graduation in 2009.
I have been an assistant professor and clinical audiologist with the University of Miami for about 12 years now specializing in the areas of tinnitus and sound sensitivities, vestibular diagnostics, and evoked potentials. I currently serve as the director of the Tinnitus and Sound Sensitivities Clinic, associate director of clinical education—audiology, and oversee one of the divisions satellite clinics.
Why do you volunteer with the Academy?
Volunteering lets me give back while allowing me to gain a deeper understanding of the Academy. It also helps me to voice changes I hope to see in the Academy. For example, I had some suggestions for future annual conferences, so rather than just write them on the conference survey, I joined the respective conference subcommittees. Additionally, the networking and friendships made through the different committees/subcommittees is invaluable.
What is your "fun fact" about yourself that you always use for introductions?
I am an avid traveler and have been to approximately 30 countries. I was a student ambassador to Australia at the age of 16 and I've been a globetrotter ever since! I absolutely love learning about different cultures, trying new foods and appreciating all of the various forms of beauty our world has to offer. I'm an animal lover so my favorite experience by far was going on safari in South Africa and next on the list is gorilla trekking in Rwanda/Uganda or visiting the penguins in Antarctica.
If you could learn a new skill instantly (such as a language), what would it be and why?
I would love to learn to cook like a Michelin star chef! The old saying "love goes through the stomach" really hits home with me. I frequently turn to cooking or baking when I want to say "thank you," "congratulations," or "my deepest sympathies," so I think it would be fantastic to be able to whip up amazing gourmet dishes as opposed to my go-to chocolate chip cookies or lasagna!
What are you most looking forward to in this new year?
Since the number of COVID-19 cases in South Florida have been some of the highest in the country, my husband and I have been very strict about adhering to CDC guidelines. That said, once it is safe to do so, I am definitely looking forward to seeing friends and family again! I can't wait to see my parents in person and give them each a huge hug. And let's be honest, I would be lying if I didn't say I am also looking forward to travelling in some capacity again—fingers crossed for later this year!

What is your background in audiology? When I startedlege, I was a linguistics major who thought I wanted to get a PhD. After a semester of modifying vowel formants, I swore off research as something I could NEVER do for my whole life and decided that speech-language pathology felt like a more applied use of…