Congratulations to the Ohio Academy of Audiology (OAA) on receiving the 2020 State Spirit Award. The award, established by the Academy's State Relations Committee (SRC), was given in recognition of the OAA's successful outreach hashtag campaign—#hEARohio.
In early 2020, the SRC challenged state audiology groups to create their own hashtag campaigns and to compete for the award. A state group could create a unique hashtag and encourage its members and fellow audiologists in the state to use it. Several states participated, and the OAA had the most uses on social media. SRC Chair, Aaron Roman, AuD, commended OAA: "Ohio audiologists showed their spirit, and the OAA demonstrated its consistent leadership in engaging audiologists across the state in advocacy and outreach efforts."
Due to the cancellation of the AAA 2020 + HearTECH Expo in New Orleans, Louisiana, the SRC was not able to host the State Showcase and present the award medallion in person. During the most recent virtual meeting of the OAA, members sported their medallions and celebrated their receipt of the award
The SRC continues its efforts to stay connected with and to be a resource to state audiology groups. Although the 2020 State Showcase did not take place, the SRC collected updated profiles on activities in state groups and posted them all by state on the State Advocacy section of the Academy web site.  Additionally, the SRC has instituted a quarterly meeting schedule with state audiology leaders to facilitate an information exchange. The SRC will soon announce plans for the 2021 State Spirit Award and looks forward the return of in-person networking opportunities for state leaders at AAA 2022 in St. Louis.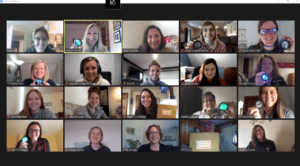 ---
The Academy expressed its opposition to Tennessee legislation (SB 665/ HB 920) that would add cerumen management to the scope of practice for hearing instrument specialists who have completed an International Hearing Society cerumen management course. The Academy's letter pointed out the critical differences between the education and training of an audiologist and a hearing…