On December 10, Academy President Catherine Palmer, PhD, along with other members of the Friends of the Congressional Hearing Health Caucus, met with Dr. Debara L. Tucci, MD, MS, MBA., the newly appointed Director of NIDCD.
Dr. Tucci joined NIH on September 3, 2019, and will oversee NIDCD's annual budget of approximately $459 million and will lead the institute's research and training programs in hearing, balance, taste, smell, voice, speech, and language. Dr. Tucci has been on the faculty of the Duke University Medical Center since 1993, where she co-founded the Duke Hearing Center. Her primary research interests focus on addressing barriers to heatlh health care for older adults and establishing a network of academic and community-based sites to conduct research in hearing and balance disorders.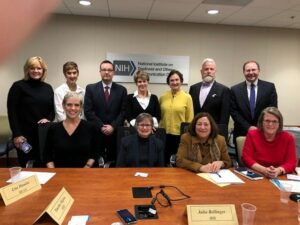 At the December 10 meeting, representatives from Friends of the Congressional Hearing Health Caucus were able to share research priorities and interests of their respective organizations. Dr. Palmer emphasized the need for research across the life span in hearing and balance with a special emphasis on mild/minimal hearing loss in children and the underlying mechanisms of age-related-hearing-loss and cognitive decline that may reside in decreased social participation versus a common aging or cellular phenomenon.
The role of neuro-diagnostics and treatment was proposed as an exciting frontier ripe for exploration. A range of topics related to balance are worthy of federal funding including the pathophysiologic mechanisms of balance disorders and cognition and spatial orientation. The group also discussed the possibility of approaching hearing screening in aging adults with the same research rigor that was applied to the development of newborn screening. These are just highlights with many other topics being discussed by the group. The challenges of dissemination and adoption of new information was discussed given that the various organizations at the table can play a role in promoting changes in care based on research findings.

A growing body of evidence demonstrates the connection between health outcomes to income, education, nutrition, housing, environmental exposures, and other social circumstances. Similarly, studies have shown that interventions addressing SDOH can improve health outcomes and reduce health care costs. In response, the Biden-Harris Administration has released a playbook outlining new or strengthened initiatives that agencies…