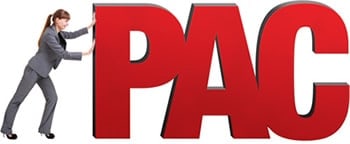 We are challenging all Academy members to assist in growing the Academy's Political Action Committee and promoting the profession.
Top Ten Reasons to Give to the PAC
We have created new donor circles with special giving incentives for high donors. By increasing member contributions to the PAC, together we can PUSH to achieve the Academy's advocacy goals.
If you've ever received a paycheck for being an audiologist.
If you believe that you have a profession, not just a job.
If you support action to achieve passage of the Medicare Audiologist Access and Services Act, as well as other legislative priorities.
If you're tired of other professions dictating what we can and can't do.
If you think your degree is worth being known as more than just a tech.
If you want to send the message that our profession matters.
If you want to be able to say "I gave already" when the PAC Advisory Board calls.
If you have never given and think it's important to maintain a presence on Capitol Hill.
If you want to make a difference in your profession.
Because in Washington you're either at the table or you're on the menu.
About the Academy's Political Action Committee
PAC Long-Range Goals
Develop the PAC into a self-sustaining entity by creating a culture of giving within the Academy community.
Continue ongoing education of membership about political issues, which affect the profession of Audiology – the issues that drive PAC contributions.
Continue ongoing education of Congressional members and staff about Audiology issues affecting Academy members.
For additional information regarding PAC rules and regulations, reference the Federal Election Commission.
To learn more about the Academy PAC, find a full list of frequently asked questions here.