To monitor the response of state and local governments to the coronavirus, you can access a free resource created by MultiState Associates.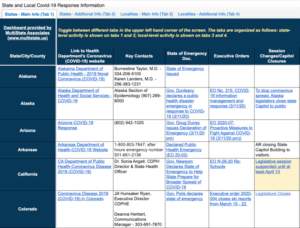 The COVID-19 State and Local Policy Dashboard provides a quick and easy reference to updates and information issued by state and key local agencies and policymakers (updated daily).
Toggle between the tabs in the top left-hand corner of the screen.
The tabs are organized as follows:
Tab 1: Main state-level information and activity, such as links to health department COVID-19 websites, key contacts, state of emergency declarations, executive orders, changes to legislative sessions, travel restrictions, and official Twitter accounts.
Tab 2: Additional state-level activity, such as limits on mass gatherings, school closures, mandatory curfews, restaurant and retail closures, and more.
Tab 3:  Main local-level information and activity, in the same format as Tab 1.
Tab 4: Additional local-level activity, in a similar format as Tab 2.
The Academy expressed its opposition to Tennessee legislation (SB 665/ HB 920) that would add cerumen management to the scope of practice for hearing instrument specialists who have completed an International Hearing Society cerumen management course. The Academy's letter pointed out the critical differences between the education and training of an audiologist and a hearing…