By Melanie Lutz
Generation Z (Gen Z) is an epithet given to those born between the late 1990s and 2010s. This distinctive cohort was born into a world of modern technology and globalization, which consequentially shaped the type of consumers and coworkers they have become. Understanding the idiosyncrasies of Gen Z, from their patient needs to their anticipated impact on our work environment, can help us embrace the future of health care (Dimock, 2019).
It should be noted that an entire generation of individuals cannot all be described by the same generalizations mentioned in this article, especially when considering varying economic status and disparities in high-speed internet access. This article will focus on the observations of Gen Z behaviors evaluated by educators and health-care providers in the United States.
As patients, Gen Z are expected to take a new approach to the way they engage in their health care. Technology will likely be of paramount importance to these consumers, as it plays an integral role in their daily lives. For hearing aid users, this may mean a greater value placed on features such as Bluetooth connectivity, rechargeable technology, mobile app accessibility, and remote programming. Additionally, these hearing aid users may investigate the emerging market of over-the-counter hearing aids. Gen Z consumers utilize direct-to-consumer medicine including therapy, medications, and genetic testing. Over-the-counter hearing aid producers may also pursue an e-commerce model to attract Gen Z clientele (Almufarrij et al, 2019).
Convenience will also play a key role in how this group selects their health-care providers. Gen Z's use of telehealth services has increased since the start of the Covid-19 pandemic, however, these patients still desire in person options as well (Waselewski et al, 2022). Audiology clinics with online scheduling and telehealth appointments will have a competitive edge in attracting this population.
Many Gen Z patients are interested in holistic health and wellness and want to take a "whole-person" approach to their health care. As providers, we can support these patients by understanding other aspects of their health-care needs, and how those needs may impact their care from an audiological perspective. For example, Gen Z has a higher prevalence of depression and anxiety compared to other generations (Twenge et al, 2019). Understanding how to recognize mental health needs, and where to refer patients who are in need, may foster a better health-care experience. Clinicians can obtain trainings related to mental health and trauma informed care. Resources for such trainings can be found below this article.
In addition to welcoming more Gen Z patients into our clinics, this generation will soon be the predominant group of students in medical graduate programs (Shatto and Erwin, 2017). A multigenerational workforce faces challenges to mesh varying communication preferences and technological literacy levels, among other differences. Successful workplaces bridge the gaps of these differences and highlight the skills that each group brings to the team.
As audiology students, Gen Z have faced many challenges. These students have spent a portion of their education in COVID-19 pandemic precautions. For clinical preceptors, this may require an initial adjustment of expectations, as circumstances may have limited their clinical experiences thus far. It will be important to identify clinical strengths as well as areas of improvement to have students focus their remaining clinical training. Gen Z continues to desire more integration of technology in the classroom. This includes a preference for electronic classroom materials and electronic examinations (Cilliers, 2017). Innovating curriculum to accommodate these preferences may facilitate improved educational experiences for Gen Z.
Conversations around Gen Z often focus on technology dependance and a short attention span craving quick hits of internet content. However, this cohort has many valuable skills and perspectives to bring to our clinics, both as clinicians and as patients. Gen Z's early immersion in technology makes them adept at navigating the exponential growth of technology in today's world. Gen Z students may help us find new and more engaging ways to teach by combining face-to-face interactions with remote learning opportunities. Our new Gen Z colleagues may integrate technology into our clinic to expedite procedures and make virtual connections to prospective patients.
Audiologists can prepare for the inclusion of Gen Z both as coworkers and as patients. Appreciating the potential needs of Gen Z patients, as well as their skillsets as clinicians, may lead to a more effective integration. Each generation has a distinct set of knowledge and abilities. Forging collaborative relationships between generations can strengthen our workplaces and our patient to provider relationships. If we take the time to better understand each cohort, we can benefit from our differences and prepare for the future.
Melanie Lutz, AuD, is a clinical audiologist at the UPMC Children's Hospital of Pittsburgh. She is a member of the Academy's New Professionals Committee.
References
Almufarrij I, Munro KJ, Dawes P, et al. (2019) Direct-to-consumer hearing devices: Capabilities, costs, and cosmetics. Trends Hear 23.
Cilliers EJ. (2017) The challenge of teaching generation Z. PEOPLE: Inter J Soc Sci. 3:322.
Dimock, M. (2019). Defining generations: Where Millennials end and Generation Z begins. Pew Research Center 17(1):1-7.
Shatto B, Erwin K. (2017) Teaching Millennials and Generation Z: bridging the generational divide. Creat Nurs 23(1):24–28.
Twenge JM, Cooper AB, Joiner TE, Duffy ME, Binau SG. (2019) Age, period, and cohort trends in mood disorder indicators and suicide-related outcomes in a nationally representative dataset, 2005–2017. J Abnorm Psychol 128:185–199.
Waselewski ME, Waselewski EA, Wasvary M, Wood G, Pratt K, Chang T, Hines AC. (2022) Perspectives on Telemedicine from a National Study of Youth in the United States. Telemede J e-Health J Amer TelemedAssoc28(4):575–582.
Resources
FAST (First Approach Skills Training) provides handouts and clinician training on topics such as anxiety and depression.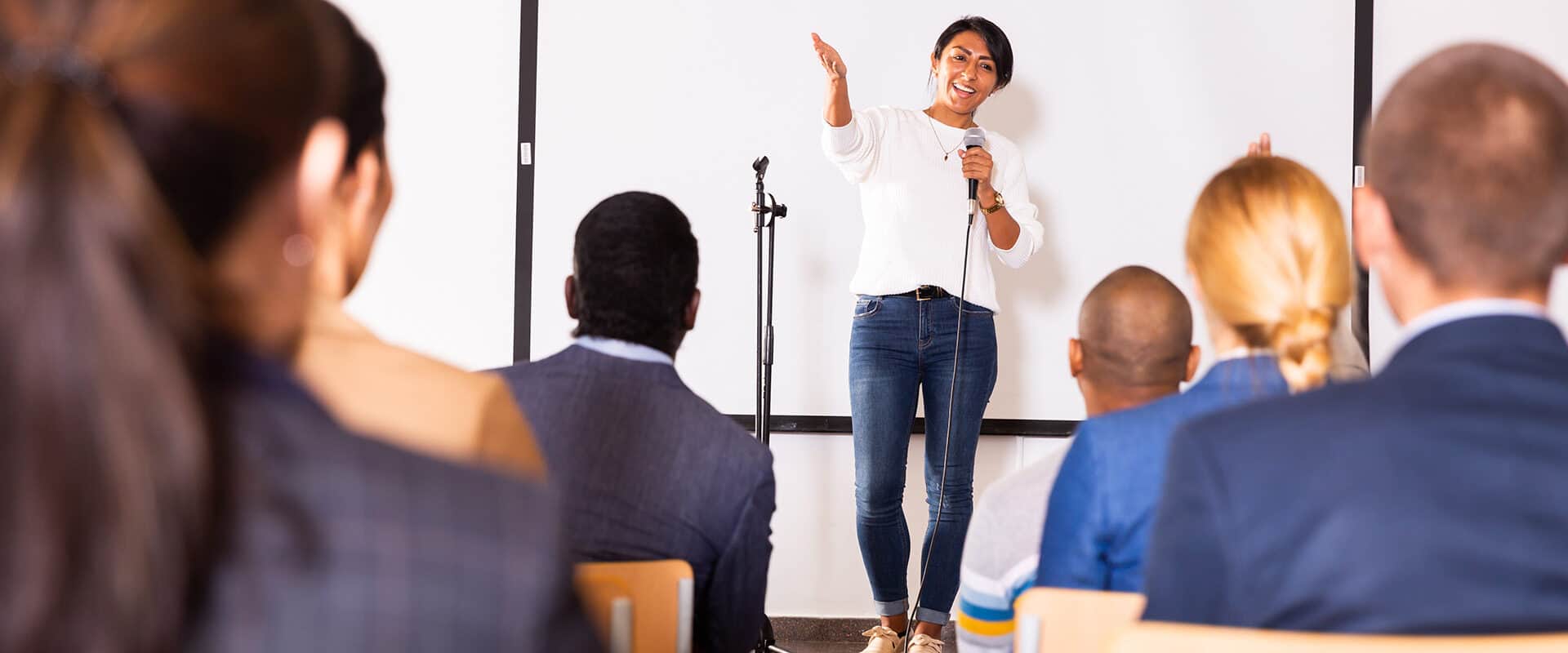 By Rachel Bell If your college experience was anything like mine, when you entered your undergraduate program, your preliminary class schedule included a course in public speaking. Following admission to graduate school, I was lucky enough to interview for and receive a coveted graduate teaching position with this public-speaking course. My time taking the course…