We recently had the opportunity to visit with Shelly Chadha, MBBS, MS, PhD, medical officer, WHO Program for Prevention of Deafness and Hearing Loss. Dr. Chadha is a native of India. She was trained as an otolaryngologist at the University of Delhi, India, and subsequently undertook doctoral studies in public health at the same university.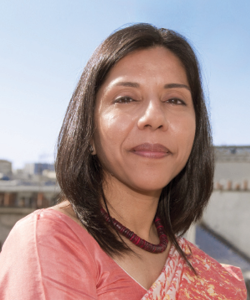 Prior to joining WHO in 2011, she was working as a professor of otolaryngology at the Maulana Azad Medical College in New Delhi, India. She also served as a member of the national committee for development of the National Program for Prevention and Control of Deafness in India. Dr. Chadha will provide the Keynote Address at the Academy's Opening General Assembly at AudiologyNOW!® 2017 in Indianapolis, Indiana.
David Fabry (DF): Thank you for taking the time to speak with us today regarding your work with WHO and your upcoming presentation at AudiologyNOW! 2017. I have had the privilege of hearing you speak several times in the past regarding WHO's work on prevention of deafness and hearing loss, including advocacy for prioritization of hearing care. I share your passion for providing technical support and guidance to countries for development of hearing care strategies and development of tools and guidance, and I am delighted that Academy members will have the opportunity to hear about the considerable progress you are making in these areas. For starters, could you talk about why hearing is such an important issue for you, and why you have devoted your career to raising awareness for hearing as an important global health issue?
Shelly Chadha (SC): Well, by training, I am an otolaryngologist and I have worked most of my life as a clinician, surgeon, and professor at one of the medical colleges in Delhi. I became extremely interested in public health, planning, and policy development as a result of my work with patients and students. 
As a young student, I was amazed in my early clinical encounters by the lack of awareness amongst the parents as to why there was a need to evaluate the hearing of their children. It was completely unacceptable to the family to consider the need. As I was continuing to work in the field, this was something that really struck me as amazing. I can recall a time when I was visited by a lady who brought her granddaughter to me to test her hearing. I examined the child, and her hearing seemed fine; the audiogram and tympanometry all appeared normal. I had dealt with many patients by then, and I was getting frustrated, because the grandmother kept insisting that there was a problem. 
Finally, she revealed that the source of her concern was that this child was the only grandchild that didn't have regular discharge from her ears, so she was certain that because the fluid wasn't coming out, it was likely to build up pressure inside and explode her brain or something! 
Jackie Clark (JC): Yes, that is incredible!
SC: It completely blew my mind and made me realize that the people coming to see us in the clinics are just the tip of the iceberg. It helped me to understand that we had to go to the community to increase awareness for the recognition of ear and hearing problems, and what can be done to improve the situation. 
Many may think that hearing loss is a condition that you simply must live with, rather than seeking medical help. It made me realize that although we must use our training to help make a difference in the lives of the few people who come to us, if we really want to make a difference to the field as a whole, then we have to go beyond that to reach the masses. So, that is what initiated my interest in public health and the rest was a mixture of opportunity and interest, because the more I worked in this field, the more my interest grew. 
As I went along, I did my PhD in the public health domain, and I had the opportunity to work with my own government to develop policy for hearing care in India. I have had the opportunity to work with individuals from other countries, and also to work through WHO to understand both how similar and different these issues are in different countries around the world. 
DF: That raises a number of very important issues. You discuss the "tip of the iceberg," which is really a local, regional, and global one. In the United States alone, we estimate approximately 36 million people have some degree of hearing loss. Can you talk a little bit about the global statistics on people with hearing loss, and what WHO considers to be "disabling"—versus measurable—degrees of hearing loss?
SC: Sure. WHO defines disabling hearing loss as hearing loss that is greater than 40 decibels, in audiometric terms, in the better hearing ear for adults and 30 decibels in the better hearing ear for children. In effect, the rationale behind this classification, as I understand it, (as I wasn't personally involved in making the definition), is that it is hearing loss that would require some intervention. So, if an adult has moderate hearing loss or more in the better hearing ear, it would need to be addressed and require some intervention to carry on their day-to-day activities. 
For children, the rationale for using a lower level is that children would require intervention, even with milder degrees of hearing loss, because they are developing speech and language skills necessary for education. With these definitions, we estimate that there are around 360 million people who live with what is termed as disabling hearing loss (over five percent of the world's population). Less than 10 percent of these, or about 32 million, are children and the rest are adults. We see that the prevalence is not homogeneous in distribution; the majority of them are actually in lower or middle-income countries of the world, with highest prevalence in countries of South Asia, Asia-Pacific, and Sub-Saharan Africa.  
DF: And what about those with milder degrees of loss or with unilateral loss?
SC: For milder degrees of hearing loss, and unilateral hearing loss, the number is considerably higher, with current estimates of over 600 million who live with some degree of hearing loss. 
DF: So, with this burgeoning number of people with hearing loss globally, and shortage of practitioners available worldwide to provide care, we are talking about a tremendously underserved population!
SC: Yes, there is often also a shortage of otolaryngologists, audiologists, and speech therapists to serve people with hearing loss, especially in lower- and middle-income countries. In 2013, we analyzed the status of human resources for hearing health care in countries around the world. What we found was that the human resources are least available where the need is highest. That is, the regions of the world that have the highest prevalence of hearing loss have the least availability of human resources. 
Many of the countries that we surveyed have less than one otolaryngologist per million population. From the African region, 64 percent of the countries that responded had less than one ENT specialist per million population. If we look at audiologists in this survey, we found that only five percent of the low-income countries and 27 percent of the lower middle-income countries had more than one audiologist per million population. Many countries simply had no audiologists at all. 
Therefore, the human resource situation is a considerable challenge, and one of the things we need to address as we are thinking about developing the field of audiology at a global level. It's this inequality—and unavailability—of human resource that is one of the key challenges that we have to overcome. 
JC: Actually, in addition to the global shortage of audiologists, we know that we have a shortage of audiologists in the United States. The one overarching issue for me in working with WHO is that we have to start looking at hearing as a public health issue. We're so busy chasing after a product that we forget that we have a shortage of audiologists, often in rural, underserved areas even in this country. We have quite a few audiologists compared to the rest of the world, but we have a shortage here as well. Furthermore, Dr. Chadha's comment about the grandmother in India could be repeated in many countries around the world—including the United States—until we focus on raising public awareness regarding the nature and importance of hearing loss as a public health issue.
DF: Yes, and I think that there are a lot of lessons that can be learned by looking at the global situation. While we do a great job in the United States with early identification and screening programs, we can also look to other countries for guidance regarding shortening the delay from identification to intervention with hearing aids or cochlear implants. It's a matter of making hearing loss a societal priority to be addressed with a country or region.
SC: What I'm trying to say is that the needs vary a lot across the world in terms of the distribution and profile of ear and hearing problems and so do the resources available to address these. There are considerable differences across the world in terms of human resources, equipment, financial resources, health-care systems, and the priorities of a country with regards to hearing health care. Even in the United States, I imagine that the resources available in city and rural areas are not distributed equally. The public health perspective requires developing a model of service and care that may ensure best practice but also allow customization to meet regional or country-specific issues. 
DF: What I hear you saying is that you cannot just look to country A to develop a formula that will work in country B or elsewhere. Rather, the root issue is to increase awareness and share evidence-based success stories. Can you talk about World Hearing Day (March 3), and how it was developed as a means to raise awareness?
SC: World Hearing Day came out of our need to raise awareness of the issues. There is a lack of core values (in terms of ear and hearing care) in the communities, as I shared in my examples. It's also about there being a lack of awareness amongst the policy-makers. As part of our global surveys related to human resources, we also asked countries about why they have not developed a strategy or policy for hearing care. No one said that it wasn't an important issue, but there were other priorities that needed to be addressed first. 
What we try to stress is that hearing needs to be addressed now, because it is linked in with the overall health status in a country or region. We realized that there is a lack of awareness amongst the policy-makers regarding what hearing care means to the community. If we reflect on our role as professionals, we often have the technical understanding necessary to treat patients, but not the training about hearing care as a public health issue—not just a clinical one. 
It was out of this kind of thinking that World Hearing Day was born in 2007, prior to when I joined WHO. It began as International Ear Care Day and was designated at the First International Conference on Prevention and Rehabilitation of Hearing Impairment in Beijing, China. Each year, World Hearing Day aims to raise awareness and promote ear and hearing care across the world. Our approach has been to try to develop evidence-based advocacy messages. We realized that we can't just shout from the rooftops that hearing is important and expect people to listen to us without some evidence to support our assertion. 
Over the past few years, we have been trying to focus on gathering evidence to develop messages based on data, then promoting these messages in the larger community. World Hearing Day is a way to catch people's attention and get everyone to join in promoting our agenda of hearing loss as an important public health issue on this one day. What we found was that there is a lot of interest among our colleagues, and many people are joining the movement by developing activities centered on the importance of hearing.
JC: The beauty of it is that when you look at all of the activities going on worldwide, you are joining with humanity on raising awareness. In addition, when you get involved, you are becoming aware yourself of the contextual manner of how ear and hearing care is being managed in each of these countries.
DF: Can you cite some of the success stories of World Hearing Day?
SC: There are many amazing stories of how people were able to mobilize the government by launching new programs to raise awareness. For example, in 2015, Zanzibar launched a national neonatal hearing screening program on that day. In 2014, Qatar launched a program for hearing assessment in the elderly. This year, in Germany, over 3,000 audiologists and speech pathologists provided free hearing tests across the country with tremendous media coverage of the event. Also, this year, South Africa launched a national hearing screening test on World Hearing Day. There are many of our partners, including Pakistan, Bangladesh, and Kenya, that are doing amazing projects—big and small—that are having an impact in their communities by applying them on a consistent basis. 
DF: Yes, I was in South Africa earlier this year when the screening test was launched, and there was a lot of excitement around the fact that it was a simple test that had been shown to be effective for automated screening hearing via the telephone, which helps reach more people in an efficient and effective manner.
SC: This year, we also had a debate in the European Parliament that was organized by the professional organization and the hearing-impaired society in consultation with some of the deaf members of European Parliament. That was amazing as well—there are so many success stories and it is difficult to isolate specific ones!
DF: The key attribute of all of these examples is that they are raise awareness and mobilizing people into action regarding hearing loss.
SC: I also want to say that people who are interested in joining in this movement should not be intimidated into thinking that it needs to be something Earth-shattering. It doesn't matter—big or small—every act adds to the whole. People should start wherever they are, and do whatever they are able to do. 
DF: It reminds me of an old Lily Tomlin quote where she said, "I always wondered why somebody doesn't do something about that. Then I realized that I was somebody." We can all contribute in our own way, and we all have that power.
JC: Can you talk about the number of WHO workshops and consultations that you have organized, and what your plans are for 2017 and beyond?
SC: The key thing that is happening in 2017 is a World Health Assembly resolution that will be discussed by the 194 Member States of the United Nations when they assemble in Geneva, Switzerland, in May. We expect hearing loss to be on the agenda, and we hope to have a new resolution to report on later this year. We expect to have many activities this year, including a stakeholder's consultation, also in Geneva, to discuss how to initiate and take forward global actions on hearing loss. We also have a number of other technical meetings planned, including one on the "make listening safe" initiative, expert meetings for the development of a tool kit of technical support, and a couple of regional consultations in different parts of the world.
DF: It sounds like a very busy slate indeed. How do you fund all of this activity?
SC: Most of our funding is received externally, which is not uncommon within WHO. Most programs within WHO are funded by extra-budgetary sources from NGOs, foundations, and other agencies. In the case of hearing, four organizations combine resources to fund the program through a consortium. We also receive some funds from budgetary sources within WHO, but most comes through this consortium.
JC: There is a small number of non-profit organizations that are seeking formal partnerships and relationships with WHO—what is the value of these partnerships beyond funding?
SC: As an ENT and public health specialist, I can only accomplish so much. In this work that we do, we are supported a lot by organizations that have formal or informal collaborations with WHO. One example of this is the Coalition for Global Hearing Health. These organizations serve as an important technical resource for us, and they have been supporting the development of our materials, participating in our meetings (mostly at no cost to WHO), and providing their time and expertise at no cost to assist WHO with driving our collective agenda forward. 
When we talk about the efforts of WHO, it is really the result of a lot of collaboration between all of these organizations. We also have a number of collaborating centers: institutions that conduct research at the country or regional level for WHO through formal or informal collaborations. A lot of work is done by these institutions and organizations. 
DF: Great. One last question, in two parts: what is your vision for the next five years, and how can people who are interested get involved?
SC: My vision is that we have a strong, coordinated global action on hearing loss. My role with WHO could be as a coordinator, but the dream has to be global action with participation of all stakeholders in the world, including professionals, societies, NGOs, industry partners, and people with hearing loss themselves. The best outcomes will be achieved when every stakeholder is playing their role with a common vision for making hearing care accessible to everyone. 
Certainly, my vision is also for a WHO (program on hearing loss) that is financially stable and able to support and motivate governments and other entities in promoting hearing care. For people who are interested in getting involved, I would say that all of us, as professionals in this field, need to develop a public health focus. 
For those of us who are teachers, it is important to impart a public health focus to our students. Students learn their behavior from what has been modeled to them and, as teachers, we need to teach them to work within the community as well as clinics. It is also really important in looking to the future generation to "glamorize" public health, rather than making it seem like a necessary obligation. As for getting involved with WHO, join the World Hearing Day activities, visit our web page, write to us with ideas (chadhas@who.int), and we can explore ways to collaborate.
DF: Thank you so much for taking the time to speak with Jackie and me today, and we look forward to hearing you in Indianapolis at AudiologyNOW! We know that people are really going to enjoy your presentation!