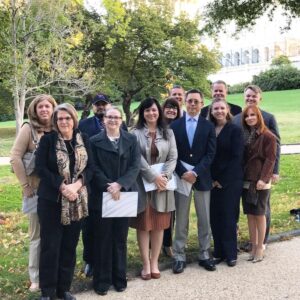 On Friday, October 18, 2019, the Academy Board, ASHA leadership, and ADA leadership made inroads on Capitol Hill by continuing to educate and advocate for those with hearing loss. The leadership teams held a luncheon briefing with members of Congress and their staff to deliver information, education, and the importance of  hearing and balance care and its impact on overall health, the role of audiologists in the continuum of care, and barriers that prevent patients from receiving optimal hearing and balance care.
At the forefront, we addressed how H.R.4056, the Medicare Audiologist Access and Services Act of 2019, can effectively improve access.
As the third most common health condition among older adults in the United States, hearing loss tremendously affects our quality of life. "We are on the Hill working to make sure people with hearing loss have access to the care they deserve," said Academy President Catherine Palmer, PhD.
Thank you to H.R. 4056 Co-Sponsors, the Honorable Matt Cartwright of Pennsylvania and the Honorable Tom Rice of South Carolina, for their opening remarks and for continuing to support the health and well-being of the patients we serve.
The nation's leading audiology organizations spoke with passion about the importance of health outcomes, patient awareness, and overall life changes affected by hearing and balance care.
Health Outcomes and Hearing LossCatherine Palmer, PhD, President, American Academy of Audiology; Director of Audiology, UPMC Integrated Health System; Associate Professor, University of Pittsburgh School of Health and Rehabilitation Services
Changing Lives, Supporting BalanceSharon Sandridge, PhD, CCC-A, Vice President for Audiology Services, Board of Directors, American Speech-Language-Hearing Association; Section Head, Hearing, Speech and Balance Services; Director, Audiology Research Lab and Director, Tinnitus Management Clinic, The Cleveland Clinic
Patient Access: The Medicare Audiologist Access and Services Act of 2019Ram Nileshwar, AuD, President, The Academy of Doctors of Audiology; President and Audiologist, The Hearing Center, Lake Charles, LA
What You Can Do!
Contact your representative…get your colleagues, friends, and patients in your district to send a quick letter of support.
It takes three minutes…click here and take action with this press developed letter.

A growing body of evidence demonstrates the connection between health outcomes to income, education, nutrition, housing, environmental exposures, and other social circumstances. Similarly, studies have shown that interventions addressing SDOH can improve health outcomes and reduce health care costs. In response, the Biden-Harris Administration has released a playbook outlining new or strengthened initiatives that agencies…