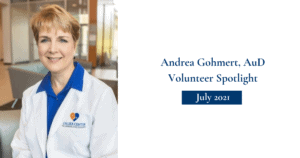 ---
What is your background in audiology?
I have been a clinical audiologist for 29 years and worked in a variety of medical settings in Virginia, Maryland, and Texas for 25 years. I have now entered academia as a director of audiology clinical operations at the Callier Center for Communication Disorders and serving as a clinical associate professor at the University of Texas at Dallas. I love audiology and came into the field due to my own childhood hearing loss and knowing early on that I wanted to be an audiologist!
I love the field and now I love training the next generation of audiologists. I currently have research interests in evoked potentials, advanced diagnostics, and vestibular testing.
Why do you volunteer with the Academy?
I have such a great love for our field of study that I want to give back to it and to the Academy and to make sure we continue to grow, provide more services, and press forward in training and research for the future.
What is your favorite way to unwind after a long day or a few busy days?
I really love nature and the outdoors, which is laughable since it is June in Texas! However, when possible (and it is not over 100 degrees), I take long walks, garden, or sit by the lake and just soak in the great outdoors!
What was the last book you read and how did it impact you?
Sadly, I spend a lot of time reading for work and doing research or preparing for lectures. However, one of my favorite novels of all time is Hinds Feet on High Places by Hannah Hurnard. It is an allegorical novel about the journey of life. I highly recommend this for recreational reading and encouragement.
If you were going to run for public office, what would you run for and what would your platform be?
Wow! That is a big question, but I think if I were going to run for public office, I would run for the state legislature so that I could make an impact on the Medicaid reimbursement in Texas for children with hearing loss, and to impact the early hearing detection and intervention (EHDI) program in Texas. This is a passion of mine to make hearing services accessible to all families, and to solve the problem of a lack of diagnostic follow-up to diagnose hearing loss in the state of Texas.

What is your background in audiology? When I startedlege, I was a linguistics major who thought I wanted to get a PhD. After a semester of modifying vowel formants, I swore off research as something I could NEVER do for my whole life and decided that speech-language pathology felt like a more applied use of…