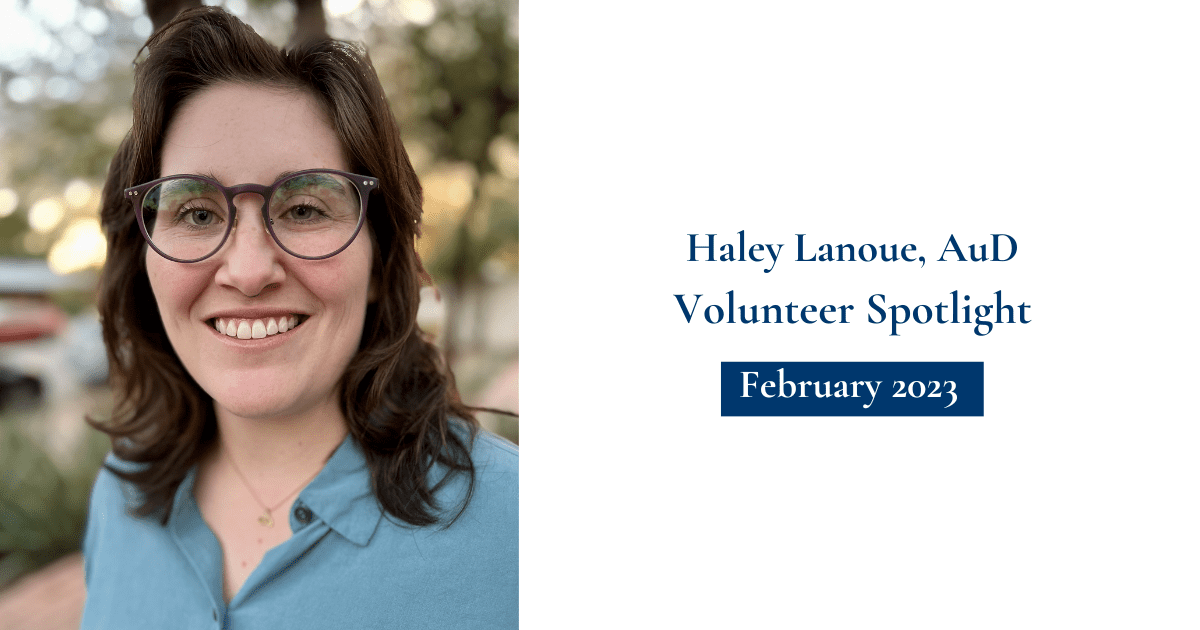 Haley Lanoue, AuD is a member of the Diversity, Equity, Inclusion and Belonging Committee.
---
What is your background in Audiology?
The ear and hearing have sparked my interest my whole life, but I started studying on the path to an Audiologist early in my undergraduate degree at the University of Arizona. I completed my AuD at Washington University in St. Louis and have been working happily as an audiologist since. I am currently in an outpatient therapy hospital setting seeing primarily vestibular diagnostic patients and collaborating on their care with a fantastic group of physical and occupational therapists. I also work with tinnitus and hyperacusis patients. These conditions all greatly impact overall quality of life and being able to work with them and give them some hope for management is truly rewarding.
Why do you volunteer with the Academy?
I volunteer with the Diversity Equity Inclusion and Belonging Committee to do my part to ensure all current and future audiologists have the resources and representation they need to succeed and be welcomed in this profession. I am a young clinician and know that supporting diverse current and future audiologists will only strengthen our profession, so, I am doing my best to help advocate for us.
If you could host a talk show, who would be your first guest?
Completely unrelated to audiology, but I would have Samin Nosrat, writer of Salt Fat Acid Heat, as my first guest. The way she teaches the art of cooking and how much she cares for all aspects of food is inspiring and I would love to talk to her more about it. And get all the cooking/baking tips as well!
What kind of music do you listen to?
Alternative/Indie/Pop are my go-to genres!

What is your background in audiology? Early in my career, I didn't venture too far out of the adult diagnostic and amplification worlds. While the work was rewarding, I felt that I wanted to do expand my services and continue to grow as an audiologist. When I was hired at the Pittsburgh veterans association (VA),…