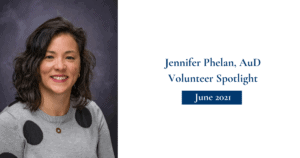 ---
What is your background in audiology?
I decided to go to graduate school after teaching second grade through Teach for America. I wanted to work in a field where I could give back and work with kids. As a non-communication sciences and disorders (CSD) undergrad, I started taking leveling classes to apply for graduate school, thinking I would apply for a speech-language pathology program, but after I took my first audiology course I was hooked! I graduated from The Ohio State University with my AuD in 2011 and I've been an audiologist for 10 years! I've worked in a pediatric hospital and at universities. My clinical interests are all things pediatric. As a former teacher, I love working in the university setting and I have a very strong interest in the scholarship of teaching and learning in audiology education.
Why do you volunteer with the Academy?
I can't imagine not volunteering with the Academy. Being an active member in the Academy is an important part of being a professional for me. I volunteer to give back as well as to give myself different perspectives. We are all audiologists, but we work in different settings, parts of the country, and from different backgrounds. I enjoy engaging with other audiologists and immersing myself in the field. I want to work to help our profession successfully navigate over the "road bumps" and "hurdles" we face and collaborate with others to find solutions to keep the profession strong.
If you could travel to a fictional place, where would it be and why?
Stars Hollow, hands down. Gilmore Girls is my guilty pleasure. I would love to meet all of the residents of Stars Hollow, experience their quirky antics, and go to a town meeting! Plus, I would never pass up the opportunity to eat at a good diner and have a cup of coffee.
If family and friends were to vote you "most likely to…" what would that be?
Most likely to write a book on alliteration. Alliteration is my favorite fancy figurative language!
What part of your morning or evening routine prepares you for a successful day ahead?
Morning routines are a bit illusive in my house depending on cooperation from my kids, but I will always start my day with a LARGE cup of coffee. And it is even better in a motivational mug. I'm embracing learning that I'm considered a "geriatric millennial!" After that I often feel like I can take on almost anything!

What is your background in audiology? When I startedlege, I was a linguistics major who thought I wanted to get a PhD. After a semester of modifying vowel formants, I swore off research as something I could NEVER do for my whole life and decided that speech-language pathology felt like a more applied use of…