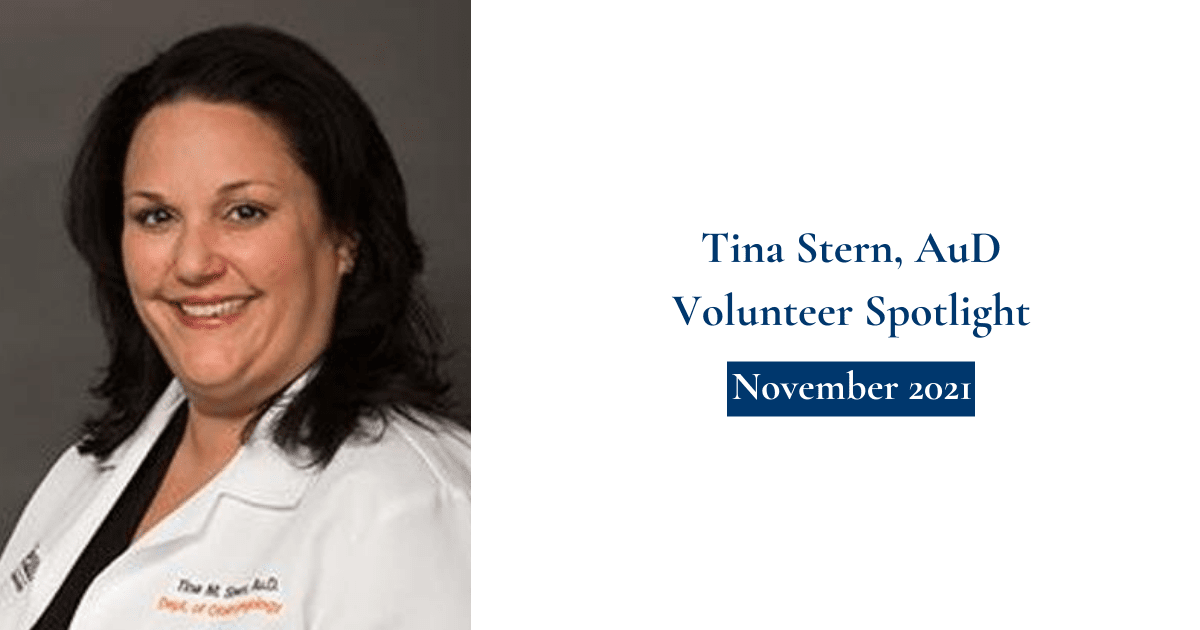 Tina Stern, AuD is a member of the Academy's Government Relations Committee. If you'd like to learn more, you can visit the committee page for a list of charges and initiatives, or review any of our other committees and councils.  
---
What is your background in audiology?
I obtained my bachelor of science degree in communication sciences and disorders from the State University of New York at Geneseo, and my doctor of audiology degree from Nova Southeastern University.
After completing my externship at the University of Miami Miller School of Medicine, I worked in a large Ear, Nose, and Throat (ENT) practice and a Veterans Administration (VA) medical center in south Florida prior to returning to the University of Miami as an assistant professor and clinical audiologist; specializing cochlear implants, bone-anchored implants, and vestibular diagnostics.
Why do you volunteer with the Academy?
Audiology is a second career for me. Prior to audiology, I worked in non-profit management, politics, and law. From my previous endeavors, I learned early on that if you want to effect change you need to be part of the solution.
Volunteering for professional organizations, such as the Academy, enables me to use my previous experience to help shape the future of audiology and effect change that could positively impact our service delivery model.
Who is your favorite fictional character and why?
My favorite fictional character is Atticus Finch from "To Kill a Mockingbird," because I am all about justice and equality.
Do you have any work or study tips you'd like to pass on to future audiologists?
Diversify your audiology portfolio. Take the gift of time you are given in school and use it to learn and attempt to master as many areas of audiology as you can. This will make you more marketable and provide you with more opportunities as an audiologist in the future.
What are you most passionate about with your advocacy and government relations work?
It is a very exciting time to be part of advocacy efforts in our profession given the changing healthcare landscape. Some of these efforts include obtaining practitioner status for audiologists, direct access to audiological services for Medicare beneficiaries, navigating the recently released over-the-counter (OTC) hearing aid regulations, the possibility of hearing aid coverage for Medicare recipients, and addressing coding/reimbursement challenges for services provided within our scope of practice.

What is your background in audiology? When I startedlege, I was a linguistics major who thought I wanted to get a PhD. After a semester of modifying vowel formants, I swore off research as something I could NEVER do for my whole life and decided that speech-language pathology felt like a more applied use of…