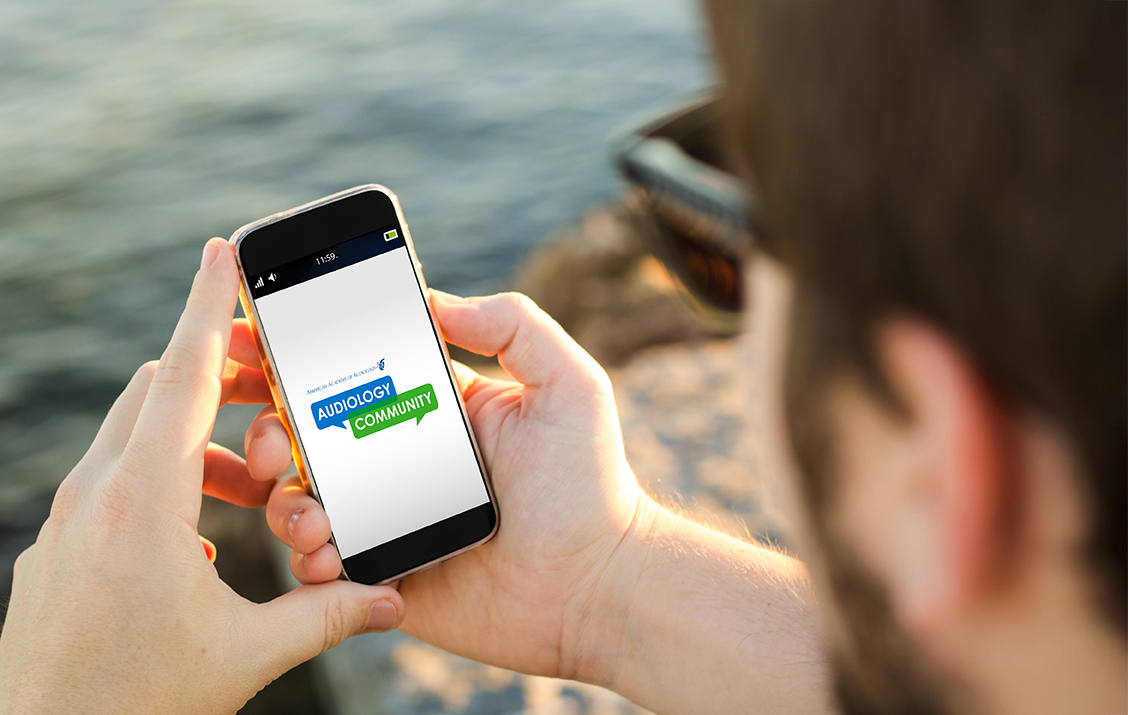 The Academy is excited to announce the launch of the new Audiology Community mobile app. Members can now experience the Audiology Community on the go. The app is free to download to any mobile device, requiring members to log in once – your device can save the log in information for you!
Search for "MemberCentric" in the App Store or Google Play Store. Once downloaded select Audiology Community and log on using your Academy username and password.
How does it work?
The Audiology Community mobile app's functions are easily accessible and are user friendly. The app's menu allows for easy navigation of the many features. These features include the following:
Searching for and connecting with other members. Members have two ways to connect with fellow Audiologists through the app. The first way is through a directory search using a member's name or contact information. The alternative is exclusive to the mobile app. A unique QR code is located at the bottom of each member's main profile that can be used to quickly receive a contact request after scanning the code. This function is especially useful when networking with others in person at conferences like the AAA annual conference.
Participating in discussion posts. Creating and responding to conversations on discussion posts has never been easier than through the mobile app. Posts are organized in a simple way so members can see an overview of each discussion in which they have access. If a discussion sparks interest a member can tap on the title to see an overview of that particular discussion with replies and is able to participate in real time. Members also have the option to allow push notifications so they can be aware of new content that is published by fellow colleagues.
Applying to volunteer. The Audiology Community is home to the Academy's volunteer program. Members can easily apply to volunteer through the Volunteer section of the mobile app where the description of each opportunity and its associated application is housed. Members may edit, submit, and withdraw volunteer applications through the app.
Viewing and downloading library resources. Members can see an overview of all available library resources and can view, comment on, and download specific files to their mobile devices.
Have questions about the mobile app? Contact Volunteer Leadership Coordinator, Lauren Reimer, at lreimer@audiology.org or download the Audiology Community Mobile App Information Guide.

If you're an employer looking to hire within the audiology profession, HEARCareers is the job board for you. Why HEARCareers? On average, a job posting on HEARCareers earns 600 views per posting, and offers more than 23,000 searchable resumes available to review. Resources HEARCareers offers general advice for employers hiring audiologists, along with employer resources…