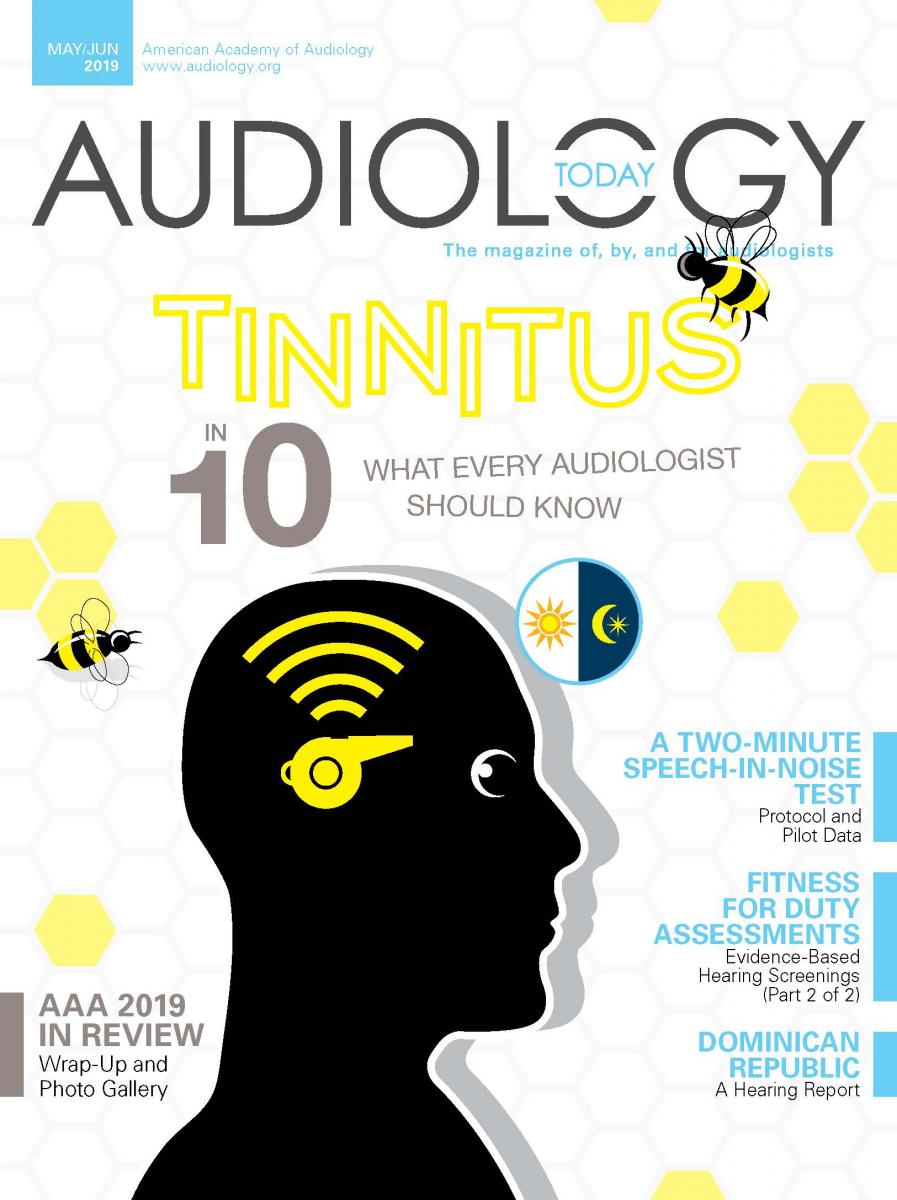 The editorial team and I are so happy to announce the content for this latest issue of Audiology Today. We are featuring a number of comprehensive, relevant, and interesting articles, as well as some short reads on public relations, coding and reimbursement, and audiology advocacy.
Take a look at the table of contents and delve into these online articles, which you can now easily search by topic, title, or author. We appreciate your patience as we continue to upload back issue content, but hope you find this new format easy to explore. 
Tinnitus in 10: What Every Audiologist Should Know to Provide Research-Based Care
Author: Candice Manning
A Two-Minute Speech-in-Noise Test: Protocol and Pilot Data
Authors: Douglas L. Beck, Lauren Benitez 
Fitness for Duty Assessments for Jobs with Essential Hearing-Critical Tasks (PART 2 OF 2)
Authors: Sigfrid D. Soli, Véronique Vaillancourt, Ross J. Roeser
A Hearing Report from the Dominican Republic
Authors: Lynn O'Boyle, King Chung
AAA 2019: Where Audiologists Discovered Their Future
Author: Erin L. Miller
CODING AND REIMBURSEMENT | New Medicare LCD Process—What You Need to Know
KNOW HOW | Tracking, Analytics, and Relevance—Oh My!
Author: Dawn Hulthen Koncsol
Erin Schafer, PhD, is the editor-in-chief of Audiology Today and www.audiology.org.

If you have a dog or cat, you've probably seen their ears moving toward an interesting or startling sound. For professional equestrians, watching the ears of their horse allows them to gauge their shifting attention. Humans still have these same muscles, and even more interesting is their relationship to our brain and how we pay attention. …