Vol. 30, No. 10 (November/December 2019) of the Journal of the American Academy of Audiology (JAAA) is now available online.
Volume 30, Number 10,
November/December 2019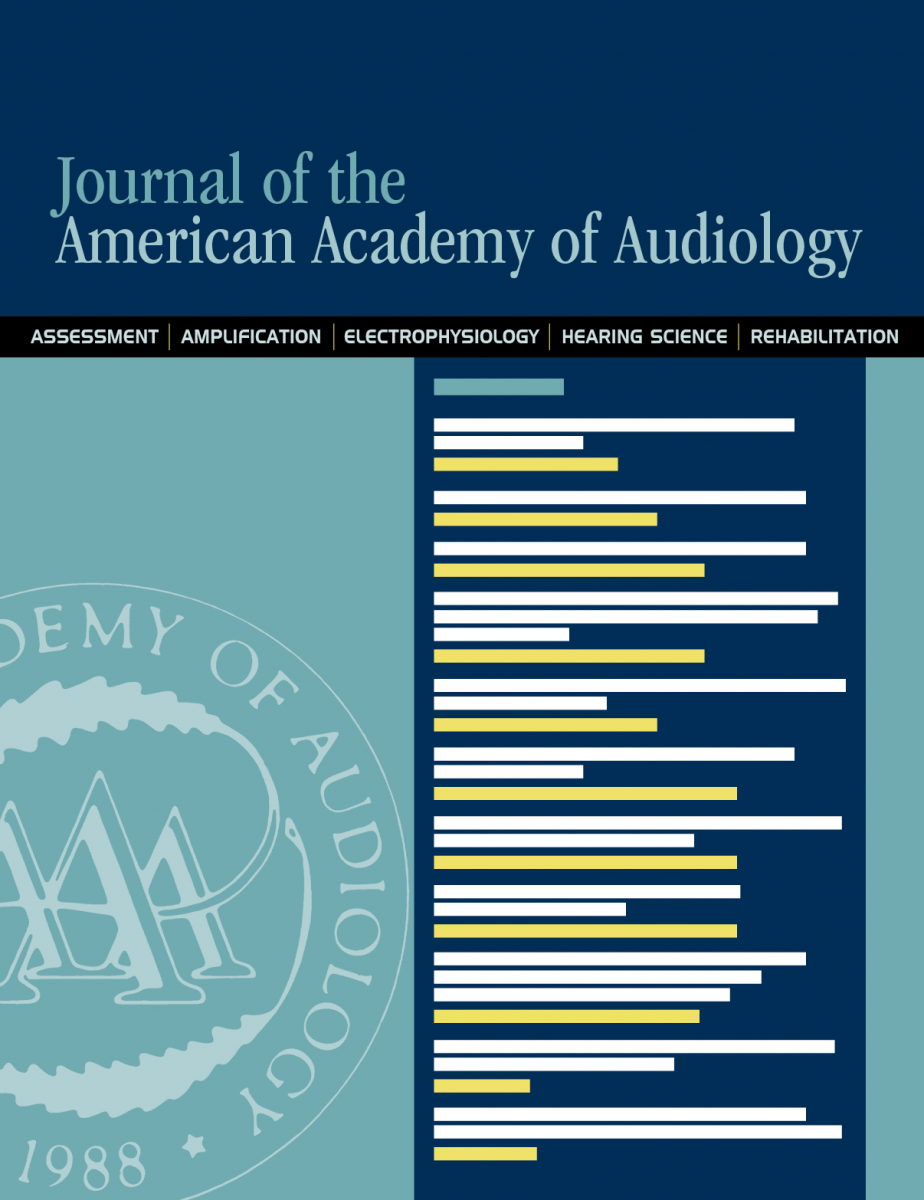 Editorial
The Effect of Loss of Speech Audibility on a Measure of Cognitive Function
pp. 826-826(1)
Author: Jacobson, Gary P.
Articles
Clinical Practice Guidelines: Cochlear Implants
pp. 827-844(18)
Authors: Messersmith, Jessica J.; Entwisle, Lavin; Warren, Sarah; Scott, Mike
Effect of Reduced Audibility on Mini-Mental State Examination Scores
pp. 845-855(11)
Authors: Gaeta, Laura; Azzarello, Jo; Baldwin, Jonathan; Ciro, Carrie A.; Hudson, Mary A.; Johnson, Carole E.; John, Andrew B.
A Qualitative Study of the Effects of Hearing Loss and Hearing Aid Use on Music Perception in Performing Musicians
pp. 856-870(15)
Authors: Vaisberg, Jonathan M.; Martindale, Ashley T.; Folkeard, Paula; Benedict, Cathy
Adult Children's Perspectives on Their Role in Their Parent's Hearing Healthcare Processes
pp. 871-882(12)
Authors: Heacock, Raquel M.; Montano, Joseph J.; Preminger, Jill E.
Toward An Exploration of Habituating to Tinnitus: Perspectives on Sensory Gating
pp. 896-903(8)
Authors: Mohebbi, Mehrnaz; Farhadi, Mohammad; Daneshi, Ahmad; Mahmoudian, Saeid
Auditory Brainstem Responses in Children with Auditory Processing Disorder
pp. 904-917(14)
Authors: Ankmnal-Veeranna, Sangamanatha; Allan, Chris; Allen, Prudence
Intraoperative Electrically Evoked Compound Action Potential (ECAP) Measurements in Traditional and Hearing Preservation Cochlear Implantation
pp. 918-926(9)
Authors: Nassiri, Ashley M.; Yawn, Robert J.; Gifford, René H.; Haynes, David S.; Roberts, Jillian B.; Gilbane, Max S.; Murfee, Jack; Bennett, Marc L.
Letters to the Editor
A Thought on "Self-Reported Hearing Difficulties"
pp. 927-927(1)
Author: Peck, James E.
Response to Letter to the Editor from Peck
pp. 927-927(1)
Authors: Roup, Christina M.; Post, Emily; Lewis, Jessica H.
JAAA CEU Program
JAAA CEU Program : Volume 30, Number 10 (November/December 2019)
pp. 928-929(2)
Index to Volume 30
Index to Volume 30
pp. 930-933(4)

"Huh?" is used in at least 31 languages around the world! A version of the word can be found in nearly every language on Earth (Dingemanse et al, 2013). This research concluded that all languages studied included a word similar, in both sound and function, to the English "huh?" Regardless of language, the word is…