States and localities continue to take additional measures to limit the spread of COVID-19, including requiring residents to stay home and for non-essential businesses to close physical locations and require 100 percent of their workforce to telecommute.
What businesses, then, are considered "essential"?
This differs depending on state or locality. See the resource below provided by Multistate Associates.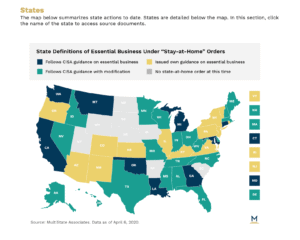 More Information

A growing body of evidence demonstrates the connection between health outcomes to income, education, nutrition, housing, environmental exposures, and other social circumstances. Similarly, studies have shown that interventions addressing SDOH can improve health outcomes and reduce health care costs. In response, the Biden-Harris Administration has released a playbook outlining new or strengthened initiatives that agencies…