The Political Action Committee (PAC) collects funds that then enable the Academy to contribute in a bipartisan manner to members of Congress that are supportive of audiology and advancing hearing healthcare. PAC funds also allow the Academy access to face-to-face meetings with legislators, enabling the Academy to raise the visibility of audiology and critical issues facing the profession such as the Medicare Audiologist Access and Services Act (H.R. 1587/S. 1731).
The PAC is a critical component of the Academy's advocacy network and all funds are used for direct contributions. Under Federal Election Commission rules, the PAC may only accept individual (non-corporate) contributions from Academy members residing in the United States.
Lacey Sharp, AuD, current serves as the chair of the PAC Advisory Board. Below is Lacey's "Why I Contribute" statement that speaks to the importance of contributing to the PAC to support the audiology profession and advocacy goals of the Academy.
---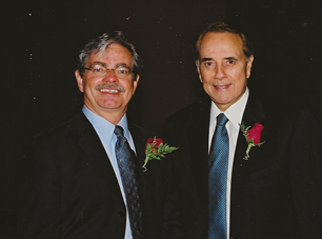 PAC funds enable Academy leaders, members, and advocacy staff the opportunity to attend face-to-face events with elected officials. Through these events, relationships are forged with legislators that champion audiology and hearing health care. This photo of former Academy President Jerry Northern, PhD, and the late Senator Bob Dole at a prior AAA Annual Conference are a testament to the importance of PAC donations.
---
"My name is Lacey Sharp and I am an audiologist in a private practice in Atlanta, Georgia. I am also the Academy PAC Advisory Board Chair. As a young professional, I donate to the PAC because I know it will help improve and safeguard my profession. It helps achieve changes within Medicare that I support, like being classified as a practitioner, as other doctoral level professions. It helps my patients see me without a referral. It allows me to help patients every way I can within my full scope of practice. I participated in the Virtual Hill Day and tried to ensure our Senators and state representatives know why I feel this way too. Supporting the PAC means supporting my lifelong profession and allowing us to fight for what is right. I hope you will consider donating too!"
How Can I Make a Contribution to the Political Action Committee (PAC)?

If you're an employer looking to hire within the audiology profession, HEARCareers is the job board for you. Why HEARCareers? On average, a job posting on HEARCareers earns 600 views per posting, and offers more than 23,000 searchable resumes available to review. Resources HEARCareers offers general advice for employers hiring audiologists, along with employer resources…