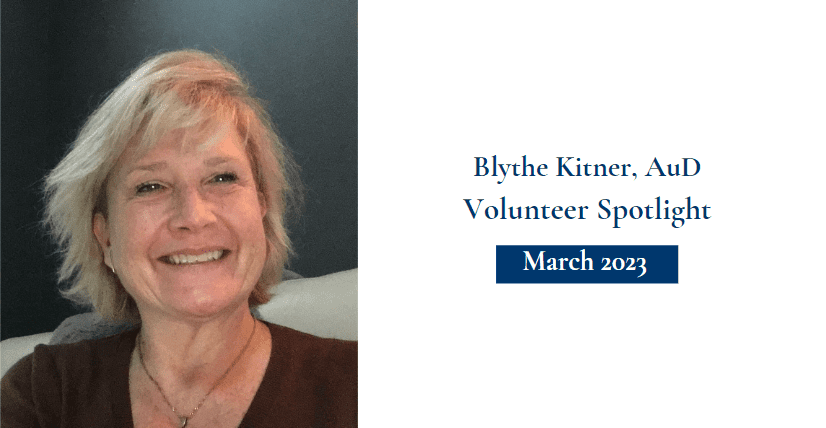 Blythe Kitner, AuD is a member of the Federal and State Relations Committee.
---
What is your background in audiology?
I entered the field of audiology in 2005. I previously was in research studying genetics and pharmacology for 18 years first. During my career in basic science research, I began taking karate with my instructor who was diagnosed with a severe to profound hearing loss. He was fluent in American Sign Language (ASL) and began teaching the Deaf community. I would travel with him teaching karate to the individuals who were Deaf and Hard of Hearing. After receiving my doctorate at Rush University, I have worked in several places. One of the best experiences was as an extern at the National Institute on Deafness and Other Communication Disorders (NIDCD). This is where my passion for vestibular developed. I have worked/trained in hospitals, private practice, children's hospitals, manufacturing, and neurology private practice. The work I did in neurology really enhanced my vestibular knowledge. It reinforced my electrophysiologic testing, balance testing and added additional techniques including somatosensory testing, EEG testing and nerve conduction testing. This knowledge has enhanced my teaching at Northern Illinois University (NIU) in my vestibular classes.
At NIU, I have taught numerous classes in audiology to undergraduate and graduate students, but my favorite are balance/vestibular, and professional issues and ethics. I love making future balance experts and audiologists! Additionally, I am very active in research and have had very successful students who have won research awards at Academy annual conference. This has provided me with significant pride in my students, knowing they are out there, being great audiologists.
I am currently the president of the Illinois Academy of Audiology (ILAA) and have been a part of my state membership since 2005. I previously held the position as vice president of membership for ILAA for 4 years. My other volunteer work includes the Federal and State Commission for the Academy and the Student Research Committee (posters and presentations) for the AAA 2023+HearTECH Expo.
At the Northern, I am the SAA advisor, a CODE facilitator (conversations on diversity and equity) and have certification as an ally and undocumented students. I am the vice chair for the Presidential Commission on Women (PCSW) to help women and those that identify as women to be successful and promote equity.
Why do you volunteer with the Academy?
I volunteer because it has been ingrained in me from a young age to give back to my family, community and profession. I feel that all those that came before me in audiology provided the opportunities I have today. It is important to be a part of both national and state level volunteer experiences. It helps me to feel like I am part of something bigger than just my job. I love providing my experiences teaching and clinically and in research, but volunteering goes beyond just the day to day. The additional knowledge that I gain from volunteering helps my teaching and my state as well. It is very educational to be on a national committee.
If you could splurge on one must have item, what would it be? Well, in thinking about this, my initial thought was for my job, a rotary chair! Then I thought, maybe you wanted something personally, and that would be to own a huge ranch in Colorado and have at least 10 standard schnauzers. I am currently a very proud owner of a beautiful standard schnauzer who, by the time this is printed, will be a champion! His name is Bender.
If you could learn to do anything, what would it be?
This one was hard, there are so many things I would love to learn to do some less chance of doing than others. Learning to mountaineer or to be a lead for an Iditarod Trail Sled Dog Race, but more realistically for now would be to learn how to be a handler for schnauzer show dogs.
What is your favorite movie or TV show?
One of my favorite TV shows is The Walking Dead. There are so many others as well which include The Big Bang Theory (it is all about science!).

Laura Gaeta, PhD, is a member of the Academic and Clinical Education Resources Committee. What is your background in audiology? I graduated from the University of Florida with a BHS in Communication Sciences and Disorders and a BA in Spanish in 2013. I became interested in audiology as a junior after taking Dr. Patricia Kricos'…