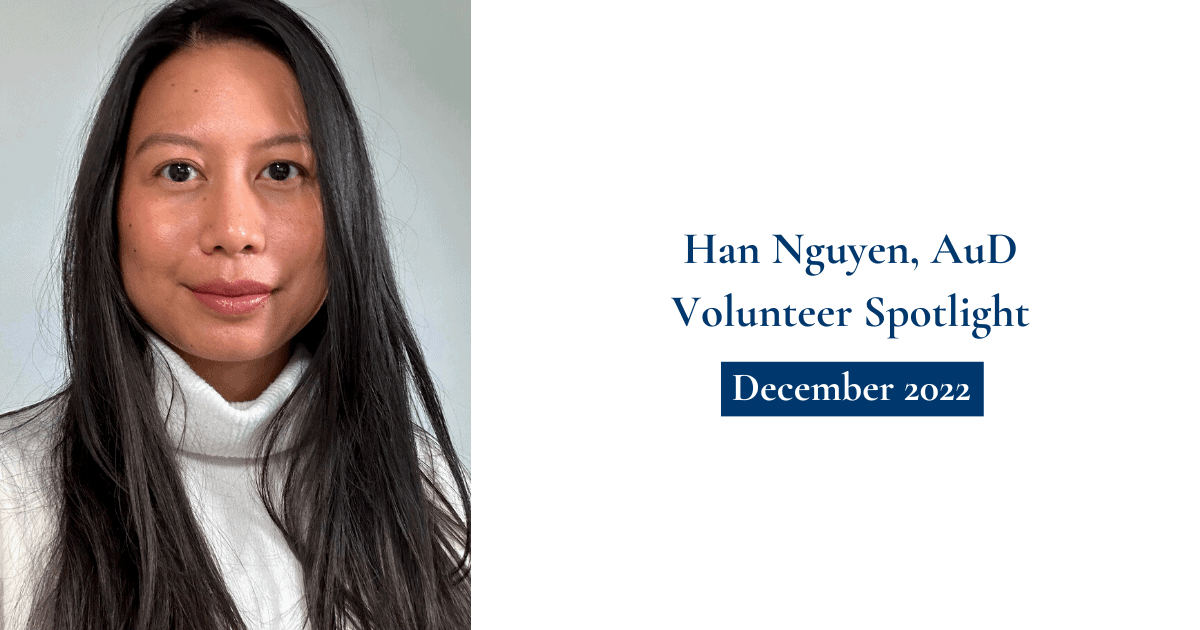 Han Nguyen, AuD, is a member of the Outreach Committee.
---
What is your background in audiology?
I received my doctorate in audiology from Central Michigan University in Mount Pleasant, Michigan. My clinical experience includes underserved populations, patients with special needs, pediatrics, electrophysiological testing, and vestibular assessment. I developed my skills in diagnostics, electrophysiology, and vestibular assessment during my summer and fourth-year externships at a large neurotology practice (Michigan Ear Institute) in Farmington Hills, Michigan.
After graduation, I worked at a private Ear, Nose, and Throat (ENT) practice and then in a hospital setting in the Detroit metro area with a large pediatric population. Currently, I am a clinical specialist for electrophysiology and vestibular applications for Interacoustics US. I provide clinical training and support to distributors and audiologists/end users on equipment for electrophysiological and vestibular assessment.
Why do you volunteer with the Academy?
I volunteer with the Academy because I want to give back to the profession of audiology. I want to contribute my skills and experience to help serve the audiology community and work toward improvements that will benefit us as well as patients and their families. I also enjoy being connected to other professionals who are just as passionate about being a part of the change we wish to see in the profession.
What has been your most rewarding volunteer moment?
I volunteer on the Outreach Committee and we work on initiatives to connect with and educate other healthcare professionals on various topics regarding hearing health. It was very rewarding to see the release of the short videos about tinnitus that we'd been working on, and then to hear that they're being shared with patients by other healthcare professionals. I feel very fortunate to have the opportunity to volunteer on this committee, because I have seen so much value in working together with other healthcare professionals in order to provide the best care to our patients.
What do you look forward to about the holiday season?
I look forward to all the festive decorations and lights all over town. I love seeing the glow at night and watching everyone get into the holiday spirit. I appreciate that it's a season for reflecting on and appreciating what we have.
Is there anything you have learned from your peers that has become valuable to you over the years?
I have learned from my peers that it's important to support one another, ask questions/ask for help when needed, and to be confident when I speak (my voice used to quiver every time I had to speak publicly). I'm honored to be surrounded by some of the most brilliant and accomplished peers, and they inspire me constantly to be a better version of myself.

What is your background in audiology? When I startedlege, I was a linguistics major who thought I wanted to get a PhD. After a semester of modifying vowel formants, I swore off research as something I could NEVER do for my whole life and decided that speech-language pathology felt like a more applied use of…