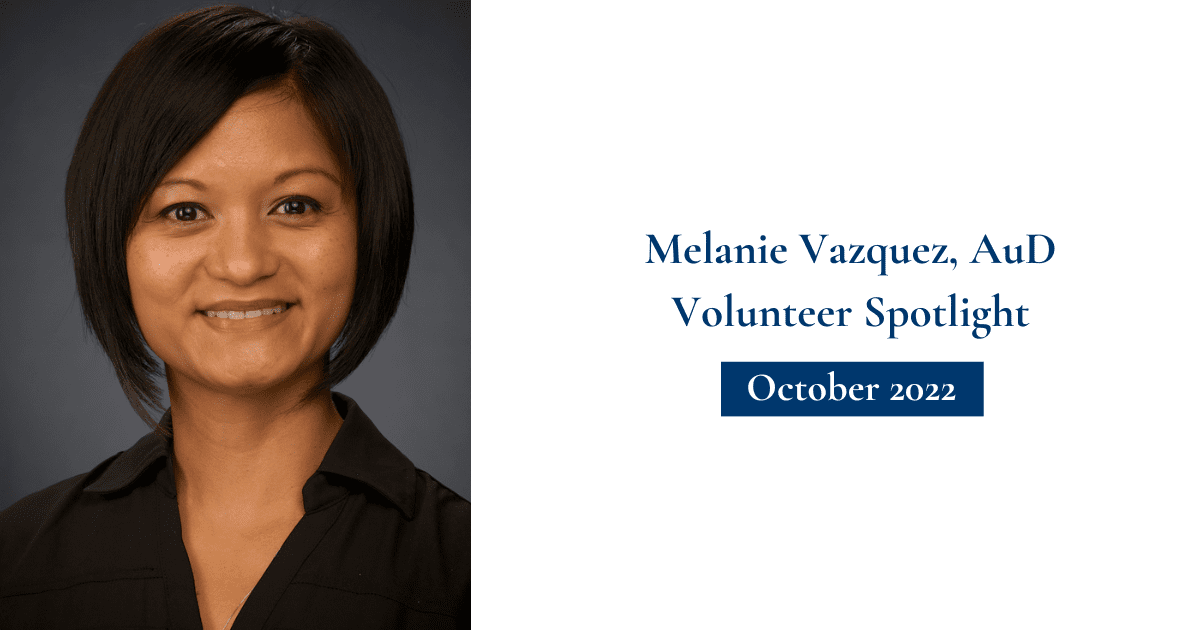 Melanie Vazquez, AuD, is a member of the AAA Program Committee.
---
What is your background in audiology?
I am a clinical Audiologist with Swedish Medical Group in Seattle and currently provide adult diagnostics and hearing aids, pediatric behavioral testing, and vestibular assessments. I received my AuD degree from the University of Washington and have been practicing for just over 15 years.
Why do you volunteer with the Academy?
I work with colleagues who have been heavily involved with the Academy and have always admired their inside knowledge about the profession beyond what we see and do in a clinic. I have learned that volunteering provides a way to learn new skills and that it also opens up networking opportunities.
If you could pick one song from an important year in your life was the best song of the year, what would it be?
This was a tough one and I had to google "top songs" from each milestone year and there were several. I narrowed it down to Missy Elliott's "Work it" from 2002—I always loved dancing to her music.
If you had the opportunity to learn another skill or profession from an expert, who would it be and what would you choose?
I would love to be more musically inclined. I have always admired those who can sing or play an instrument very well.
What do you find most rewarding about working with patients (or the most rewarding part of your profession)?
I love being a part of a patient's journey to better hearing. Patients will make comments about the way hearing aids have changed their life and knowing that I played a role in that process is always one of the most rewarding feelings.
Visit our conference website to learn more about AAA 2023+HearTECH Expo, registration will open for members on November 8.

What is your background in audiology? Early in my career, I didn't venture too far out of the adult diagnostic and amplification worlds. While the work was rewarding, I felt that I wanted to do expand my services and continue to grow as an audiologist. When I was hired at the Pittsburgh veterans association (VA),…