It was a generational "melting pot" as the Academy's "old guard" mixed with its "up and comers" at the Academy's first Future Leaders of Audiology Conference held in Reston, VA, September 25-27. The 2008 conference was organized as a component of the Academy's strategic plan, calling for the development of a new cadre of Academy leaders to ensure a vibrant future for the profession of audiology. It was attended by current and past Academy leadership, staff, industry representatives, and of course, our Future Leaders Class of 2008.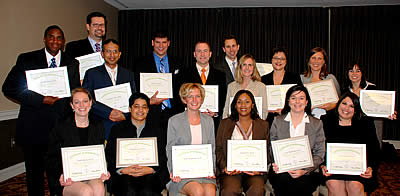 Letter to the Editor (Audiology Today, January/February 2009) (PDF)
The Academy received applications from many early career audiologists and sixteen were selected to participate in this year's meeting. The dedicated and committed audiologists in the Future Leaders Class of 2008 are:
Marlo Bailey, AuD
Shilpi Banerjee, PhD
Mindy Brudereck, AuD
Saunja Burt, AuD
Lisa Christensen, AuD
Kwamé Curtis, AuD
Sumitrajit Dhar, PhD
Sarah Draplin, AuD
Andrew Dundas, MA
Gary Fike, AuD
Brian Fligor, ScD
Josie Helmbrecht,AuD
Kristiina Huckabay, MA
Craig Kasper, AuD
Shannon Luongo, AuD
Cyndi Trueheart, AuD
Alison Grimes, past president of the Academy, and Carmen Brewer, program chair, welcomed the future leaders to the conference and congratulated them for their commitment to the future of the Academy, and their willingness to hone their professional skills and knowledge. The program then commenced with a presentation on the Evolution of Audiology by Academy founder, James Jerger. Lu Beck, Dave Fabry, Brad Stach, Therese Walden, Gail Whitelaw, and Academy staff members Cheryl Kreider Carey, Ed Sullivan, and Phil Bongiorno, conducted additional sessions. Topics covered included Mandates of Leadership, Giving Back to the Profession: Philanthropy and Volunteerism, The Leadership Challenge: What Successful Leaders Do, and Advocacy and Lobbying 101.
In addition, Jeffrey Cufaude, well-known author and speaker on leadership and management issues within the association profession, led a half-day interactive session on Saturday, September 27. Conference participants took the DiSC profile, using the findings to discuss leadership and communication styles, as well as the challenges and opportunities faced by professional association leaders. This session provided a great opportunity for self-discovery that will serve our future leaders well as they move into volunteer leadership positions in the Academy and the hearing healthcare profession.
The future leaders also had the opportunity to tour the Academy offices in Reston and then headed to Washington, DC, to tour the Academy's newly renovated Capitol Hill office. While downtown they had the opportunity to meet with the Academy's government relations staff and advocacy consultants, all in the shadow of the Capitol dome.The Academy and AAA Foundation hosted a leadership dinner on Thursday evening, which was a opportunity for socializing and networking.
As the conference closed on Saturday, the entire group was thanked for their willingness to participate in this new venture that will pay dividends for the profession. "We had an impressive group of speakers and a diverse venue for the participants," said Brewer in summarizing her perception of the experience. "In addition to the learning opportunity, the conference allowed us to get to know this intelligent and eager group of future leaders. We look forward to their participation as volunteers for the Academy."


If you're an employer looking to hire within the audiology profession, HEARCareers is the job board for you. Why HEARCareers? On average, a job posting on HEARCareers earns 600 views per posting, and offers more than 23,000 searchable resumes available to review. Resources HEARCareers offers general advice for employers hiring audiologists, along with employer resources…