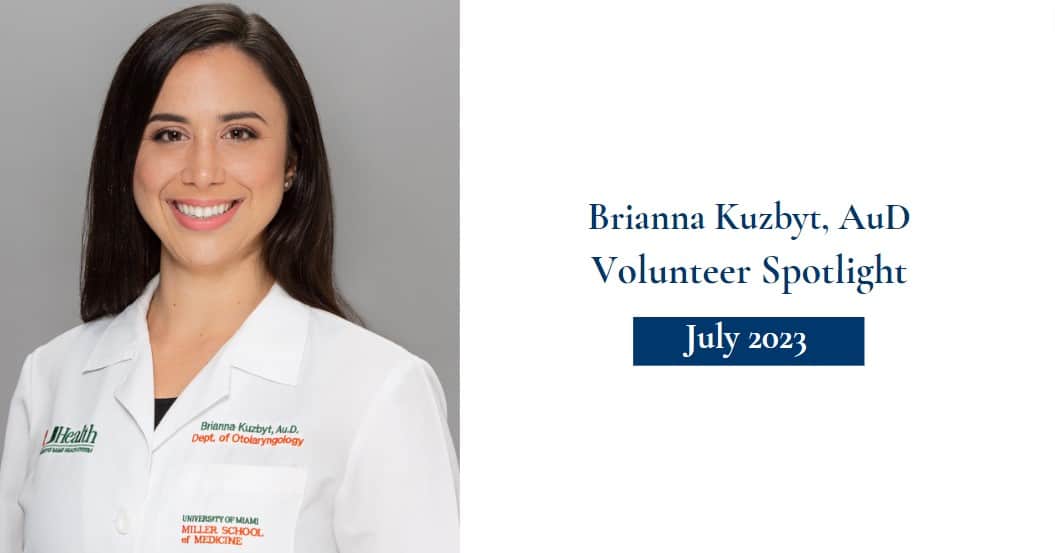 Brianna Kuzbyt, AuD, is a member of the Continuing Education Committee.
---
What is your background in audiology?
I am Assistant Professor of Otolaryngology, board certified clinical audiologist, and clinician researcher in the Division of Audiology at the University of Miami Miller School of Medicine. I specialize in tinnitus and sound sensitivities, auditory and vestibular diagnostic testing, auditory evoked potentials, and bone-anchored hearing implants for English and Spanish speaking adults. I hold sub-specialty certificates for tinnitus management and clinical precepting. I am actively involved in research efforts and participate in clinical trials within the department.
I have presented my work at national and international conferences focusing on tinnitus research and management and bone conduction hearing. In the field of tinnitus, my work has focused on the development, implementation, and modification of an evidence-based tinnitus education protocol for providers of tinnitus services. I also get to work with doctoral students and visiting health care providers in the clinical education and training program as a clinical preceptor, serve on various national audiology committees and subcommittees, and volunteer in my local community through health fairs and outreach events.
Why do you volunteer with the Academy?
While I very much enjoy my clinical and research work, volunteering with the Academy allows me to contribute back into the field of audiology in a meaningful way. I hope my committee work supports new and established audiologists in their continuing education and presentation of their work, be it clinical, teaching, or research focused. I have been involved in volunteer work since my high school days, and participating in various Academy committees allows me to use my audiological skills to support and promote my peers in audiology, while keeping me engaged with other like-minded professionals.
What is one thing that you can say volunteering has done for you and your personal success in your career?
For me, volunteering has been as beneficial to myself as I'd like to think it has been to our audiology community at large. Through my committee work, I've had the opportunity to meet and build relationships with audiologists in various specialties all over the country. This has allowed me to expand my social network within audiology and strengthen my connections with my professional peers. Volunteering with the Academy has also afforded me the chance to stay up to date with current audiological research, access novel teaching resources, and improve my skill of giving and receiving feedback. As a clinical preceptor, this has proven invaluable in my day-to-day work.
What would you do if you did not have to go to work/school?
If I had the luxury of not having to work, I would enjoy volunteering my time in my community, ideally something outdoors and around animals. I would spend more time teaching my young son music and art in the hopes he would share these interests with me and his father. And as an avid reader with limited time, I would switch from listening to audiobooks to reading physical books!
What is your favorite type of ice cream?
I love ice cream! My favorite flavor is coffee, with strawberry pulling in a close second.

What is your background in audiology? When I startedlege, I was a linguistics major who thought I wanted to get a PhD. After a semester of modifying vowel formants, I swore off research as something I could NEVER do for my whole life and decided that speech-language pathology felt like a more applied use of…