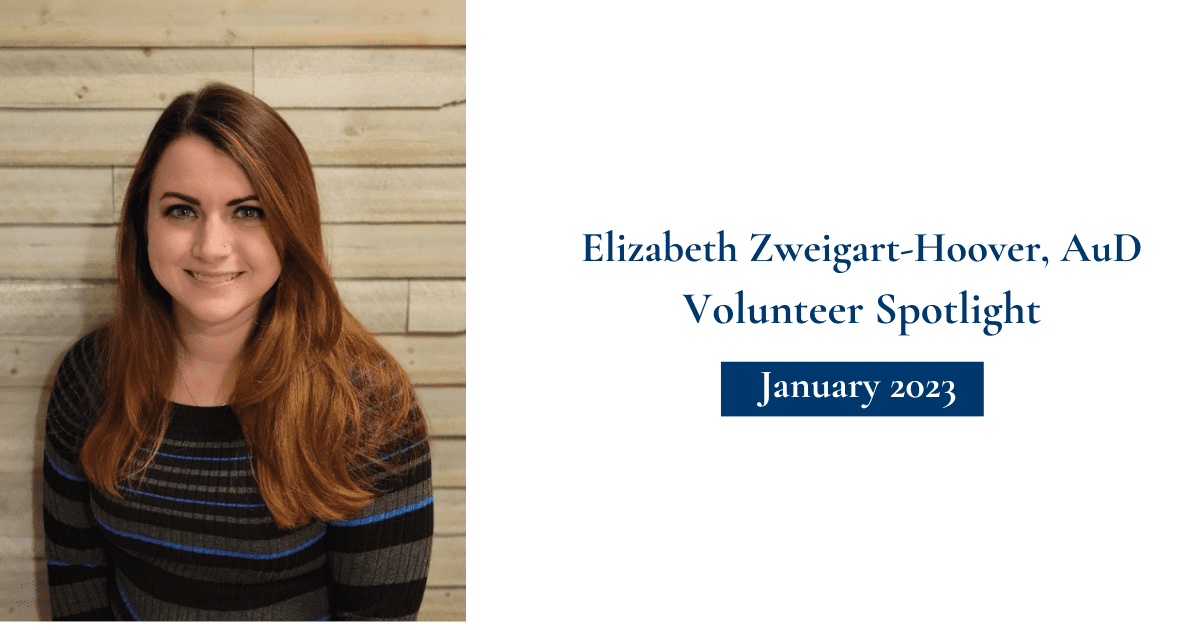 Elizabeth Zweigart-Hoover, AuD, is a member of the SAA Advisory Committee.
---
What is your background in audiology?
I stumbled into the world of audiology by mistake. I was originally pursuing a career in speech-language pathology, and my degree required an aural (re)habilitation course. At that point in time, I had never heard of an audiologist, and I viewed the course as just another hurdle to get to my degree. The course far exceeded my expectations, and sparked my interest in the auditory system.

After lots of personal research and overthinking, I decided to apply for audiology school. When I was accepted into East Tennessee State University's program, I knew that I had found my people, and the field that I loved. I graduated in 2020, and have been working at Midwest Ear, Nose, & Throat Surgery, PSC, in Evansville, Indiana, as a clinical audiologist ever since. I love my job for a lot of reasons, but my favorite thing is that every day brings a unique schedule with unique challenges—I never get bored.
Why do you volunteer with the Academy?
Graduating is a big change. All of my friends were spread across the country, and I was no longer spending the majority of my time studying. Furthermore, the onset of the Coronavirus pandemic limited the ways that I was able to comfortably socialize with people. I was struggling to find a meaningful way to spend my time when I saw the call for volunteers on the Academy's social media. I was thrilled to have the opportunity to work with the Student Academy of Audiology Advisory Committee.

I have gotten to meet some wonderful audiologists from across the country, and I've been able to work on some projects that are very personally meaningful to me to make a difference. My favorite part about volunteering, though, is being able to work with the students—it's truly uplifting to see how bright the future of audiology is.
If you could host a talk show, who would be your first guest?
This was the hardest question for me to answer. Honestly, I'd have to invite some of my patients! I've worked with people from five different continents and all walks of life, including a rescue diver, a master woodworker, and some truly special change makers. Several of the most interesting conversations I've ever had have been with people at work.
What is the best vacation you have ever had?
The most recent vacation that I took with my then-fiancé, now-husband—we spent a week at the beach. When you're from the midwest, everything about the beach is exciting, even the tiny lizards that are everywhere. A week of hiking in the sea breeze, parasailing, and eating some excellent food is a week well spent!
What is your favorite hobby?
When the weather is nice, I enjoy hiking with my husband. When the weather is not nice, my favorite hobby is soap-making. It's relaxing AND it makes my house smell wonderful. I also keep two dogs, two cats, and two aquariums, but I'm not sure if "being a zookeeper" counts as a hobby.

Laura Gaeta, PhD, is a member of the Academic and Clinical Education Resources Committee. What is your background in audiology? I graduated from the University of Florida with a BHS in Communication Sciences and Disorders and a BA in Spanish in 2013. I became interested in audiology as a junior after taking Dr. Patricia Kricos'…