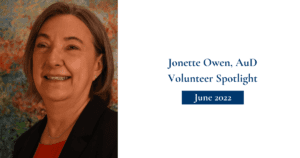 Jonette Owen, AuD, is a member of the Guidelines and Strategic Documents Committee. If you're interested in volunteering for any of our committees, check out our current available opportunities.
---
What is your background in audiology?
My background in audiology is diverse in regard to clinical settings. Over the course of my career, I have worked in ear, nose, and throat (ENT) offices, a multi-disciplined medical group, neuro-otology, private practice, and most recently academia at Salus University, Osborne College of Audiology, for 11 years. I currently hold the position of associate dean of clinical education, with the rank of associate professor.
Why do you volunteer with the Academy?
I volunteer with the Academy as a means of giving back to the profession. I like to think that my involvement within professional organizations both on the national and state level serves as a resource to introduce colleagues to the work of volunteering and an active role in the future of the profession.
What is a valuable lesson you've learned in your career that you'd like to share with others?
One of the most valuable professional lessons that I learned is the importance of being an active listener. Patients provide us with a lot of clues regarding their communication needs as well as what is important to them not only during the case history but in general conversation.
All this information is important and has increased importance when it comes to counseling the patient following assessment. Often times the information shared by the patient beyond the case history guides us in conducting additional testing and making comprehensive recommendations.
Is there a meaningful patient experience or story that sticks out to you?
The patient encounter that I would like to share is one that I reflect on, especially when I am having a challenging day.
The patient was brought to see me by his wife who was frustrated that communication became more difficult following his stroke and his recent Alzheimer's diagnosis (this was some 10 years ago that I saw him). Audiometric test results evidenced a bilateral hearing loss. The family agreed to try hearing aids. The long and short of the story is that he did very well with his hearing aids, frustration levels were diminished and upon re-evaluation of cognitive function, the diagnosis of Alzheimer's was removed.
The gratitude of the family was very impactful on me. We provide a very valuable service to patients and their families; the power of communication cannot be taken for granted.
If you could have a room in your house dedicated to a hobby or form of entertainment, what would you choose and why?
I would love to have a 70­–80-gallon saltwater aquarium in a home library, where I can enjoy the peace of the ocean reef. I am the most relaxed when at the beach, and since Philadelphia doesn't offer that, I would imagine I was at the beach.

What is your background in audiology? When I startedlege, I was a linguistics major who thought I wanted to get a PhD. After a semester of modifying vowel formants, I swore off research as something I could NEVER do for my whole life and decided that speech-language pathology felt like a more applied use of…