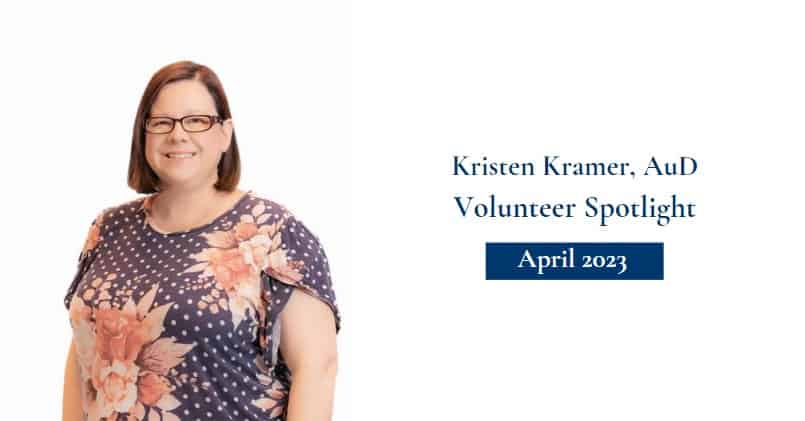 Kristen Kramer, AuD is a member of the Accessibility Committee.
---
What is your background in audiology?
I was born with hearing loss but was not diagnosed until age three as I only spoke about 10 words. Audiologists and parents know three-year-olds can speak in full sentences and are often intelligible to strangers. I was fit with hearing aids, had speech therapy, was caught up to hearing kids by kindergarten, and enrolled in regular school. I have mild to moderately severe sensorineural hearing loss (SNHL) and have been fortunate that I have been very successful with hearing aids all my life.
I attended a private grade school and knew nobody else with hearing loss so as I got older, I knew I wanted to work in a field helping people with hearing loss. My mom suggested that I study audiology and I ultimately went in that direction. I went to Mizzou (University of Missouri—Columbia) for my Bachelor of Science degree in Communication Science and Disorders (graduated 2003). I went to Washington University School of Medicine in St. Louis for my AuD (graduated 2007).
I volunteer with my local Hearing Loss Association of America (HLAA) chapter as a professional advisor which has been a valuable experience. I have learned so much from that group despite having a lifetime of experience with hearing loss and eight years of education to become an audiologist. I think it would be great for the Academy to work with the national HLAA organization. Inviting some speakers from the HLAA conferences to the Academy's HearTech conference would be great for attendees as having the viewpoint of a person with hearing loss really offers a lot of insight into our patients' perspective of us.
Years ago, I documented my journey with hearing loss in a blog. If you would like to know more about my story please read on here.
Why do you volunteer with the Academy?
In 2006, I attended the Academy's Annual Conference as a student and met with the Hard of Hearing Audiologist group. At that time, we were concerned that appropriate accommodations at the conference were not readily available to those with hearing loss. This was very frustrating and did not facilitate a good learning experience for everyone. Over the years, accommodations improved, and the technology of automated captioning has gotten much better, thus lowering the costs compared to providing captioning via CART.
The Academy's Accessibility Committee was subsequently formed to continue to evaluate the needs of attendees and make the process smoother from year to year. The committee oversees forming an accessibility plan for the conference and the entire organization. I attended the conference in 2022 in St. Louis and there was a lot of accessibility options including captioning, but there was room for improvement. I have the attitude of do not complain without offering a solution, so I joined the Accessibility Committee. I knew I would be able to attend AAA 2023+HearTECH Expo in Seattle because I have a friend who lives there. I am hopeful others will appreciate the changes in accessibility. The committee continues to review options and it is a work in progress, so we will learn from this year and continue to improve for next year's conference.
What is one thing that you can say volunteering has done for you and your personal success as an audiologist?
Volunteering has allowed me to collaborate with other professionals who have a similar interest in improving access to education for everyone. It has been a joy to get to know other audiologists outside of my local area. Captioning at the conference helps everyone, not just those with hearing loss and will bring awareness to the need for audiologists to provide more accessibility options for their patients. The profession is changing, and volunteering with the Academy is a great way to be involved to ensure the field of audiology improves for us and future graduates.
What is your favorite day of the week?
Not your typical answer, but I prefer Wednesday. I work four days (32 hours) a week and am typically off Wednesdays. Working two days, off Wednesday, two days, and then off on weekend is so great! My work is flexible in letting me swap my day off for Monday or Friday when my son is off school so I don't have to arrange childcare and can spend time with him just us. Moms know that a child is often different when dad is not around, ha! My son goes to private school and Wednesdays is chapel also, so I often drop him off, go to moms in prayer/socialize with other moms, and then to chapel. He asked me to make sure I am at chapel next week as his class will be singing. I know the days will come soon when he is embarrassed to have his mom at his school, so I love having the opportunity to be there.
On Wednesday, I often have breakfast/lunch with my mom as well, run errands, go shopping, and manage doctor appointments. The day goes fast, but I pick up my son from school and get a little extra time with him in the afternoon versus a workday also. Having hearing loss, I find the job to be mentally draining, so working four days has really helped boost my morale and improve my work/life balance.
If you're interested in volunteering for any of our committees, check out our current available opportunities.

What is your background in audiology? My love of learning new languages led me to enroll in American Sign Language (ASL) courses while completing my undergraduate degree at the University of Illinois at Urbana-Champaign. It was during this time that I volunteered for a preschool that specialized in working with children who are Deaf and…