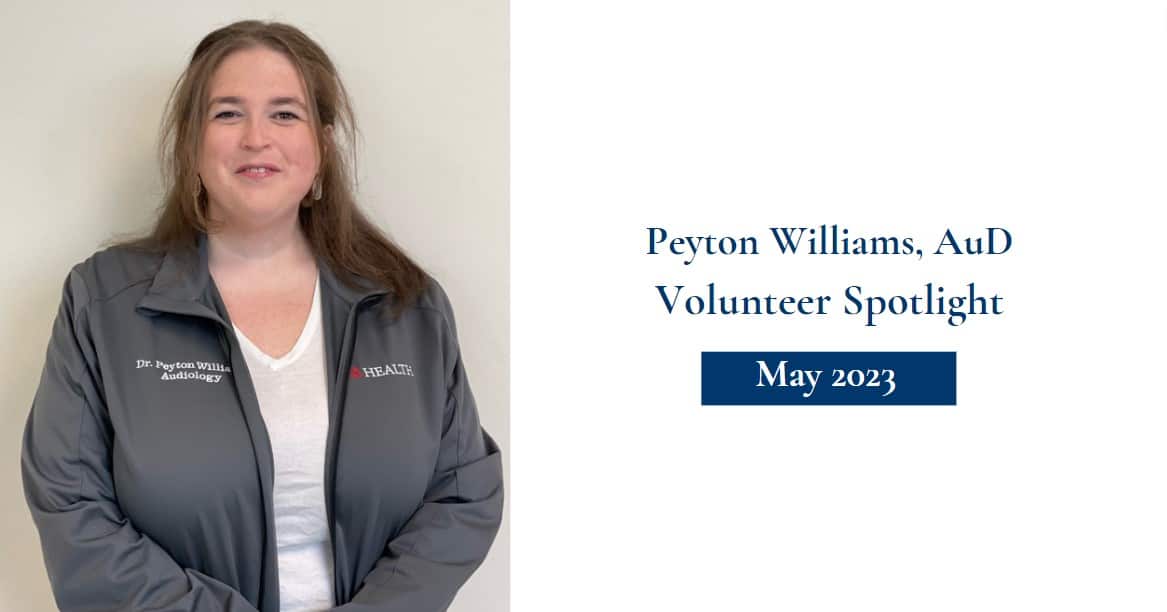 Peyton Williams, AuD, is a member of the Member Engagement and Recognition Committee.
---
What is your background in audiology?
My undergraduate degree is in Education for the Deaf and Hard of Hearing. I learned rather quickly during my student teaching that I did not want to work as a full-time teacher. I remember taking one class focused on audiology and was fascinated by it, so I decided to take the leap and apply to graduate programs. Fast forward a few years and I obtained my AuD from the University of South Alabama in 2019. I am now practicing as a pediatric audiologist in Mobile, Alabama, focusing primarily on diagnostics and ototoxicity monitoring and management.
I currently work for USA Health System where I split my time between two ear, nose, and throat (ENT) clinics, the University of South Alabama's Speech and Hearing Center, and two hospitals in our health system providing inpatient care. While I stay busy and no two days are the same, I am rewarded almost daily in my interaction with patients and their parents by providing hearing healthcare and support.
Why do you volunteer with the Academy?
I began volunteering with the Academy while in graduate school where I served on several committees with the Student Academy of Audiology (SAA). After those positive experiences and building connections with other young professionals, I decided to continue to invest my time in the Academy.
Serving on the Membership Engagement and Recognition Committee is important to me because we are able to better help the Academy understand the ever-changing needs, wants, and thoughts of our members and our profession. We are also able to uplift our members by acknowledging their achievements that help propel the profession forward.
What is one thing that you can say volunteering has done for you and your personal success as an audiologist?
By becoming a volunteer, I feel that I have become more aware of the changes happening in healthcare, not just in audiology, and how I can adapt to these changes in my daily practice. I have also made many connections that I likely would not have if not for volunteering with the Academy.
What is your favorite color?
My favorite color would have to be green, but very specifically an olive or sage green.
What is your favorite place on Earth?
Any place I can sit peacefully while reading a good book, drinking an iced coffee, and listening to great music (so basically a local bookstore!).
---

What is your background in audiology? My love of learning new languages led me to enroll in American Sign Language (ASL) courses while completing my undergraduate degree at the University of Illinois at Urbana-Champaign. It was during this time that I volunteered for a preschool that specialized in working with children who are Deaf and…