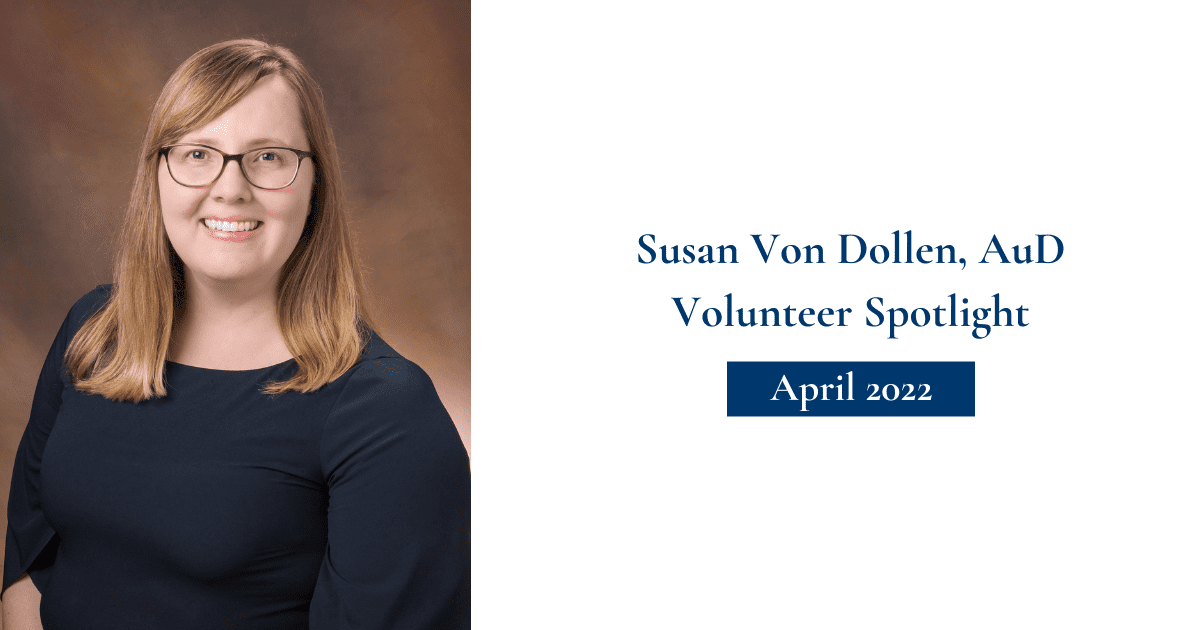 Susan Von Dollen, AuD, is a member of the Continuing Education Committee. If you're interested in volunteering for any of our committees, please review them on the committees and councils page.
---
What is your background in audiology?

My background in audiology started with a late arrival to the communication sciences scene after a rewarding career in hospitality and event management. Thanks to an inspiring intro to audiology course at the University of Wisconsin, this major life change was quickly followed by a conversion from thoughts of becoming a speech-language pathologist, and I found my ultimate calling as a pediatric audiologist.
After a formative externship year at Cincinnati Children's Hospital, I began my career as a clinical audiologist with the Center for Childhood Communication at the Children's Hospital of Philadelphia. I work with pediatric inpatients and outpatients, and also am active in our center's family support and education efforts.
Why do you volunteer with the Academy?

I have volunteered with the Academy since my days as an SAA member. Volunteering is an opportunity to work collaboratively with professionals across our field as well as with Academy staff.
Being an Academy volunteer keeps me in touch with colleagues across many different clinical, academic, and research settings, which helps me keep in mind the breadth and depth of what audiology has to offer.
Would you rather have a personal maid or a personal chef and why?

I would rather have a personal chef, because I enjoy cooking but food tastes even better when a professional makes it. Also, I wouldn't want anyone to have to clean up after me, no matter how well they were paid!
What past concert would you have liked to have attended live?

Janis Joplin—Frankfurt, Germany, 1969
Why do you think audiology education is valuable for students as well as professionals?
Audiology education beyond the classroom and clinic has had a grounding influence on my clinical education and work, and continues to foster my professional growth and development. Part of what attracted me to being an audiologist is the high prevalence of dedicated lifelong learners in our field.
As a member of the Continuing Education Committee, I'm able to work to find creative ways to inspire and engage Academy members (including myself).
Interested in volunteering? Check out our current available opportunities.

What is your background in audiology? When I startedlege, I was a linguistics major who thought I wanted to get a PhD. After a semester of modifying vowel formants, I swore off research as something I could NEVER do for my whole life and decided that speech-language pathology felt like a more applied use of…