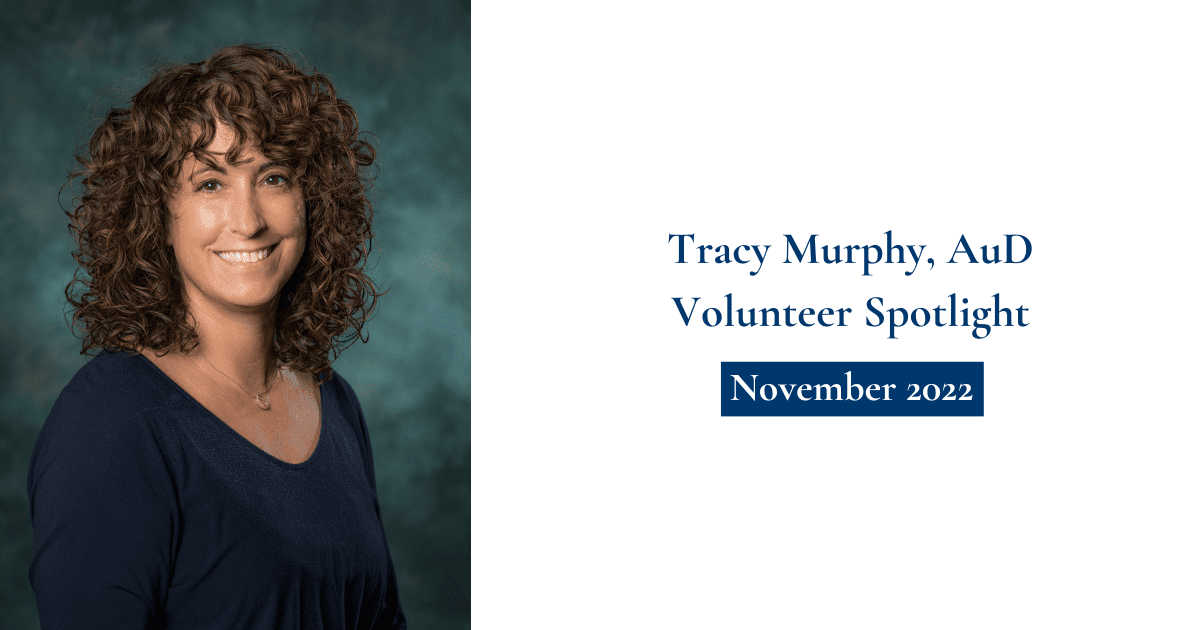 Tracy Murphy, AuD, is a member of the Practice Policy Advisory Committee (PPAC).
---
What is your background in audiology?
I have practiced audiology at North Shore Audio-Vestibular Lab, a private practice in the North Shore suburbs of Chicago, since 1993 when I graduated with my Master's degree from Northwestern University. I subsequently obtained my AuD from Salus University in 2004. I perform the full scope of audiology services, including diagnostic testing for patients of all ages, cochlear implants, hearing aids, electrophysiologic evaluations, and vestibular testing/rehabilitation.
I have served in various volunteer roles within the Academy, including the Coding and Reimbursement Committee (CRC), Audiology Quality Consortium (AQC), Professional Policy and Advisory Committee (PPAC), and the Board of Directors.
Why do you volunteer with the Academy?
I volunteer with the Academy because I feel it is important to give back to my profession. I have been the beneficiary of amazing mentorship throughout my career from individuals who have been very active within the Academy. I hope that I can be that mentor for others entering the field of audiology.
I have also experienced the hard work that all the volunteers within the Academy are performing in order to advance our profession. The climate of healthcare is changing, and in order to effect the change we want as a profession, more audiologists are needed as volunteers within the Academy and state audiology organizations.
What are you thankful for?
Of course, I'm thankful for my health, family, etc. But beyond that I'm thankful for quiet early mornings when nobody else is awake yet, the smell of freshly brewed coffee, and random acts of kindness.
What is one thing that is sure to make your day better?
Exercise first thing in the morning is the one thing (besides a cup of coffee) that starts my day right. It's a time in my day that I take for myself to clear my head and an attempt to lead a relatively healthy lifestyle.
Have you faced any challenges or struggles in your career? What advice would you give to a professional going through something similar, based on your experience?
One of the struggles that I've faced in my career is acting on the notion that it's ok to bill patients for services provided that are not covered by insurance. If challenged by patients about such out-of-pocket expenses, it helps patients to understand the importance of the services audiologists provide and how audiologists differ from other hearing healthcare providers. If we want to advance the field of audiology, we need to stop giving away our services and place a value on all that we do.

Blythe Kitner, AuD is a member of the Federal and State Relations Committee. What is your background in audiology? I entered the field of audiology in 2005. I previously was in research studying genetics and pharmacology for 18 years first. During my career in basic science research, I began taking karate with my instructor who…