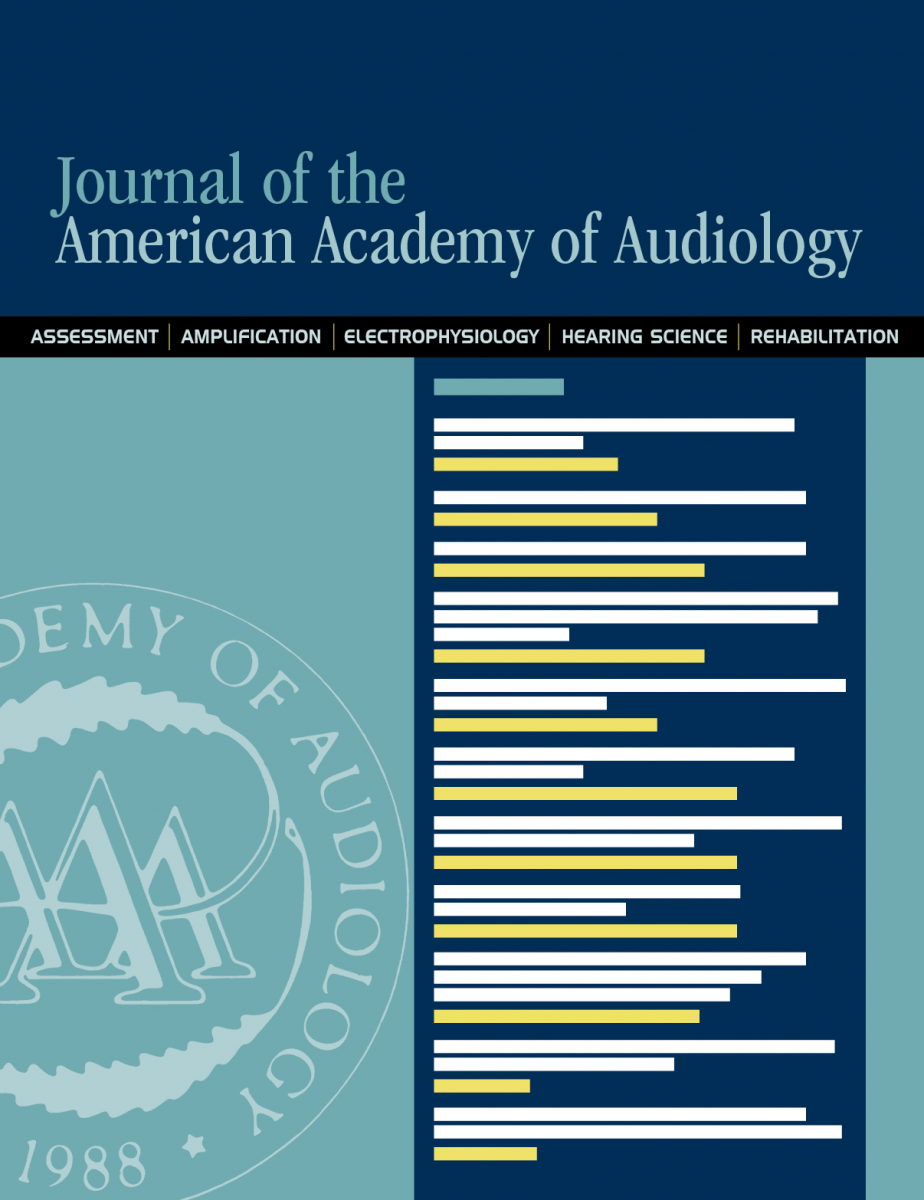 As the JAAA editors along with our editorial team, we are proud to announce new Fast Track content for JAAA, as of August 20, 2019. We are working diligently to publish ahead of print. We strive for a two-month turnaround on articles from acceptance to digital publication. Plan to see more of these announcements about content updates each month.
Sound Localization in Toddlers with Normal Hearing and with Bilateral Cochlear Implants Revealed Through a Novel 'Reaching for Sound' Task
Authors: Erica E. Bennett and Ruth Y. Litovsky
Letter to the Editor: Response to the Letter to the Editor from Dr. James Peck
Authors: Christina M. Roup, Emily Post, and Jessica H. Lewis of The Ohio State University Department of Speech and Hearing Science.
The authors are responding to Dr. Peck's letter referring to their article, "Mild-Gain Hearing Aids as a Treatment for Adults with Self-Reported Hearing Difficulties" (JAAA, Jun 2018; 29(6):477-494).
Temporal Processing and Speech Perception Performance in Postlingual Adult Users of Cochlear Implants
Authors: Sıdıka Cesur and Ufuk Derinsu
Evaluation of a Remote Microphone System with Tri-Microphone Beamformer
Authors: Jace Wolfe, Mila Duke, Erin Schafer et al
Predictors of Hearing Aid Use in the Advanced Digital Era: An Investigation of Benefit, Satisfaction, and Self-Efficacy
Authors: Anna Marie Jilla, Carole E. Johnson, Jeffrey L. Danhauer et al
The Effect of Varying Test Administration and Scoring Procedures on Three Tests of (Central) Auditory Processing Disorder
Authors: Maria E. Pomponio, Stephanie Nagle, Jennifer L. Smart, and Shannon Palmer
Log in through the here on the Academy site and click on "Fast Track" tab to see these latest article additions.
Gary Jacobson, PhD, is the editor-in-chief of the Journal of the American Academy of Audiology. Devin McCaslin, PhD, is the deputy editor-in-chief of the Journal of the American Academy of Audiology.

"Huh?" is used in at least 31 languages around the world! A version of the word can be found in nearly every language on Earth (Dingemanse et al, 2013). This research concluded that all languages studied included a word similar, in both sound and function, to the English "huh?" Regardless of language, the word is…