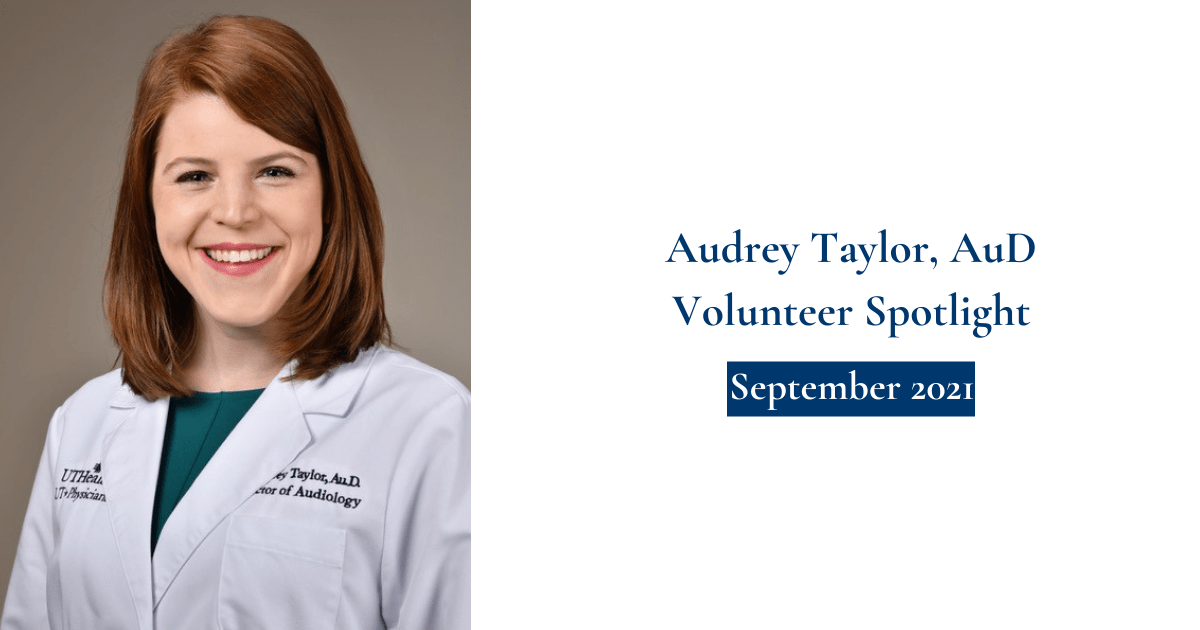 ---
What is your background in audiology?
My background in audiology actually started on the other side of the booth since I was a patient myself. I was diagnosed with hearing loss when I was four years old and have worn amplification since then. I initially didn't like to talk about my hearing loss, but I was determined it would not stop me from achieving my goals.
I spent two college summers volunteering in the audiology department at Texas Children's Hospital, which sparked a passion for audiology and a desire to give back to patients the same way I was cared for as a patient. I attended the University of Texas at Dallas and graduated with my AuD in 2019. I currently am working at UT Physicians in the Texas Medical Center in Houston where I do full scope of practice—pediatric and adult diagnostics, hearing aids, cochlear implant, electrophysiology, and vestibular. To date, I serve on the Academy New Professionals Committee and the Student Academy of Audiology (SAA) Advisory Committee, along with the Texas Academy of Audiology Membership and Conference Planning Committees.
Why do you volunteer with the Academy?
I started volunteering while I was a student at UT Dallas and was actively involved in the national Student Academy of Audiology. I co-founded the Students with Hearing Loss Task Force for the SAA in 2017 and served as the co-leader for two years before graduating.
My time volunteering for the Academy has been so rewarding because of the friendships and networking connections I have made across the realm of audiology. Additionally, I have been able to see some major projects from start to finish which has also been a sense of accomplishment in knowing that I am contributing to something as a team. I firmly believe that you have to help be a part of the change that you would like to see which is why I volunteer.
Who was the first person who inspired you?
My parents were the first people to inspire me because they encouraged and helped mold me to be a hard worker. My mother was diagnosed with hearing loss as a young adult and taught my brother, who also has hearing loss, and I the importance of self-advocacy and setting goals for yourself from as far back as I can remember. My father dedicated countless hours to my love of softball which instilled a love of working in a team setting as well. I remember calling my parents after my first day in my educational audiology rotation. I cried on the phone as I thanked them for all the sacrifices they made for me because I realized not every child gets the opportunities they gave me to help mold me into the person and provider that I am today.
If you had the ability to forget one book or television show so that you could experience it again for the first time, what would it be?
My husband and I just finished watching Endeavor, which is a mystery show based off Inspector Morse. I love mysteries and the show is also set in Oxford, England at which I had the privilege of doing a study abroad. The scenery and the plot twists are a complete work of art.
If you were gifted one million dollars to spend in one day, but couldn't buy anything for yourself, how would you spend the money?
I would want to establish a trust in order to raise funds for children who have hearing loss but do not have the means to be fit with the proper amplification.
I love working with my pediatric patients. I don't just see the children as patients—I see them as kids and as someone that I once was. One of my favorite things to ask my pediatric patients is, "what do you want to be when you grow up?" You get a myriad of different answers, but some of them will even actually say, "I want to be an audiologist just like you." It's so encouraging to see that they don't necessarily perceive hearing loss as a limitation to what they want to do, and I just want to encourage them to perceive whatever their goals might be and to just chase after those goals wholeheartedly.

What is your background in audiology? When I startedlege, I was a linguistics major who thought I wanted to get a PhD. After a semester of modifying vowel formants, I swore off research as something I could NEVER do for my whole life and decided that speech-language pathology felt like a more applied use of…