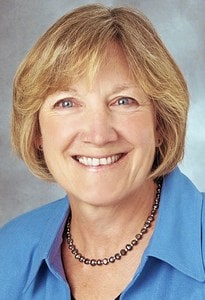 Dr. Pat Stelmachowicz, leading Boys Town National Research Hospital (BTNRH) researcher, passed away on Sunday, January 24, 2021. She was known for her leadership, vision, and scholarship in audiology research.
Pat began her Boys Town career in 1980 serving as coordinator of audiology. From 1994 until her retirement in 2014, Pat served as director of audiology and vestibular services. Her work fundamentally changed pediatric hearing aid research, clinical practice, and the design of hearing aids.
Although she retired from Boys Town in 2014, her legacy lives on through the important clinical and research programs she led in pediatric audiology. Serving as director of audiology and vestibular services for 20 years, Pat made many contributions to BTNRH, including her early mentorship of Ryan McCreery, current director of research, who started as an audiology intern.
"Dr. Pat Stelmachowicz was an internationally recognized leader in the field of pediatric audiology. Her research provided an important foundation for how audiologists fit hearing aids for infants and young children today," said Ryan McCreery, director of research. "She was an outstanding mentor to many audiologists and scientists and built to Boys Town audiology program into one of the best in the nation.  Pat will be greatly missed."
As a renowned researcher in her field, Pat had close collaborations with many national and international researchers working in the field of audiology research. She served as a mentor for many of the current leaders in pediatric audiology research who work across the United States.
Pat was recognized nationwide for her groundbreaking research, having received the Distinguished Alumnus Award from the University of Iowa and the Lifetime Achievement Award at the 6th International Phonak Sound Foundations Conference in 2013.
In 2015 she was honored by the American Speech-Language-Hearing Association (ASHA) with the Honors of the Association award, the highest career achievement award bestowed by the organization, and in 2017 she received the Lifetime Achievement Award of the American Auditory Society. Pat was also a nominee for the 2013 Kleffner Lifetime Clinical Career Award by the Nebraska Speech Language and Hearing Association.
More information on Pat's services can be found here. Please continue to keep Pat and her family in your thoughts and prayers.
The Academy was saddened to learn of the passing of Marjorie Jung, MS, a lifetime member of the Academy, and clinical audiologist known for her work in pediatric audiology. During her career, Ms. Jung authored several papers about otoacoustic emissions in children, developed videos of best practices for hearing testing in newborns, and was at…