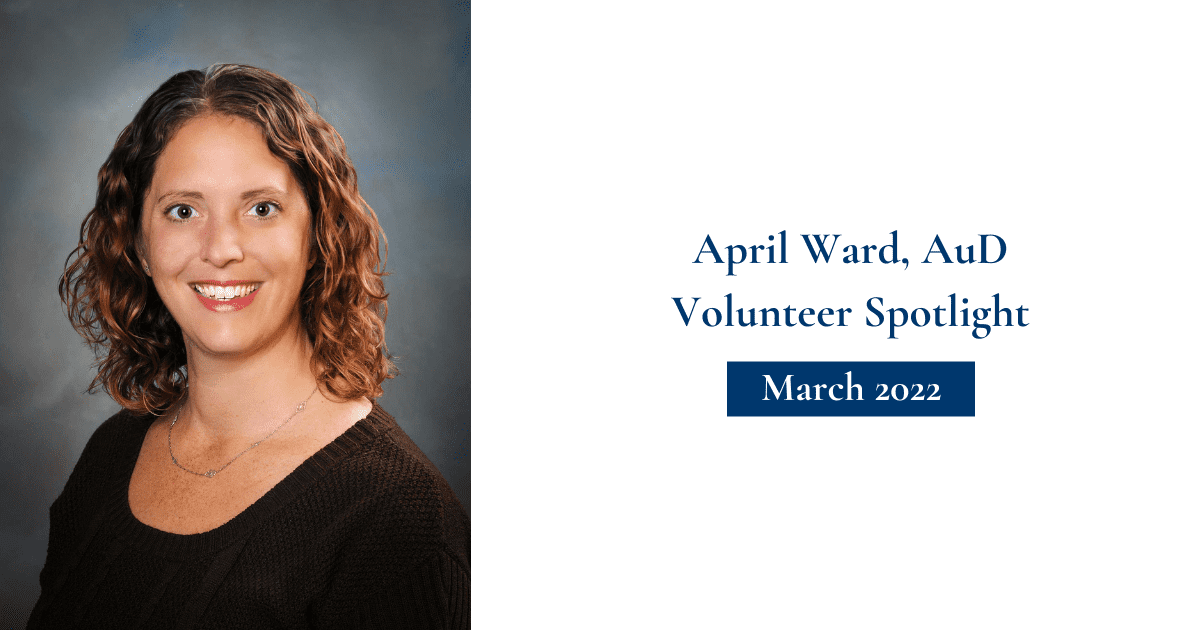 April Ward, AuD, is a member of the Leadership Development Committee. If you're interested in volunteering for any of our committees, please review them on the committees and councils page.
---
What is your background in audiology?

I have been an audiologist for 20 years, which is hard to believe! I love audiology and I'm thankful every day that I chose it for my career (despite my Audiology 101 professor in undergrad saying that audiologists should never expect to make more than $35K). I have worked in an ear, nose, and throat (ENT) setting, a private practice, and I've now been working for a hospital-based department for 16 years.
I am currently the Director of our Hearing and Balance department with 33 audiologists, nine vestibular therapists, two speech language pathologists and seven audiology assistants spread across seven non-profit hospital-based clinics in southern Idaho. It's a lot of fun and it definitely keeps me busy! I'm also the new director of audiology for the Idaho Speech and Hearing Association and I'm excited about the opportunity to support other audiologists across our state.
Why do you volunteer with the Academy?

I love our profession and I want to help others succeed. I am passionate about leadership and I'm enjoying my time on the Leadership Development Committee.
If you could spend one week at a luxury hotel or in a camp surrounded by beautiful scenery which would you choose and why?

I would choose a luxury hotel surrounded by beautiful scenery so that I could hike and swim and enjoy nature during the day, but sleep comfortably in my beautiful hotel room at night (after a nice long soak in the hot tub!).
Would you rather live twice as long or double your earnings over the course of your current lifetime and why?

Living twice as long would be really sad if my friends and loved ones didn't also live twice as long. So, I would rather double my earnings which would allow me to donate more to charity, live in an amazing downtown condo, and not have any financial worries.
Is there anything you started doing to improve your work (efficiency, record keeping, patient interactions, etc.) that has made a significant impact? What is it?

The primary thing that I have done to improve my work is developing a meditation practice. I've especially used meditation to build confidence, relax (which allows me to be more engaged at work), and to help me resolve any internal disgruntled feelings that might surface related to work. This has allowed me to be more present for my co-workers and patients and has given me a clearer head to make more informed and rational decisions.
Interested in volunteering? Check out our current available opportunities.

What is your background in audiology? When I startedlege, I was a linguistics major who thought I wanted to get a PhD. After a semester of modifying vowel formants, I swore off research as something I could NEVER do for my whole life and decided that speech-language pathology felt like a more applied use of…