AAA 2019 attendees joined us on Thursday, March 28, 10:15—11:15 am, in Columbus in-person and via Facebook Live to review the latest updates from the Academy Board of Directors and to pose questions to our leadership.
We have captured the live video in sections below and included the financial PowerPoint presentation.
AAA 2019 Membership Meeting Recap Video Playlist
President's Overview
Lisa Christensen, AuD, President
Financial Overview
Melissa Heche, AuD, Secretary/Treasurer
Financial Report Presentation (PDF)
Advocacy/Legislative Efforts and Certification Updates 
Catherine Palmer, PhD, President-Elect
Open Discussion
In addition to the in-person questions featured in the video clip above, several questions were submitted from our online audience. Those questions and answers are listed below.
Q: The state COMPACT sounds like a horrible idea.
President-Elect Catherine Palmer, PhD: Multistate licensure compacts have been adopted by other health-care disciplines to assist with mobility of practice and to facilitate telehealth. It will take 10 states to adopt the compact language to enact the compact, so the value of the compact long-term can be determined by how many states choose to join.
The advantage for patients could be if they are in areas without audiology. They may find that audiologists will be more willing to travel when they don't need multiple licenses to cross state lines. This is an opportunity to expand practice. There will be an interaction with accessibility of telehealth as well. Agreement across states will make it easier to offer telehealth. For example, our patients that relocate for the winter or summer months would now be able to access their audiologist through telehealth without concerns about the audiologist being licensed in multiple states. It is not too early for audiologists to be positioning themselves to make the best use of state compacts and emerging telehealth.
Q: Is Bopanna Ballachanda recusing himself from any and all talks about the idea of the Concourse Act with essentially reciprocating licensure? This seems like it could directly benefit Lively Hearing.
President Lisa Christensen, AuD: At the beginning of every board meeting, we review the confidentiality and conflict of interest terms. Board members, including Bopanna, recuse themselves from discussions and votes that are germane to their individual conflicts of interest.
Q: How much support is the Public Awareness Committee receiving? How much latitude do they have in creating national awareness campaigns to promote audiology?
Member-at-Large Angela Shoup, PhD: As the board liaison to the Public Awareness Committee, I can help answer these questions. The Public Awareness Committee is one of several committees that the Academy board and staff support as part of the overall mission of the organization. That s​aid, we have to manage, balance, and weigh the overall budget, revenue and expenses, accordingly among several programs and the strategic direction set forward by the full board with input from membership.
We very much understand the want and need for greater public awareness and the desire for a comprehensive, sustainable consumer awareness initiative. That said, this level of activity over the course of several years is upward of millions of dollars. With the Academy budget this is somewhat cost-prohibitive and thus, we have worked to help create public awareness opportunities where we can. In the last year and a half, we have focused on media outreach with a retained public relations consultant, press releases, toolkits on how to talk to the press, and more. The committee itself has also developed videos, fact sheets,  and informational resources for our members to use to advocate for themselves and develop public awareness initiatives and opportunities.  You may also be interested in an excellent article on this topic from the March/April issue of Audiology Today: Strategies for Increasing Medical Community Awareness of Audiology: A Call to Action!​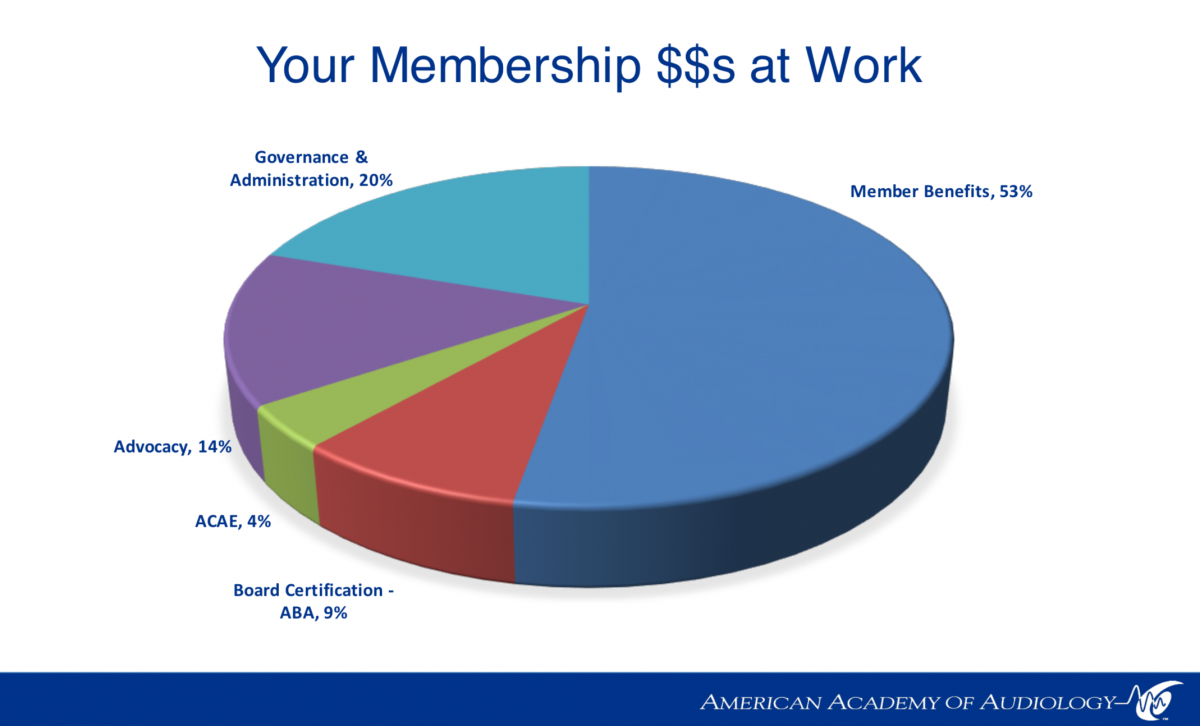 There was another comment as well to this topic about the costs applied to public awareness efforts, which the commenter misheard as accounting for 80 percent of all Academy spending from dues income. Approximately 80 percent of the Academy dollars go toward membership benefits (website, journal, magazine, audiology community, etc.), ACAE, advocacy, and certification. The approximately 20 percent remaining go toward administration and governance costs…as indicated in the financial slides above.
We are open to new ideas and insights on how to work more with the Public Awareness Committee and how to further our reach in these areas. If you are interested in becoming a member of the committee and/or have insights for the chair, please contact me directly (Board e-mail links below) so we can discuss more. We are also happy to further clarify any questions or concerns about the financial overview presented.
Thank you,

If you're an employer looking to hire within the audiology profession, HEARCareers is the job board for you. Why HEARCareers? On average, a job posting on HEARCareers earns 600 views per posting, and offers more than 23,000 searchable resumes available to review. Resources HEARCareers offers general advice for employers hiring audiologists, along with employer resources…