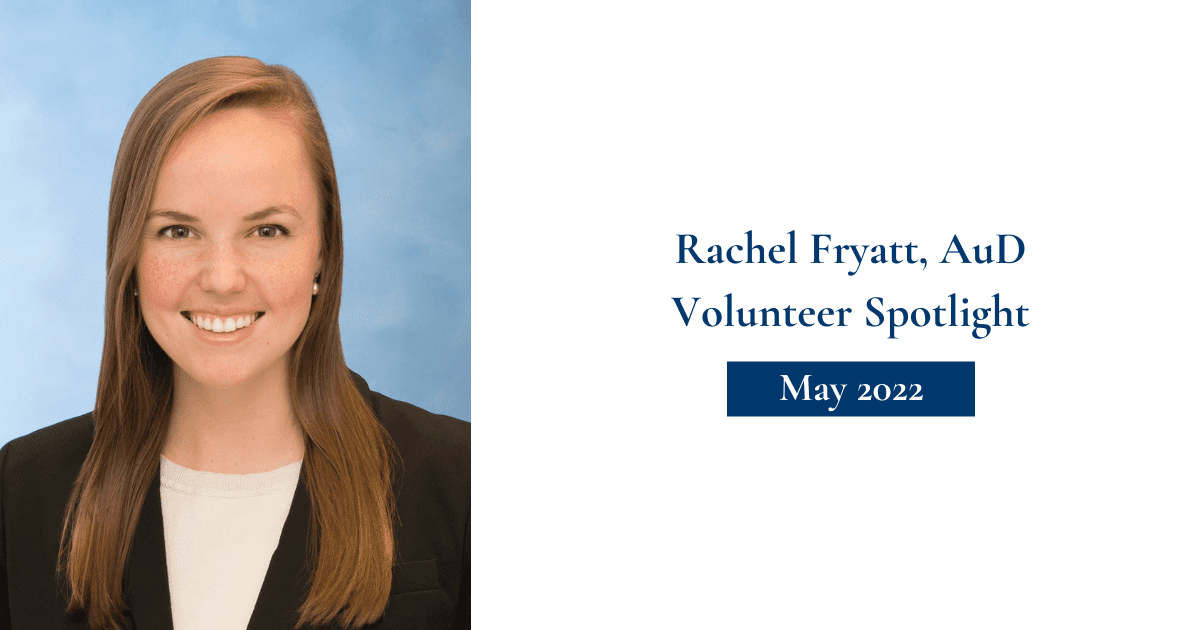 Rachel Fryatt, AuD, is a member of the Research Initiatives Committee. If you're interested in volunteering for any of our committees, check out our current available opportunities.
---
What is your background in audiology?

I've known that I wanted to be an audiologist since I was in middle school. I received my bachelor's degree from The Ohio State University and graduated from the University of Pittsburgh AuD program in 2019.
After my externship at the University of Miami, I joined the audiology team at the University of Michigan, specializing in adult diagnostics, hearing aids, and bone-conduction devices. Last fall, I joined the Cochlear Implant Program at Michigan Medicine. I currently see adult and pediatric patients for implantable devices. In addition, I teach audiology courses at Mississippi University for Women.
Why do you volunteer with the Academy?

I was active in the Student Academy of Audiology (SAA) both nationally and in my local chapter at the University of Pittsburgh during my time in graduate school, and I loved the idea of being a part of moving the profession forward.
Being a new professional, I wanted to continue with this momentum so I got involved with the Academy professional committees. I am currently on the Research Initiatives Committee and Guidelines and Strategic Documents Committee.
I really enjoy being a part of these committees because it connects me to others in the profession across the country, allows me to understand all that the Academy is doing for our profession, and provides me with opportunities to feel like I'm making a difference in the field of audiology. I am also involved on a state-level, serving on the executive board of the Michigan Audiology Coalition.
I definitely recommend volunteering! There are so many different committees and subcommittees to choose from, so you can find your fit.
Do you have any professional "celebrities" or mentors within audiology? What is your relationship to them and how has it been impactful?

One of the additional benefits of volunteering with the Academy is the opportunity to work with audiology "celebrities"! It has been fun working with people I know from research articles and textbooks, and getting to know them more as individuals.
Personally, my professional "celebrity" would be Catherine Palmer, PhD, from whom I had the opportunity to learn in graduate school. She not only has made a profound impact on the field during her career and is an excellent educator, I also view her as a role model for female leadership.
What is it about your committee work that you find most rewarding?

I like the Research Initiatives Committee because I enjoy reading the work of current graduate students in their grant submissions. It's exciting to see where the field is heading.
If you are reading this as a student investigator, please check out these grants!
Would you rather have an hour to talk with your ancestors or your descendants and why?

I would choose ancestors. I bet they would have a lot of wisdom to share, and I would have a million questions for them.

What is your background in audiology? When I startedlege, I was a linguistics major who thought I wanted to get a PhD. After a semester of modifying vowel formants, I swore off research as something I could NEVER do for my whole life and decided that speech-language pathology felt like a more applied use of…