As an audiologist, you are dedicated to helping patients with their hearing and balance health-care needs. The Academy wants to make sure you are recognized and can celebrate your achievements. That's why we have partnered with Framing Success for our members' framing needs.
Learn more about Framing Success below.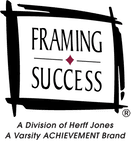 Framing Success offers Academy members discounted prices when purchasing frames to display membership certificates and other personal recognitions. Visit Framing Success for more information.